Bearclaw Coffee Co. Uses Verizon Network to Keep Business Running Smoothly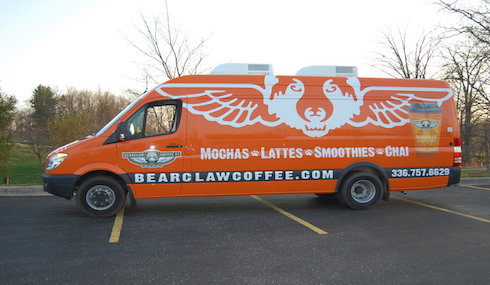 Michigan coffee shop Bearclaw Coffee Co. has been operating since 2001 by coffee connoisseurs Doug and Debi Scroggins, and since then has expanded to eight locations around the state of Michigan. This homegrown entity has been using the Verizon network since the business began and uses technology to help increase its successes and keep the business functioning smoothly.
Not only does Bearclaw operate multiple brick and mortar locations across the state, but the company also sells coffee via a mobile van that is used at events, mostly including major music festivals west of the Mississippi. Earlier this summer, the mobile coffee van fueled up fans at the Faster Horses country music and camping festival. The van was a huge success and served thousands of customers over the course of the weekend.
The network experience at Faster Horses was made possible after Verizon engineers worked for more than a year planning for the event, which draws thousands of people and adds significant data traffic on the network. We deployed multiple mobile assets that increased data capacity by nine times and increased voice capacity by four times compare with the year previously.
These enhancements were key to handling the growing traffic generated by the thousands of country music fans singing along and sharing messages, photos and videos via their wireless devices - and, most importantly for Bearclaw, the ability to charge sales seamlessly through the wireless network.
Bearclaw Coffee Co. uses SQUARE, a quick and easy way to allow customers to pay with credit cards.
"Customers were reluctant to give out credit card numbers, as they very well should be, so we began using SQUARE," said CEO Debi Scroggins. "The transaction is instantaneous, clean and the customer is billed an electronic receipt the minute the transaction occurs. Since we started using SQUARE, we have seen a 26% increase in sales with the use of credit cards," she continued.
SQUARE fully depends on a reliable network.
"By having such a tight and reliable network, our customers can easily use their credit cards," Debi mentioned. "It's all about the network, and Bearclaw has been using Verizon since its inception."
SQUARE is used in the mobile vans, as well, and usually the process runs very smoothly. At Faster Horses, Verizon deployed mobile assets, including COWs (or cell-on-wheels), to increase data and voice capacity. Debi noticed the difference.
"The network at Faster Horses was exceptionally quick. When my husband, Doug, COO, is on site and the network isn't running fast enough, he simply cannot do his job. It's important for us to have a reliable network provider like Verizon working on our behalf," said Debi.
Bearclaw Coffee Co. is a Verizon customer and plans on sticking with the largest 4G LTE network in America to keep the business running smoothly.
"We have seen Verizon grow to serve business customers. As new technology has been invented, Verizon has grown with us, so we have never seen a reason to switch," said Debi.
Have you ever used SQUARE to purchase products from your favorite local businesses? What are your thoughts on this mobile payment technology?
For more Verizon Wireless news, subscribe via RSS feeds in the right rail.
Photo courtesy of Bearclaw Coffee Co.'s Facebook page.