Best Cooking Apps For Hearty, Healthy Winter Meals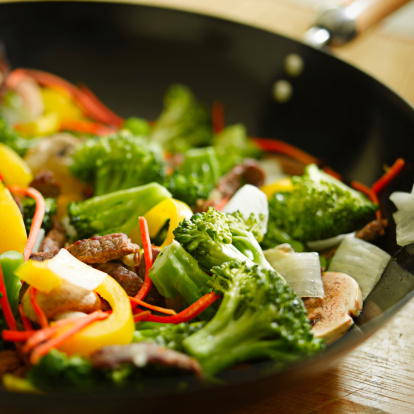 While cocooning this winter, it's easy to over indulge in comfort foods. However, it's just as easy to make healthy, hearty winter meals. Recipes can easily be accessed during trips to the supermarket through some of the best cooking apps, as recommended by our foodie friends.
For nearly every basic recipe imaginable, a go-to app for any busy person is All Recipes.
A great website for hearty recipes is Around the Plate, owned by registered dietician Kati Mora. Try the 13 healthy soup recipe list that includes Sweet Potato Bisque or trendy Cauliflower and Roasted Red Pepper. Any of the soups would go well with the stick-to-your-ribs Yummly Spicy Turkey Meatloaf recipe. Yummly lets users search for dishes by categories such as health, taste, course and cuisine.
Chef Jason Wrobel of The Cooking Channel's How To Live To 100 said he uses the Happy Cow app when he's traveling in cold climates and wants a healthy restaurant near his hotel. When he's cooking, the former Dearborn, MI resident makes one-pot meals to take the chill off. Wrobel uses Better World Shopper to locate locally grown ingredients.
Gourmet foodie Tim Clark, who creates full-bodied meals for wellness retreats, is a die-hard user of an app that tells him which foods not to buy. Striving to be a conscious, healthy shopper, he uses Buycott when buying ingredients for dishes like Hot Artichoke Dip. He scans the item barcode into the app on his smartphone and information pops up, such as whether the ingredient is healthy or eco-friendly.
Busy mom Lori Fillmore of Royal Oak, MI, whose children are both what she calls the "world's most finicky eaters", said the Wellness Mama app has made winter cooking easier. Kids love the Pumpkin Chili after playing outside, and the Healthy Salted Caramel Latte is her personal treat after shoveling snow.
If these recipes are triggering cravings, the Sriracha Veggie Muffins from Around the Plate may warm your stomach without piling on the calories. Enjoy it in just 40 minutes!
Sriracha Veggie Muffins
1 small red pepper, diced
1 cup cauliflower, chopped
1 cup shiitake mushrooms, sliced
1/2 cup zucchini, chopped
2 cloves garlic, minced
1/2 cup spelt flour
1/4 cup coconut flour
1 tsp. ground coriander
1/2 tsp. pepper
1/2 tsp. onion powder
1/4 tsp. sodium-free baking powder
1/2 cup no-salt cottage cheese
2 eggs
1.5 cup egg whites
1 tbsp. sriracha
Instructions
Preheat oven to 375 degrees F.
Coat a muffin tin with cooking spray. Set aside.
Heat pan over medium-high heat and coat with cooking spray. Sauté veggies until tender. Set aside. Mix together dry ingredients in a large bowl. Stir in wet ingredients. Fold in sautéed veggies.
Divide evenly into muffin tins. Bake 20-25 minutes, until toothpick come out clean.
Do you have other suggestions on the best cooking apps for hearty and healthy meals?
For more Verizon Wireless news, subscribe via RSS feeds in the right rail.