Best Travel Apps & Websites - Planning a Vacation With Technology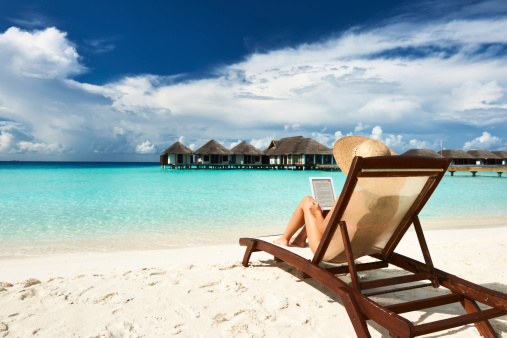 Are the frigid temperatures affecting your mood? Do you need some warmth to boost your attitude and help you endure until spring?
Family travel blogger Jody Halsted, of familyrambling.com, suggests beating the winter blues with a little warm weather travel. A busy mom of two who's always on the go, Jody relies on her smartphone and tablet to plan getaways for her family.
"I couldn't plan my trips without my phone," she said. "I utilize the time I spend waiting for the kids to get out of gymnastics and sitting in the pick-up line to search and plan our next trip."
Jody shared with us the best travel apps and websites to help you decide on a destination and make the most of your vacation:
Minitime.com – This family-travel site introduces kid-friendly destinations in the United States, Canada, Caribbean and Mexico. It offers travel suggestions based on the ages of your kids and includes parent reviews of hotels and attractions.
Kayak.com – This site compiles all the travel sites in one spot, making it an easy, one-stop shop for booking travel online.
Tripit – With this app, you can organize all your confirmation numbers and other trip information into one spot, which makes checking in and finding your reservations very simple.
Field Trip – This app finds your location and tells you about notable places/landmarks/museums in your area. It's a great resource for anyone traveling in unfamiliar areas.
AAA – With maps, directions and reviews, this is another must-have on your travel app list. This app also includes information about the nearest gas stations.
Postagram – This app allows you to create and mail postcards of photos you take. It's a fun way to share your trip with your friends and family.
As for warm weather destinations, Jody has some favorites.
"San Antonio, TX is one of my favorite spots. It's warm, the steak is great and there is plenty to do between the River Walk, Six Flags and SeaWorld. It's also pretty close for those of us who live in the Midwest," she said. "We've also always enjoyed the beaches on the Gulf of Mexico. Our family loves to visit there. There aren't any beaches in Arizona, but in Tempe, Chandler and Apache, the museums are great, and the landscape is gorgeous."
For more Verizon Wireless news, subscribe via RSS feeds in the right rail.