Building a Truly Sustainable Future for Others Means 'Walking the Talk' at Your Own Company
Building a Truly Sustainable Future for Others Means 'Walking the Talk' at Your Own Company
By Guest Contributor: Sarah Nicholls, global head of corporate sustainability, JLL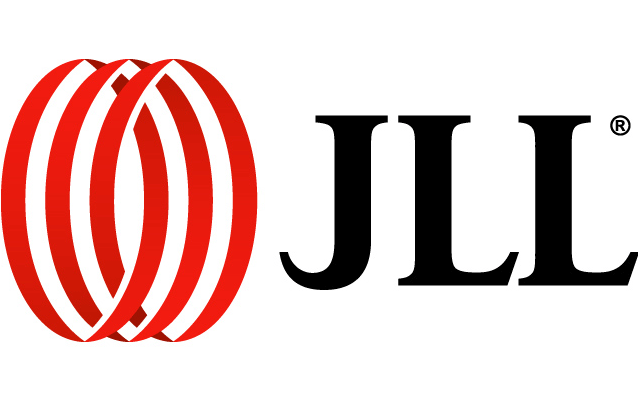 In this sustainability guest blog, Sarah Nicholls, global head of corporate sustainability, comments on JLL's ongoing commitment to environmental and social responsibility through its own internal sustainability initiatives around the world.
As one of the world's largest commercial real estate services and investment management firms, JLL shares Verizon's values in environmental and social sustainability and good corporate governance. Both companies invest significant financial and human resources to maintain our leadership roles as global sustainable enterprises as well as to help our clients achieve their goals as responsible citizens and corporations.
While there are many examples of how we advise clients on how to define, embrace and implement environmental sustainability programs, I'd like to focus on how JLL has "walked the talk" in our own efforts to reduce greenhouse gas emissions.
Addressing Sustainability in Our Own House
Although the real estate JLL occupies represents only a fraction of the global real estate portfolio we manage for our clients, we are committed to sustainable practices in our own operations. We've set five-year goals through the end of 2017 to achieve the following:
Reduce our office GHG emissions by 10 percent per employee.
Reduce our office energy use by 10 percent per employee.
Reduce our occupied space by 8 percent per employee.
So how have we fared in our commitment? As of 2013 we've achieved some meaningful results:
66 percent of JLL's offices globally have at least one energy or GHG reduction initiative underway.
In our own offices, GHG emissions decreased from the year prior by 7 percent to 1.5 metric tons per employee.
125 JLL offices around the world have green building certifications, or are incorporating green building principles.
Our GHG emissions-reduction activities include, occupying sustainable certified space; improving energy monitoring; implementing alternative and flexible workplace strategies; and engaging our employees through our ACT: A Cleaner Tomorrow program that encourages environmentally friendly behavior at the home and office.
The above results are also possible due to the tremendous investment we make in training and developing our people. With our network of more than 1,400 Accredited Energy and Sustainability Professionals (APs) around the world, JLL is proud to demonstrate such strong sustainability expertise. Among this group are approximately 1,330 LEED (Leadership in Energy and Environmental Design) APs.
Progress Through Partnerships
We firmly believe that our high-impact, global partnerships have helped position JLL at the forefront of emerging sustainability trends, and serve as a focal point to advancing both our clients' and our own sustainability initiatives. Some of our recent partnerships include:
Since 2009, JLL has been a signatory to the United Nations Global Compact, a strategic initiative for global businesses that are committed to aligning company practices with the UNGC's 10 sustainability principles.
JLL was one of the first U.S. firms to participate in the International Integrated Reporting Council's Pilot Programme, which has developed new guidelines to help investors better understand and evaluate the long-term value of sustainability activities.
In 2014, JLL worked intensively with the World Green Building Council to produce a report, which concludes that a range of building design features – from daylighting and air quality, to interior layout and views of nature – can affect the health, satisfaction and job performance of workers. 
As we strive to help our clients and ourselves realize the value of a responsible business, we take great pride in holding ourselves accountable to the three pillars of sustainability – social, environmental and economic – and the impacts they have on our employees, our business and the communities in which we operate.
Looking to the future, we will continue to work to maintain our reputation as a sustainable and responsible enterprise, a company that is trusted and relied upon by all of our stakeholders.
If You Like What You've Learned …
For additional information about our sustainability efforts – which extend far beyond GHG management and reduction – take a look at our most recent Sustainability Report.  
Our report documents JLL's performance against five focus areas: energy and resources; green buildings; client service excellence; community and supply chain; and workplace, well-being and diversity. It highlights an increased demand from clients, employees and shareholders to integrate sustainability into real estate decisions and our own business.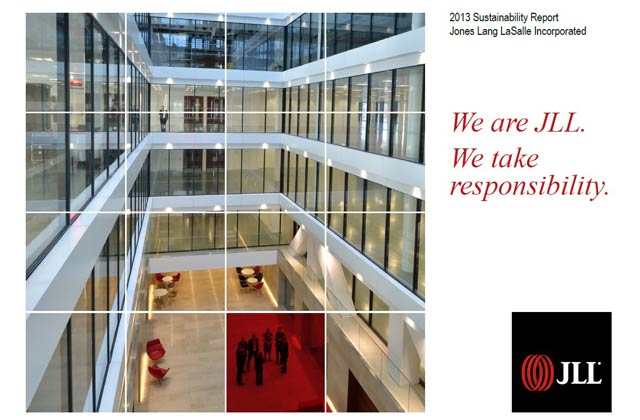 To learn more about JLL and our energy and sustainability initiatives, check out our JLL Green Blog for the latest views about building a sustainable future.
JLL (NYSE: JLL) is a professional services and investment management firm offering specialized real estate services to clients seeking increased value by owning, occupying and investing in real estate. With annual fee revenue of $4 billion, JLL has more than 200 corporate offices and operates in 75 countries worldwide. On behalf of its clients, the firm provides management and real estate outsourcing services for a property portfolio of 3 billion square feet and completed $99 billion in sales, acquisitions and finance transactions in 2013. Its investment management business, LaSalle Investment Management, has $48.0 billion of real estate assets under management. For further information, visit www.jll.com. ​