Celebrating New Wisconsin Store & 4G LTE With Charitable Donations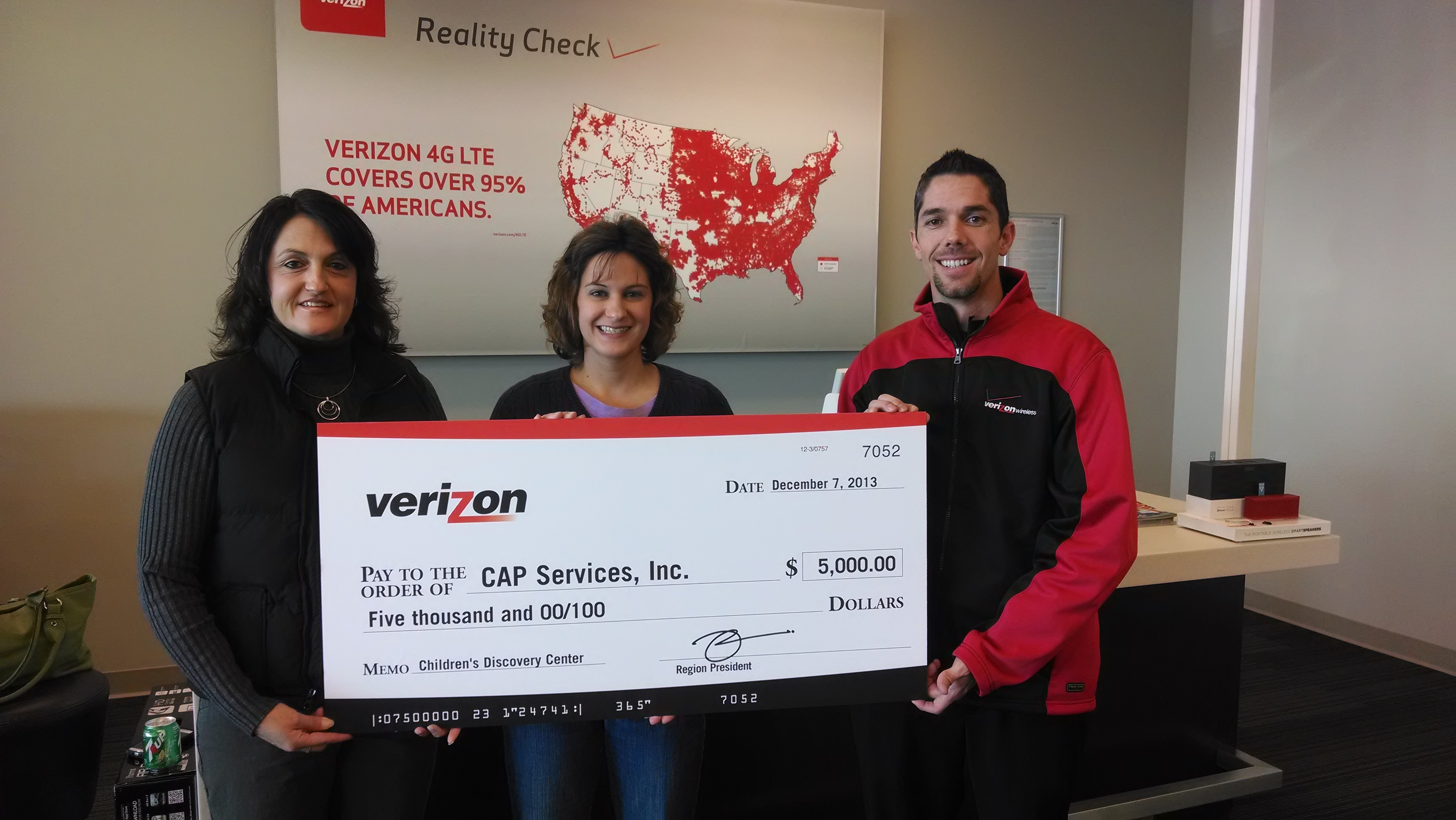 Throughout 2013, our network team has been hard at work bringing the high-speed 4G LTE wireless network to central Wisconsin.
4G LTE coverage is now available for residents in Adams, Green Lake, Juneau, Marquette, Portage, Waupaca, Waushara and Wood counties, an area that includes the cities of Marshfield, Stevens Point, Waupaca, Weyauwega and Wisconsin Rapids, as well as towns along U.S. Highway 39 and State Highway 49. As we close out the year, we have 100 new cell sites – built from the ground up.
Earlier this month, we celebrated with a grand opening event at our brand new Verizon Wireless Communications Store in Plover, WI, right outside of Stevens Point. There are 20 retail locations through central Wisconsin ready and waiting to serve customers, including Best Buy and Wal-Mart.
During a special presentation at the grand opening, we presented grants from the Verizon Foundation to two important community organizations based in Stevens Point. $10,000 went to the Saint Michael's Foundation to help with the hospital's implementation of engaging citizens in a weight loss program that advocates adoption of healthy lifestyles.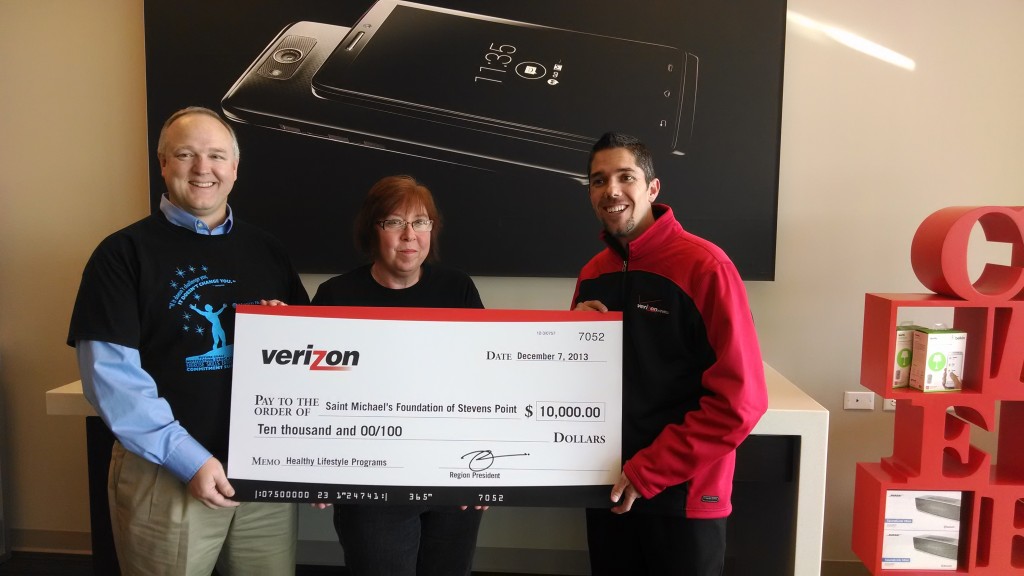 Dennis Kaster and Mary Bowman of Saint Michael's Foundation with their Verizon Foundation grant from Curtis Graff, district manager, Verizon Wireless.
Additionally, a $5,000 grant to CAP Services, Inc. will help fund training programs and materials for the Children's Discovery Center. The Center works with area parents to stress that the physical environment – indoor and outdoors – is critical to children's learning and development.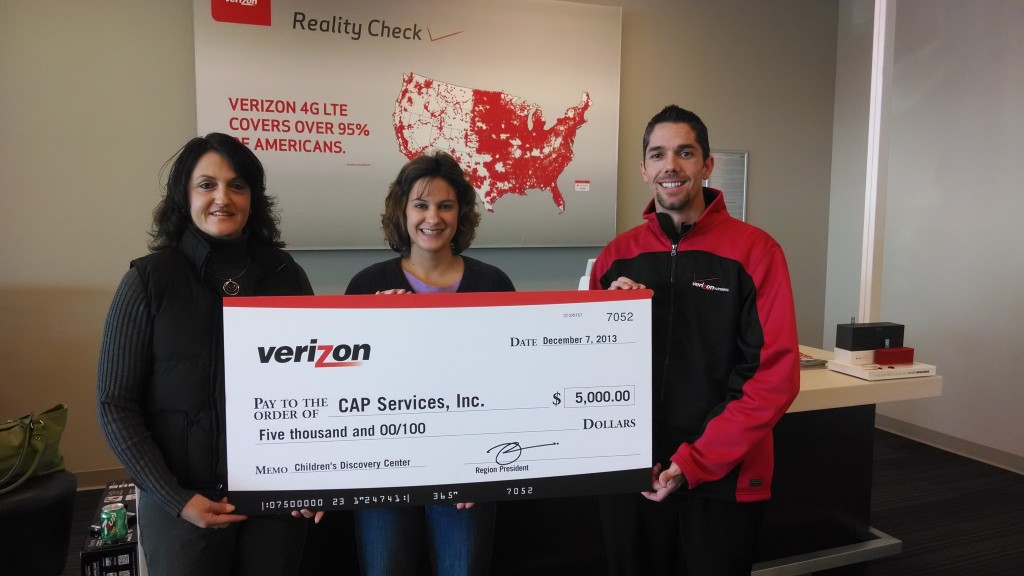 April Niemi and Gretchen Marshall of CAP Services, Inc. accept their Verizon Foundation donation from Curtis Graff.
We were so happy to introduce ourselves to our new community and to give to organizations that help build such a strong community network … but the fun didn't stop there.
Customers between the ages of seven and 14 lined up for their chance to become a Green Bay Packers Junior Captain and actually join the players on the field for the coin toss before the December 22 game against the Pittsburgh Steelers at Lambeau Field. To win, they had to mark the highest score at a supped-up version of paper football, launching as many mini paper footballs as they could through the uprights. Our winner was in the clubhouse with an early and unbeatable eight on the scoreboard. Smiles abound, as the winner was the son of April from CAP Services.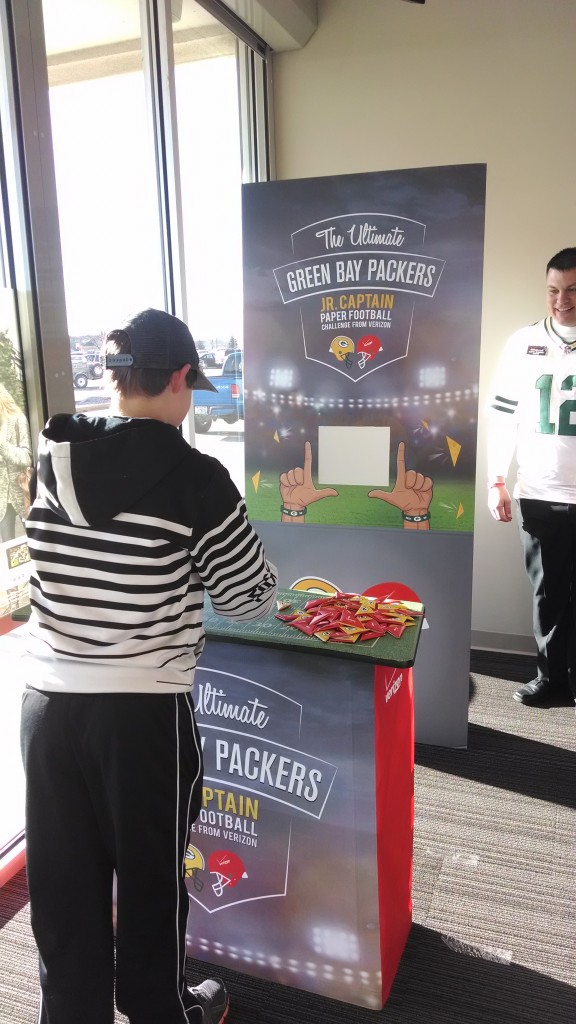 April's son hits the mark to win the Green Bay Packers Junior Captain Paper Football contest. He'll be on the field for the coin toss when the Packers host the Pittsburgh Steelers on December 22.
Customers in central Wisconsin now have access to Verizon's high-speed 4G LTE wireless network. That means speeds up to 10 times faster than 3G … and they are now part of America's largest 4G LTE network. Our network now covers more than 500 cities and more than 303 million people in 50 states.
If you live in the Stevens Point, WI area, stop by and visit our new store!
For more Verizon Wireless news, subscribe via RSS feeds in the right rail.