A Cleveland school is the first to receive Verizon 5G
Entrepreneurship Prep is primed for next level education.
Full Transparency
Our editorial transparency tool uses blockchain technology to permanently log all changes made to official releases after publication. However, this post is not an official release and therefore not tracked. Visit our learn more for more information.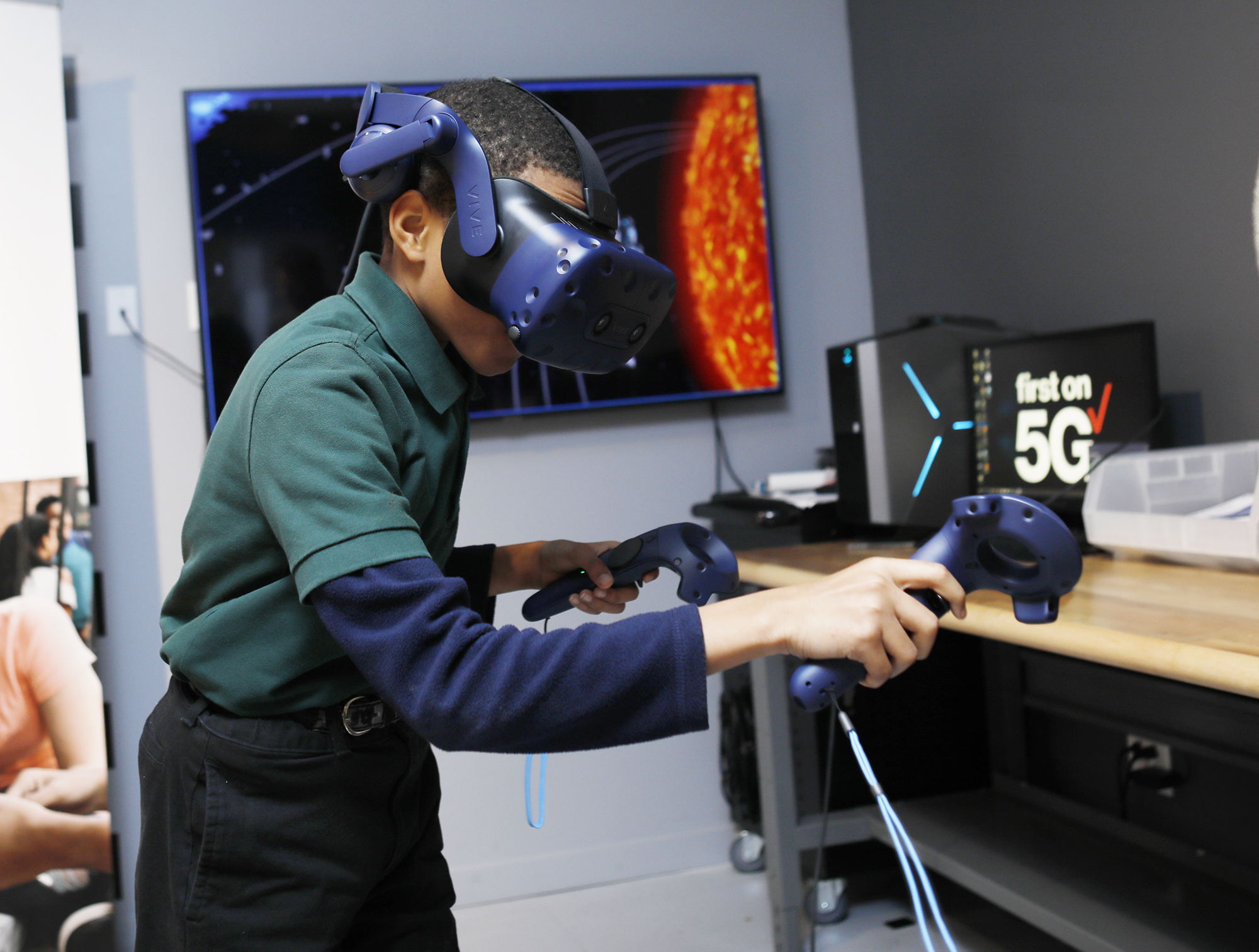 (Photos: Octavio Jones)
Khalid Jennings' eyes are hidden behind a VR headset as he grips and maneuvers controllers with both hands. He's focused on correctly arranging planets in the solar system. Confident, Khalid circles the galaxy to "grab" Mars and place it between Earth and Jupiter.
Hands down, VR is his favorite activity in the 5G Innovation Learning Lab at Entrepreneurship Prep (Cliffs Campus). "VR is really cool because it's like stepping into a n­­ew universe," Khalid says, sticking his face into the virtual sun for fun. "It feels like technology on top of technology."
E-Prep, as the school is affectionately called, is the first school in the country to receive 5G technology from Verizon. Access to free connectivity and devices is part of Verizon's mission to provide advanced technology to 100 Verizon Innovative Learning schools by 2021.
Khalid is happy his school tops the list. For the curious fifth grader, who's also a member of E-Prep's tech team, the spacious lab is a major upgrade from meeting in the Entrepreneurship Room (which is just a regular classroom), where the squad used to gather. This is Khalid's second year on the team and he's enjoying the perks of being one of a few students experimenting with everything from the AR to Tinkercad. Now that Khalid's grades are improving, he's starting to think about college. "I want to study biology. I could study plant cells, animal cells, blood cells," Khalid says, getting excited about the possibilities. "If I work hard enough, I might even be able to cure a disease."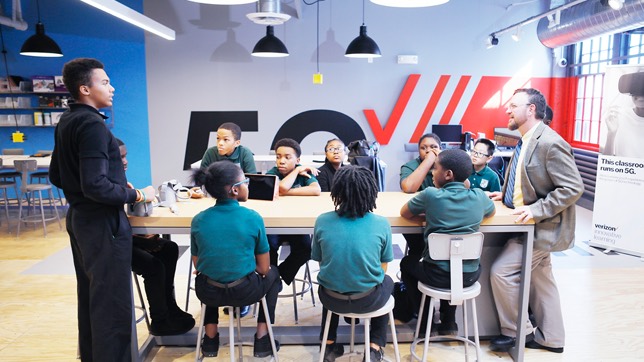 Verizon Innovative Learning coach Jonathan Lubas meets with the tech team. (Photos: Octavio Jones)
Transforming typical classroom learning
It's hard to believe E-Prep was once an elevator factory. Today, the renovated brick building is a competitive K-8 charter school serving 700-plus Black and Brown students in Cleveland, Ohio—with a 2400-square foot 5G Innovation Lab. A brisk Internet speed and capacity to fuel many devices at once transforms typical classroom learning. It's the difference between E-Prep's 315 middle school students simultaneously downloading a 3D movie about gravity in seconds vs. minutes.
The lab is equipped with 3D printers, digital chalkboard and virtual and augmented reality (VR/AR) stations. With 5G, when students use AR/VR technology, they see rich computer-generated images and work simultaneously without experiencing delays or lag time. Now, students using AR/VR can also collaborate from different locations (say Cleveland and India) in real-time, and what one student does in Cleveland will be experienced by the rest of the group. This isn't possible with traditional Wi-Fi or 4G.
E-Prep and its students are quickly becoming local celebrities thanks to special guests like 13-time Grammy winner Pharrell Williams who stopped by for a tour. Spearheading the lab's launch and educational component is Verizon Innovative Learning coach Jonathan Lubas, accompanied by his 15-member student tech team.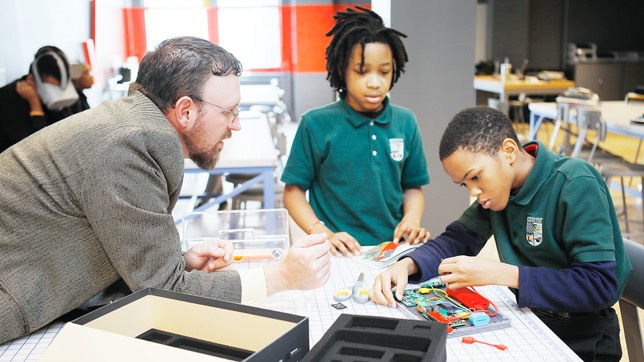 Coach Lubas watches as students assemble KANO's Make Your Own Tablet. (Photos: Octavio Jones)
A future in engineering and beyond
The lab, unveiled this fall, officially introduced winners of Verizon's 5G EdTech Challenge. They invited startups, universities and nonprofits to create solutions for student engagement and teacher development. The 10 winning projects were awarded $1 million each and are featured at E-Prep.
Coach Lubas beams with pride discussing the local and national attention the lab has received. He's eager to get students and teachers fully immersed in the lab. Instructors are enthusiastic about discovering ways to include the technology in their social studies, science and ELA lesson plans.
"I want to see that light go off," says Lubas, watching students assemble a tablet."This place is meant for kids to walk in here and say, 'This exists? This is something that I can help make?'"
If 40 percent of E-Prep students are inspired to pursue STEM careers, Lubas considers that a check in the win column. He acknowledges that some kids will still aspire to be lawyers and teachers, and that's cool, but merging technology with education offers other options.
"When they come into this space, they will know there's a future for them in engineering, graphic design, robots and computers," he says.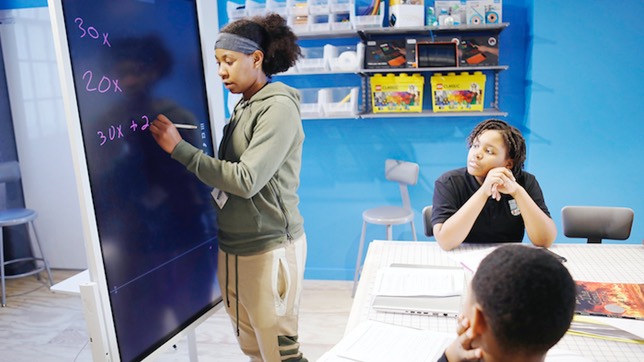 Catherine Cain starts a math problem on the digital chalkboard. (Photos: Octavio Jones)
Keeping students engaged
Catherine Cain and six eighth graders occupy one corner of the lab. Catherine is a physical education teacher, but since she's strong in math, she does double duty as a tutor. Catherine opted to hold tutoring sessions in E-Prep's new favorite room "to keep students engaged." It's a much cooler learning environment than the teacher workroom. The hottest tech item in that room is the coffee machine and it's no match for the digital chalkboard.
The digital chalkboard is the SMART Board's sleek, chrome, mobile cousin. The screen tilts and swivels to a vertical or horizontal position, imports and exports files and hides a set of styli on its backside. Instead of reaching for a whiteboard marker, Catherine illustrates math problems with a stylus. As she presses the pen's tip to the screen, a row of circles pop up allowing her to quickly color-code a concept in different hues. The equation appears in pink and side work appears in blue.
While Catherine enjoys using the digital chalkboard for instruction, she's even more delighted that E-Prep students are exposed to these devices at a young age. "These kids are different from me. I was 19 saying, 'I've never seen this before,'" says the Ohio University alum. "They've already had hands-on experience and that closes some of those technology gaps."
Learn how Verizon Innovative Learning is helping kids have a brighter future by providing under-resourced students with free technology, free access and hands-on learning experiences at verizoninnovativelearning.com.
For related media inquiries, please contact story.inquiry@one.verizon.com