Enticed By Cut Your Bill Offers? Time to Fact Check. #CutYourCoverage
Full Transparency
Our editorial transparency tool uses blockchain technology to permanently log all changes made to official releases after publication. However, this post is not an official release and therefore not tracked. Visit our learn more for more information.

Competition has been strong among wireless carriers this holiday season, and Sprint Corporation's recent advertising campaign continues to face strong criticism as the company offers consumers to "cut your bill in half" by switching from AT&T and Verizon. The latest news media outlet to break down the numbers was an Indianapolis television affiliate citing that Sprint could cost customers between $500 – $700 dollars.
Verizon continues to listen to what's important to our customers and to make sure they have the best customer experience on the best network. Our competitive position is strong coupled with our best ever pricing. But the bottom line is this: We know that no matter how much data you have, it's only as good as the network it's on, and Verizon Wireless' network is second to none.
So when a family or business is looking for help with their wireless devices to keep up with their busy lifestyles, Verizon is leading the industry on best overall value and experience.
We thought it would be helpful to break down a few #CutYourBill claims and provide you with some fact checking:
SPRINT CLAIM #1: "Bring us your AT&T and Verizon bill and we'll cut your bill in half." (Sprint Corp. website, December 15, 2014)
FACT CHECK: Sprint's own CFO was forced to tell investors and reporters that the "deal" doesn't save consumers 50%. Confirmed in the fine print, the Sprint offer "requires a non-discounted phone" purchased at time of transaction, whereas Verizon offers discounts as much as $200 for a top device. Sprint also requires the customer to surrender their former phone, and that could be worth hundreds of dollars in value. Verizon is offering customers a minimum of $100 trade-in value for their existing smartphone in good working condition when customers purchase a new Samsung Galaxy S5 or DROID Turbo.
A number of national and local media outlets have raised concerns that Sprint is overstating the benefits of its promotion, including:
Additional factors customers should be aware of with Sprint's offer:
If data needs change (the customer adds lines and/or wants to increase data), the customer loses the half-price promotion and must choose a current Sprint plan.
The "up to $350" early termination credit or device installment buyout is issued on a Visa Gift card that may take up to 12 weeks to arrive.
Data allowance is on-network only. Sprint restricts domestic data roaming to 100MB and applies overages after that point. To see where a customer would roam with Sprint, visit Sprint.com/coverage and select the 'Data' tab.
SPRINT CLAIM #2: "Welcome to the all-new Sprint Network, built from the ground up to be smarter, faster and better than ever before." (Sprint Corp. website, December 15, 2014)
FACT CHECK: Verizon's network is consistently ranked #1 by third-party testing.
Verizon Wireless consistently earns top rankings from independent consumer reporting and testing institutions for network quality and performance. In the first half of 2014, one of the top third-party testers released its second national report and Verizon Wireless received the highest award for overall network performance in Michigan, Indiana, Kentucky. Scores were based on tests performed from January through June 2014. The company ranked the four major U.S. wireless providers in six categories: Overall, Reliability, Speed, Data, Call and Text network performance. (Source

)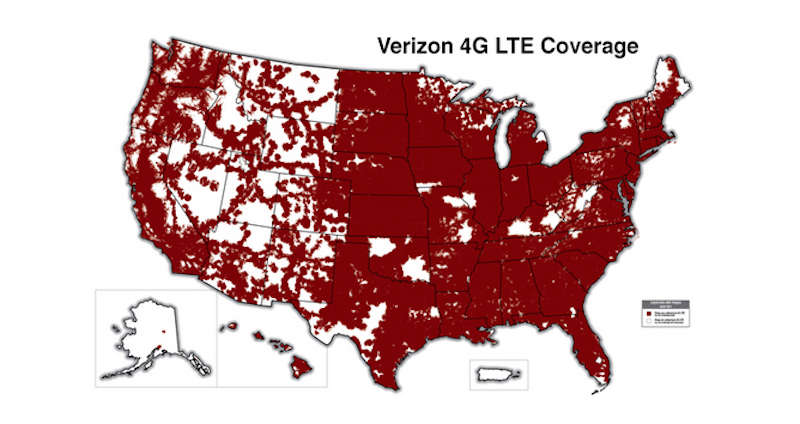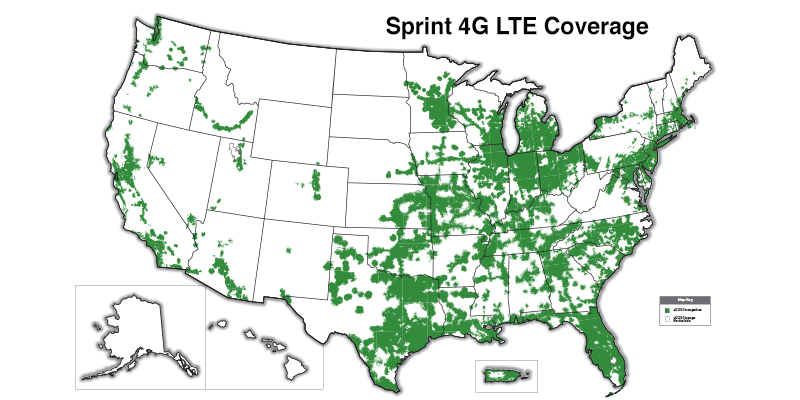 SPRINT CLAIM #3: "We've enhanced our nationwide 3G and 4G LTE networks." (Sprint Corp. website, December 15, 2014)
FACT CHECK: The Verizon Wireless 4G LTE network is the largest in the United States. Our 4G LTE network is now available in more than 500 markets to 98% of the U.S. population and covers nearly 308 million people.
We are regularly testing, maintaining and fine-tuning the network to ensure that customers have the top-notch service to stay connected to their mobile life. The Verizon network test drive team is one of the largest of its kind of any U.S. wireless company. Every year, the dedicated test men and women drive roughly 1 million miles in specially equipped vehicles to conduct more than 3 million voice call attempts and more than 12 million data tests across the country to compare the performance of the Verizon Wireless network with our competitors' networks. (Source)
Verizon Wireless network investments: More than $100 billion invested in our U.S. networks since 2000. (Source)

$9.4B in 2013; $8.9B in 2012; $9.0B in 2011
SPRINT CLAIM #4: "Sprint Spark is a powerful, enhanced LTE network capability that incorporates three bands of LTE." (Sprint Corp. website, December 15, 2014)
FACT CHECK: Verizon Wireless has been consistently adding capacity to its 4G LTE network using AWS spectrum. The additional bandwidth, called XLTE, is now available in more than 400 markets across the country including many areas across the Midwest. XLTE delivers faster peak data speeds and a minimum of double the bandwidth to 4G LTE customers in high traffic areas in markets nationwide where AWS spectrum has been activated. Furthermore, we have additional capacity plans in motion for 2015. (Source)

When you dig in and boil everything down, don't be swayed by the promise of a lower bill. Paying less doesn't mean you'll get more. Do your homework and make sure you're getting the value and quality you and your family need in a wireless service provider.
Have questions? Leave us a comment.
Want to show your support for Verizon or tell us why you came back to our network after leaving to "cut your bill in half"? Click here to tweet using the hashtag #CutYourCoverage. For more Verizon Wireless news, subscribe via RSS feeds in the right rail.