'Driphter' BlackBerry Z10 Smartphone Review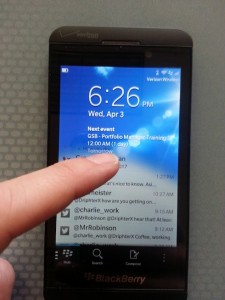 DriphterX from Driphter.com took on the task of writing a BlackBerry Z10 review from the perspective of a BlackBerry loyalist, Android enthusiast and experienced iOS user. The result is a comprehensive and balanced overview of this dynamic product.
It has been an interesting 2 weeks with the Verizon Wireless BlackBerry Z10. Emotions and memories flooded my mind. For me, BlackBerry was once a way of life. Years ago, the thought of losing BlackBerry Instant Messenger (BBM) kept me from jumping ship to another platform for quite some time. I loved my BB, but RIM faded in the marketplace, a sense of abandonment set in. That's when I finally made the switch to Android circa April 29, 2010 with the HTC DROID Incredible. I'll never forget powering off my 9650 for the last time. It was almost like going to my best friend's funeral. After a brief moment of silence, I powered on the OG Incredible and since then have not looked back. I went from the Android powered Incredible to the HTC Thunderbolt to the Samsung Galaxy Nexus, Motorola DROID RAZR, RAZR HD, SamsungGalaxy S3 and currently the Galaxy Note 2. I know that is a long list of Android phones, but it shows how vested I am in a Google product, keeping in mind this was all in a 3 year span... I share this back history because, anyone can review a device, but few can review it through the perspective of others. This final review will be broken into 3 parts: The Z10 from a BlackBerry loyalist's perspective, an Android enthusiast's perspective, and an iOS user's perspective. And yes I do have some iDevices as well, so I feel very qualified to share thoughts with each userbase.
To read the rest of DriphterX's BlackBerry Z10 smartphone review and find out why he thinks "RIM has produced a winner," click here. For more Verizon Wireless news, subscribe via RSS feeds in the right rail.