Droid DNA by HTC is a Great Holiday Gift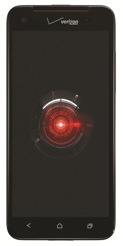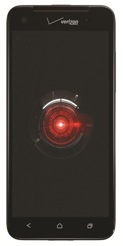 This is Droid DNA review from Mike Williamson, aka PhoneJunkie - one of our blogger friends from Kansas City, KS.
A great new powerhouse of a phone released just in time for the holiday season is the Droid DNA by HTC. This is the first smartphone released by Verizon that is full 1080p, allowing you to game and even video chat in full High Definition. The large five-inch screen is made of Gorilla Glass by Corning. Gorilla Glass really enhances the visual appeal of the Droid DNA, as it really is as Corning says, "Visually stunning and incredibly tough!" I'm not saying you can drop the phone off of a 10 story building, but if you're looking for the toughest screen around, this is it. Also, it's amazingly clear even in direct sunlight, so it's perfect for the "outdoorsy" types with the latest LCD3 technology.
The inside of the Droid DNA carries a Snapdragon S4 Pro Quad-Core processor, 2GB of RAM and full 4G LTE capabilities. This phone will begin to feel like a full extension of yourself as it is NFC enabled, allowing the owner to swap photos, website URLs and contacts with other NFC enabled users.
I prefer features such as the keyboard with alternate character shortcuts, as well as the unique widgets featured by the HTC. It is also the first HTC phone that I know of that comes out of the box with wireless charging capabilities without the need for any modifications or adapters (charging pad sold seperately).
As well, I have always been a fan of HTC's Sense UI, and with the latest Android 4.1 Jellybean software, you will really begin to move at lightning speed with all the latest features. HTC also just released the Droid DNA source code and the bootloader comes unlocked. To most of you, this won't mean anything immediately, but for those who like to tweak their phones with alternate software, it will mean a lot less headaches upgrading your software in the future as independent developers are already putting their thinking caps on as to how to tweak this phone's software to make it even better than it already is!
Did I mention that the Droid DNA is a global smartphone and ships unlocked, so it's fully capable wherever you roam in the entire world?
The Droid DNA camera is full 1080P eight megapixel camera with capabilities of snapping multiple pictures per second all in a row just by holding down the shutter button. Now, with the full 1080p capabilities of the Droid DNA, you can actually view video and pictures back in the full HD qualitiy it was taken in. Also, the Droid DNA has a wider angle front facing camera so you can capture a much better view of the world around you while video chatting over Skype.
All together, the Droid DNA is a powerhouse, and I just can't think of anything else I could ask for in a phone that is not wrapped in this sleek package. With a price of $199.99 for a two-year contract, the Droid DNA by HTC is definitely a strong competitor for those who are considering similar smartphones such as the Google Nexus 4 or the iPhone.
Mike Williamson is the chief editor of PhoneJunkie, a tech blogger and part of the wireless phone community.
For more Verizon Wireless news, subscribe via RSS feeds in the right rail.