Expanded 4G LTE Network Coverage Throughout Wisconsin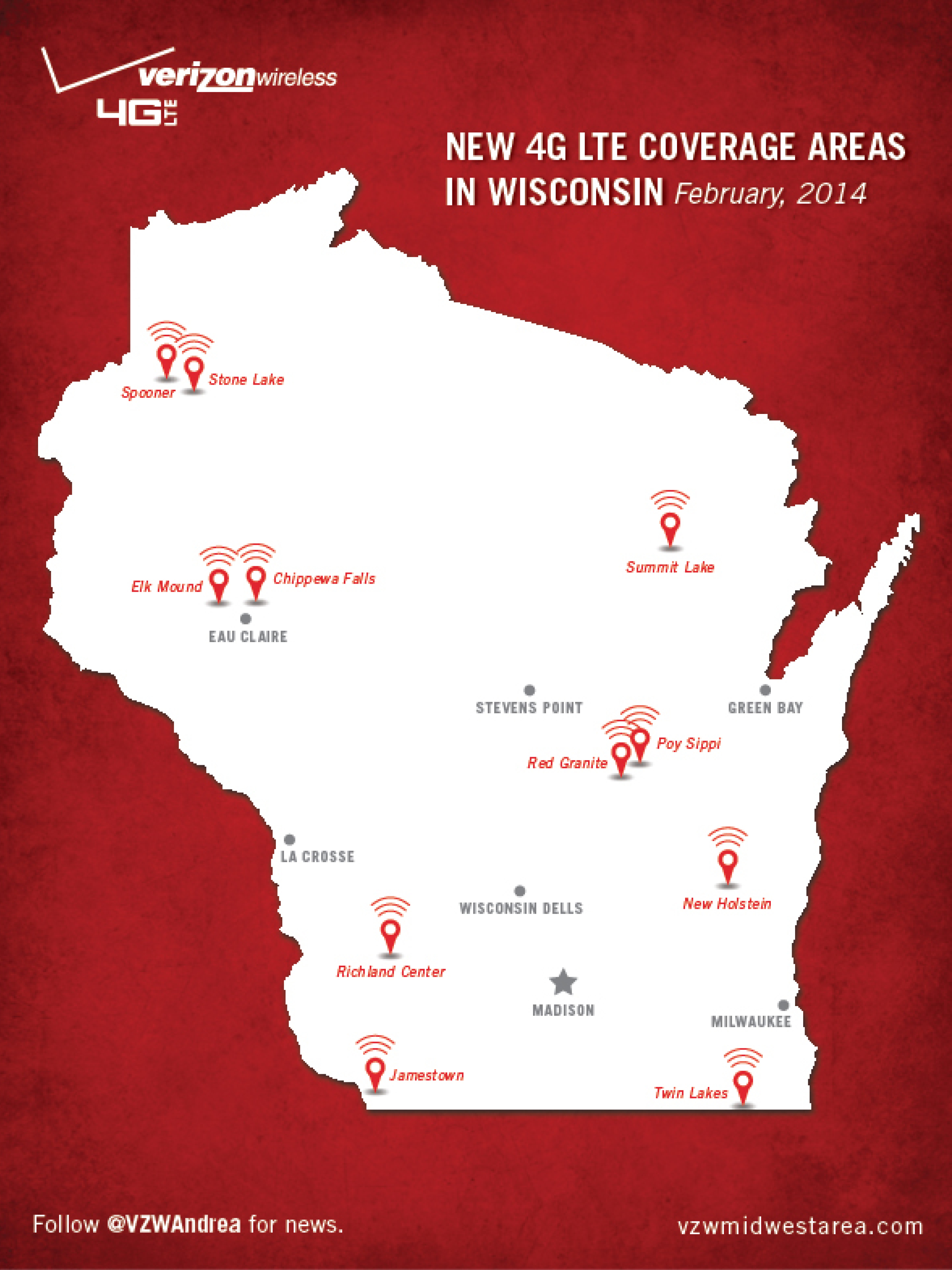 Verizon's 4G LTE network now covers more than 99% of our existing 3G network. This allows more than 100 million Americans to experience wireless speeds up to 10 times faster than 3G.
We recently reported expanded coverage in 14 different areas throughout Wisconsin, including rural areas and stretches of highways connecting towns like Bancroft and Plainfield, west of Wisconsin Rapids. The work our network engineers put in to make sure every nook and cranny is connected to our 4G LTE network doesn't stop.
We're happy to announce a continued 4G LTE expansion, including the following areas:
Along State Highway 21 west of Redgranite, 30 minutes west of Oshkosh
State Highway 49 near Poy Sippi, 30 minutes south of Waupaca
Along U.S. Route 61 near Jamestown into Dubuque, IA
State Highway 14 east of Richland Center, between Madison and La Crosse
Along State Highway 70 between Spooner and Stone Lake, 90 minutes north of Eau Claire
State Highway 26 near Twin Lakes State Park
Off U.S. Route 45 in Summit Lake, 15 minutes north of Antigo
Between State Highways 57 and in New Holstein, 15 minutes south of Chilton
Between Chippewa Falls and Elk Mound along State Highway 29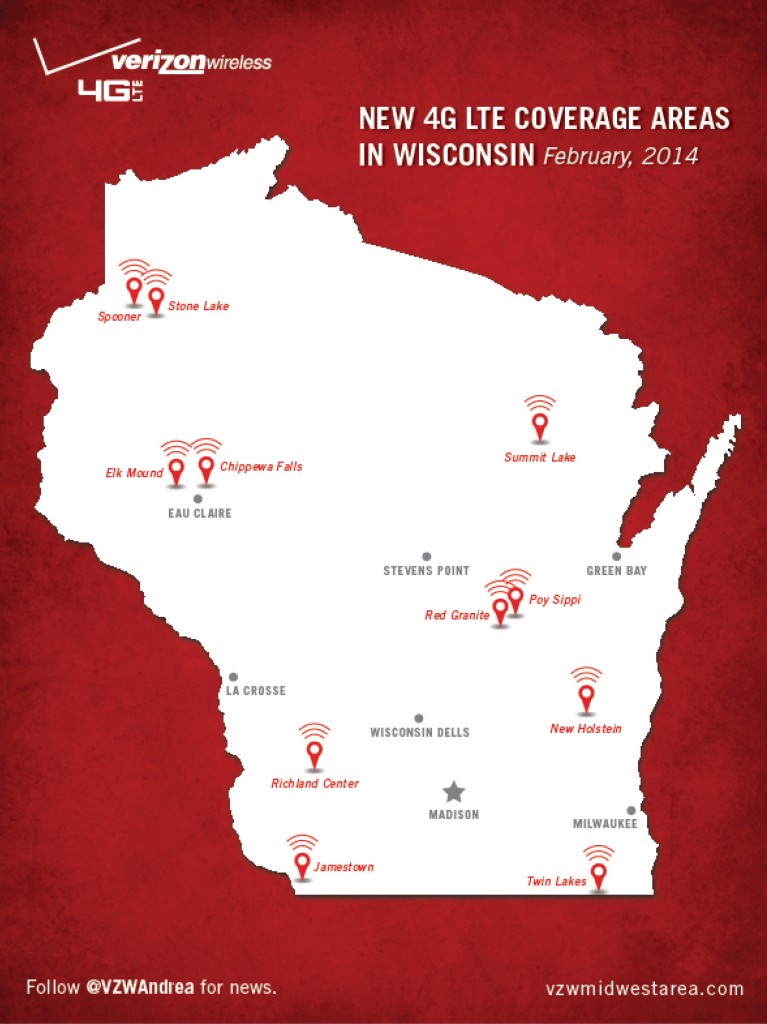 Residents in these areas will now experience the faster downloads, better connections and stronger data sharing that comes with the increased speed of 4G LTE. Additionally, 4G LTE provides a high-speed alternative to broadband, particularly for underserved areas.
We've been working since 2011 to turn our existing 3G coverage into 4G LTE access for a greater number of customers. Most of the major Wisconsin cities now have access to 4G LTE – including Milwaukee, Madison, Green Bay, Racine, Eau Claire, La Crosse, Oshkosh and more.
Verizon is focused on the network fundamentals – putting spectrum to use, investing wisely, employing advanced technologies and solid engineering and performance optimization – so customers can be focused on what they need to do … using the largest and most reliable network to enrich their lives. Our ongoing cell phone build involves adding more macro cells, as well as small cell solutions, throughout the network to help "densify" coverage and provide an increasing number of in-building systems to serve customers when they go indoors.
We'll keep you posted on additional 4G LTE expansions throughout the Midwest. If you live or work in one of the recently expanded areas and are enjoying 4G LTE coverage, send me a tweet and let me know - @VZWandrea.
For more Verizon Wireless news, subscribe via RSS feeds in the right rail.