Full Transparency
More of our content is being permanently logged via blockchain technology starting [10.23.2020].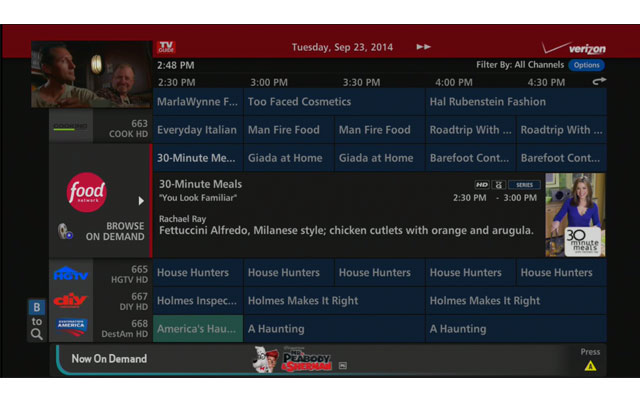 Whether it's setting up the DVR to record your favorite prime time comedy show, creating a quick list of favorite HD sports channels or bookmarking VOD titles for weekend movie watching, the TV watching experience is becoming a much more personalized experience. Starting today*, Verizon is adding enhancements to its advanced FiOS TV Interactive Media Guide (IMG) that will continue to transform the way people interact with and enjoy TV.
In 2007, FiOS TV IMG was the first of its kind to pull together content from broadcast TV, the Internet and users' own personal media into one media-management system. It has evolved into an interactive experience TV experience that includes social media, advanced search and Internet video. Guided by customer feedback, the newest enhancements, available now, include a new color display and more features tailored to individual customers.
Main highlights include:
Search & Discovery
Provides search results and recommendations powered by recent viewing behavior,
Rotten Tomatoes and FiOS TV star ratings of movies and shows
Series and season pages dedicated to making it easier for customers to find relevant and related content of programming series and seasons.
Cast and crew biographies and filmography
Participating providers, example HBO, will have links to On Demand content within

Personalization
My FiOS TV Feature, quick and easy way to access favorite content
See what's trending on FiOS and what's trending on Twitter

DVR Convenience
DVR groups can be sorted and filtered
Improved technology to minimize duplicate recordings
Automatic prompt to extend recording time when selected to record
DVR programs recorded, now indicates total show/movie watched
Indicates premiere and finale shows throughout guide and DVR
Improved indicator to see how much time is left in program or movie
Verizon's FiOS Interactive Media Guide can be accessed with the FiOS TV remote control or by using the FiOS Mobile App, which turns a smart phone or tablet into a remote control for a FiOS HD set-top-box, making parental controls, customized applications and program recording easy to access.
* New IMG enhancements will be rolled out to the FiOS footprint over the course of a few months, and begin on September 30 in Harrisburg, Buffalo, Syracuse and Albany.