First Verizon Smart Store in Grand Rapids: Bloggers Get Exclusive Tour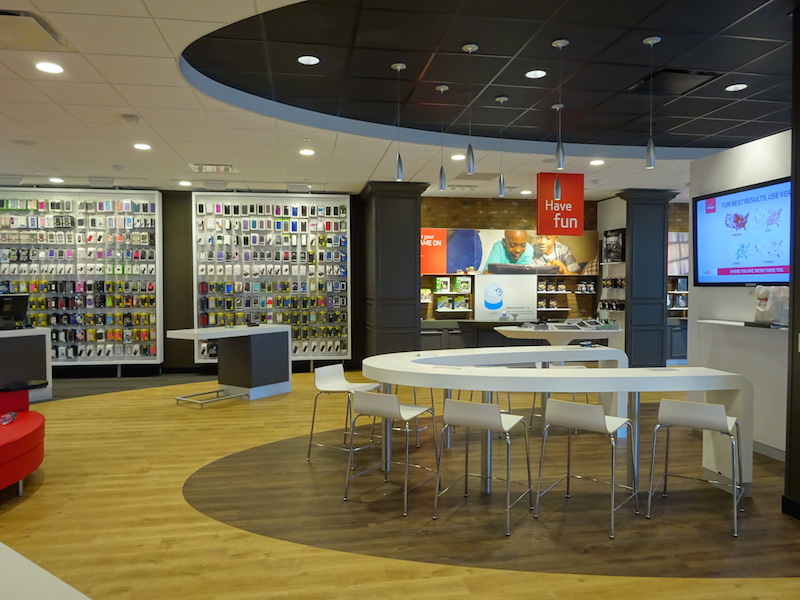 When is the last time you visited your local Verizon store? If you live in the Grand Rapids area, you may be surprised to learn it has been completely redesigned and is now the first Verizon Smart Store in West Michigan.
To celebrate, we recently invited several bloggers to join us for an exclusive, first look at our new Verizon Smart Store in Grand Rapids. Before officially opening to the public, store manager Ken Humphrey gave guests a private tour of the store's new design, which features four interactive Lifestyle Zones—Amplify It for music on-the-go; Get Fit for tracking healthy habits; Have Fun for novel tech gadgets and Home and On the Go for home automation. These zones provide a new way for customers to experience and discover technology.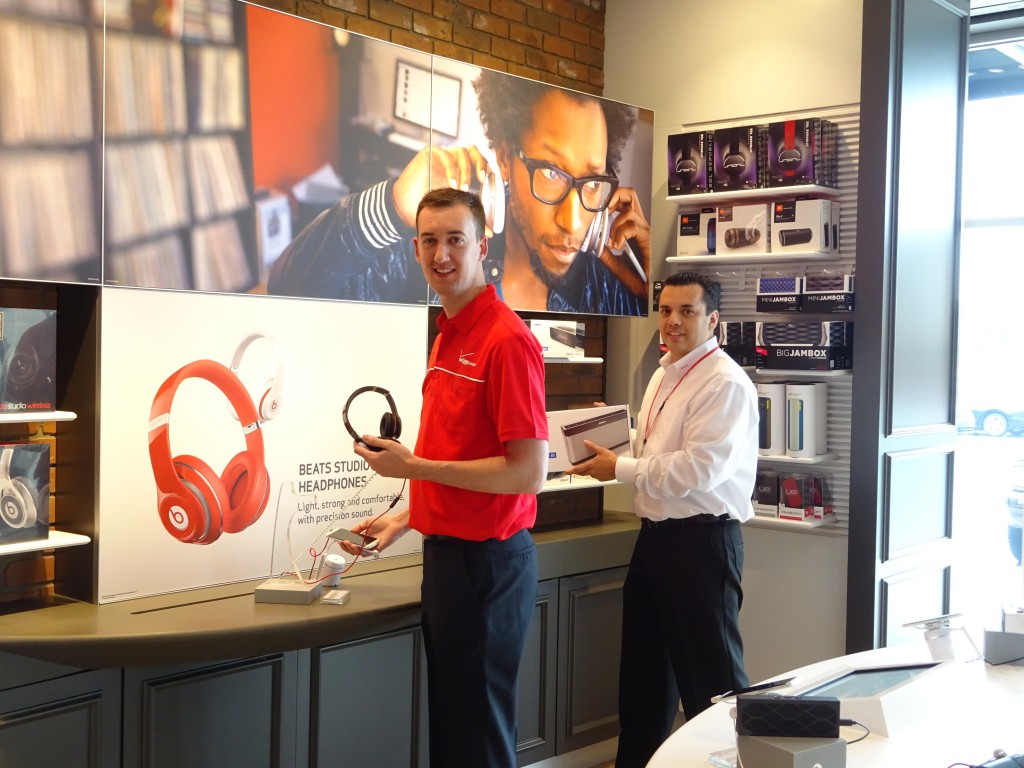 Trevor Thomas, Public Relations Manager, MI/IN/KY, Verizon Wireless and Ken Humphrey, General Manager, Verizon Wireless Comstock Park, try out the latest in audio in the new Amplify It zone that features music on-the-go.
"Getting a private tour of the new Verizon Smart Store was sort of a geeky dream come true for me," said blogger Katie Sluiter. "I'm used to shopping in a small store with mainly phones to look at while I wait, so I was in for a surprise when I was welcomed into a large, open space with four 'zones' and lots of comfortable room for playing. The store encourages customers to find out what they can do with their phone by providing learning opportunities and ways to try out the technology."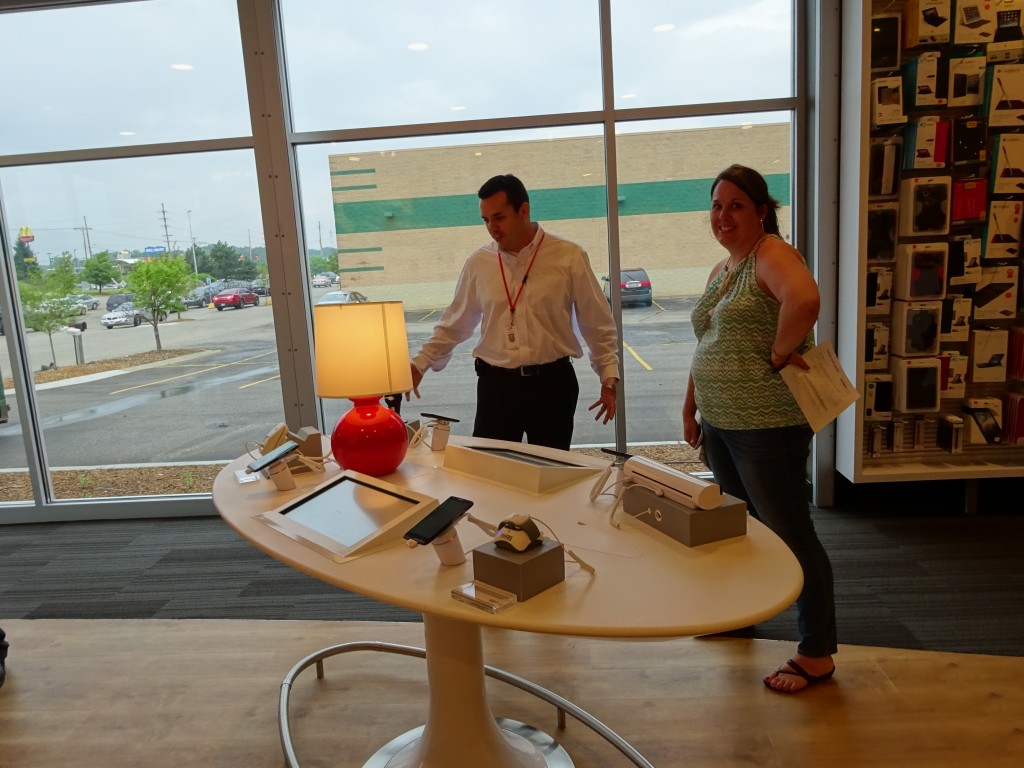 Ken Humphrey, General Manager, Verizon Wireless Comstock Park, talks about home automation in the Home and on the Go zone.
"One of the first things you'll notice when you enter one of our Smart Stores is that we're not just a phone carrier," said Humphrey. "Our real focus is on helping people discover new and exciting ways mobile technology can enhance their mobile lifestyle."
The new Smart Store, which features 4,500 square feet of hands-on displays and wall-to-wall accessories, gives customers the ability to try out the latest devices firsthand. By allowing customers to sync smart accessories with their smartphone, they're able to experience how they can use Verizon's 4G LTE and XLTE network to do more with their devices and be more productive.
"After visiting the Verizon Smart Store, I had a whole new list of tech items I want! I felt like a kid in a candy store!" said blogger Ashleigh Evans. "The different zones help you discover new items. I loved the Get Fit zone, which featured different fitness trackers. In the Have Fun zone, I saw new toys my kids would love, especially the LeapFrog alphabet pencil, which you can use with your tablet. It's truly a one-stop shop for all of your technological needs!"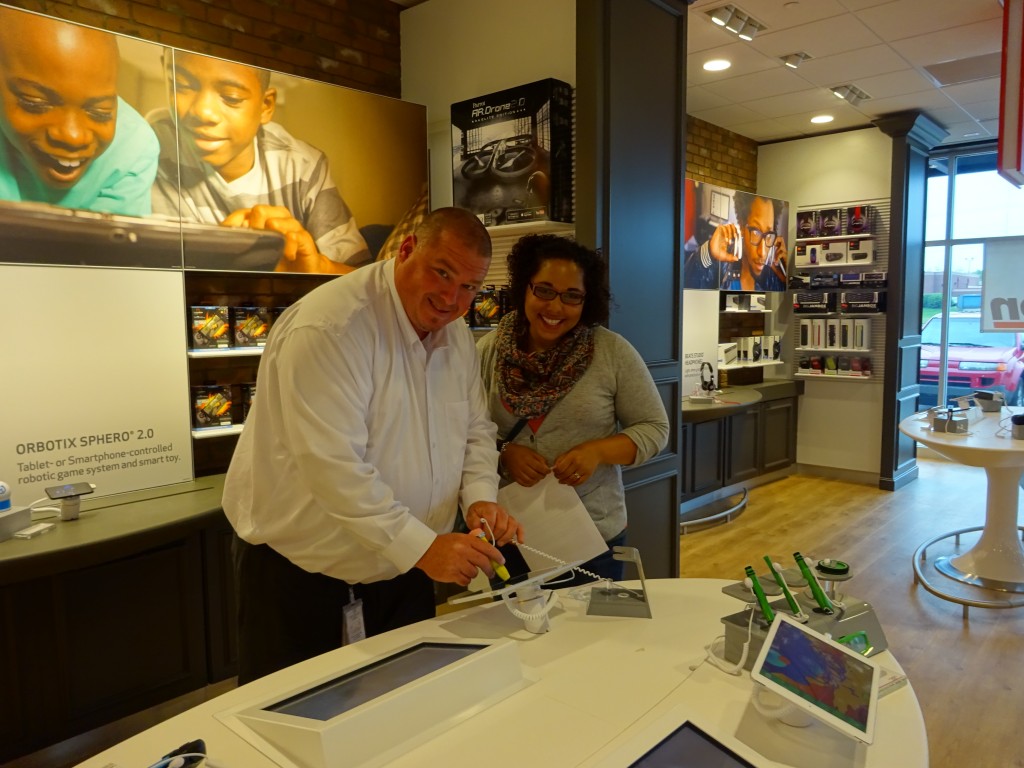 Wes Rickard, District Retail Sales Manager, Verizon Wireless and Ashleigh Evans (BeingCheapIsEasy.com) explore the "Have Fun" lifestyle zone that features novel tech gadgets for members of the entire family.
From fitness accessories that can help busy moms track their health and wellness goals, to educational devices that can be used to enhance children's learning experiences, to home automation gadgets that make running a household simple and efficient, there's something for everyone to enjoy.
As technology continues to evolve, it's our job to help educate customers about the latest advancements in wireless technology. That's why our Grand Rapids Smart Store, and other Smart Stores throughout the Midwest, have a team of solution, education and experience specialists who can guide you through the various Lifestyle Zones and recommended customized solutions based on your unique interests, needs, preferences and desires.
Have you visited our Grand Rapids Verizon Smart Store? If so, send me a tweet. I'd love to hear about your experience!
For more Verizon Wireless news, subscribe via RSS feeds in the right rail.