Four Free Cooking Apps to Make You a Star in the Kitchen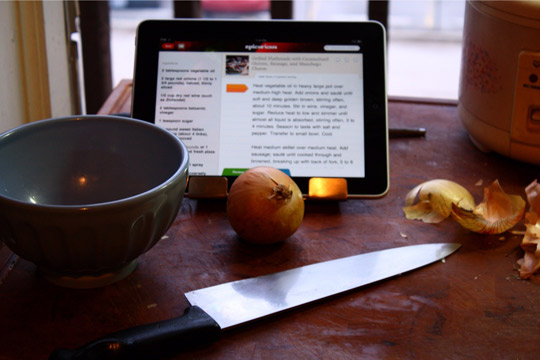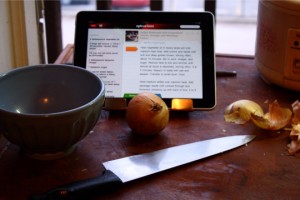 Cookbooks are great. What foodie doesn't love leisurely browsing cookbooks filled with tempting recipes and delightful photography? But with the right apps, smartphones and tablets can become the new cookbook.
Mobile apps are more versatile than books and can hold thousands of recipes, corresponding shopping lists and tutorials at your fingertips. Whether you're a sous chef or someone just learning how to cook, here is a list of free mobile cooking apps that will help in the kitchen:
Epicurious Recipes & Shopping List: Offers a huge library of recipes lifted from the pages of Bon Appetit, Gourmet and other respectable sources, most of which are accompanied by delicious photos.
This next-generation kitchen companion enables food lovers to search for professionally created and tested recipes, make interactive shopping lists, follow step-by-step stove-side instructions and more. Compatible with Apple and Android wireless devices.
AllRecipes.com Dinner Spinner: A great mobile cooking app for those nights you have trouble coming up with dinner ideas. It includes thousands of user-submitted recipes, and you can shake your device any time to see a new random recipe. AllRecipes is a good choice for vegetarians or those with special diets, as you can filter recipes easily. Nutrition facts are also included for those who watch their calories. Compatible with Apple and Android wireless devices.
With the Whole Foods Market Recipes mobile app, you can search recipes by ingredients and dietary preferences such as gluten-free, low fat and vegetarian/vegan. Every recipe includes nutritional information and cooking instructions. You can also enter up to three items you have on hand to find recipes using those ingredients. Add ingredients to your shopping list from a recipe automatically, including quantities so you don't buy too much. You can also add items by hand, edit, rearrange and send your list via email. Use the store locator to find Whole Foods Market stores near you. Each store page includes links to the store website and specials of natural and organic foods on sale at your local Whole Foods Market. Compatible with all wireless Apple devices.
Simply Organic Recipes is a simple mobile app that makes it easy to serve healthy and wholesome meals. Like the AllRecipes.com mobile app, Simply Organic includes a random recipe generator if you just need a quick dinner idea. For browsing, there are a ton of categories to choose from, including vegetarian entrees and healthy recipes for kids. One of the best parts of the Simply Organic mobile app is that you can sort your results by a variety of criteria, including rating. That makes it easy to find the most popular recipes. Nutrition facts are included for each recipe, as well. Compatible with all wireless Apple devices.
Which other cooking apps do you use?
For more Verizon Wireless news, subscribe via RSS feeds in the right rail.