Good-Natured April Fools' Day Apps for your Mobile Device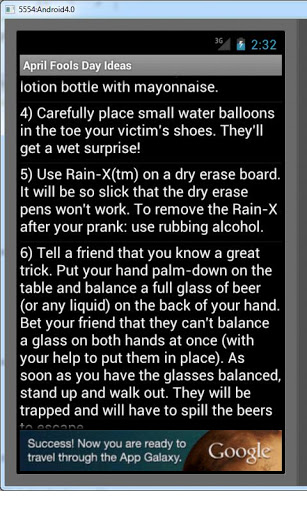 April Fools' Day has arrived. This means that it is time to pull out your practical jokes and tricks to raise any spirits dampened by the extended winter the Midwest has faced this year. When thinking of how to prank your loved ones and friends, turn to your mobile device for new and fresh ideas that will be sure to do the "trick." Below is a list of a few free apps from Verizon Wireless that will help make your April Fools' Day the best one yet.
The Fake-A-Call app (iTunes, Droid) allows users to make their smartphones act as if someone is calling them. This app permits you to set the name, number and time interval, after which the fake call will be activated. The best part of this prank is that users can choose from nine scripts to play when they answer the call.
Looking for some fun and easy ideas to prank your friends this April Fools'? Be sure to download the April Fools Pranks app (Droid). This app offers nearly 70 different practical jokes, ranging from the cute and innocent tease to the trick that may get you in serious trouble. Whether in Kansas, Missouri or any other number of states, the options are endless.
Easily prank your not-so-technology-savvy friends with the Solar Charger app (Droid). Encourage friends to download this app and put their smartphone in a well-lit spot. The battery will appear to magically recharge with the help of the Sun. However, the truth is that it doesn't actually charge, it just appears that way.
Does your friend have a dog, cat or animal that makes a noise? Be sure to prank them this year with the Animal Translator app (Droid). This Android app is able to translate whatever your pet is "saying" into human language. In reality, it only generates sentences at random.
These apps were also discussed with KTVI by our own Shawn Fields:
[ooyala code="gzc25tYTp1E1klCtiB-XA3EQElqzSc9g"]
Now let the pranking begin with these great April Fools' Day apps! Which Midwest state do you think has the best sense of humor?
For more Verizon Wireless news, subscribe via RSS feeds in the right rail.