Greater Philadelphia Chamber of Commerce, Verizon Present Second Small Business Week May 12-16 to Honor Region's Small-Business Community
Greater Philadelphia Chamber of Commerce, Verizon Present Second Small Business Week May 12-16 to Honor Region's Small-Business Community
Activities Include Workshops, Networking Events and More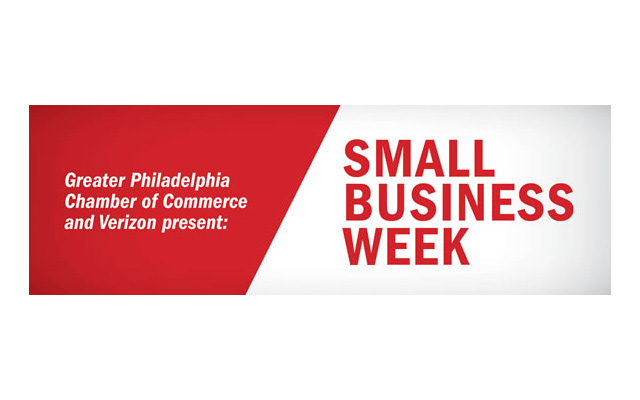 PHILADELPHIA – The Greater Philadelphia Chamber of Commerce and Verizon will present Greater Philadelphia's second Small Business Week May 12-16, paying tribute to the region's more than 150,000 small businesses and their key contributions to the regional economy. The event coincides with the U.S. Small Business Administration's National Small Business Week.
The 2014 Small Business Week will feature a series of events allowing small-business owners to gain insights to better run their business and opportunities to network. The week's activities include a social media contest May 12; Small Business Week Discount Day May 13; an after-hours networking event/business expo May 14; and an interactive webinar featuring Mark Goulston, chairman and co-founder of Heartfelt Leadership on May 15.
Small Business Week culminates on May 16 at the Liberty View Ballroom with a keynote speech by Chris Rabb, adjunct professor at Temple University's Fox School of Business and author of the ground-breaking book "Invisible Capital:  How Unforeseen Forces Shape Entrepreneurial Opportunity," followed by a panel discussion about small-business readiness.  Panelists will include representatives from the SBA, Verizon Wireless and others.
Every year since 1963, the president of the United States has issued a proclamation announcing National Small Business Week, which recognizes the critical contributions of America's entrepreneurs and small-business owners. More than half of Americans either own or work for a small business, and they create about two out of every three new jobs in the U.S. each year.
"Small businesses have always been the driving engine of opportunity in Greater Philadelphia; they are the dreamers, innovators and entrepreneurs that help our region – and nation – move forward," said Rob Wonderling, president and CEO of the Greater Philadelphia Chamber of Commerce. "The chamber will continue to support and provide resources to help our small businesses grow – not just for this one week, but all year long."
Tim Smith, Verizon region president of consumer and mass business markets for Pennsylvania and Delaware and member of the chamber's executive board, said: "We're honored to once again bring this week-long celebration of small business to the Greater Philadelphia region. At Verizon, we know what it takes to make our customers business ready, and we are committed delivering to them technological solutions and resources that will help grow their business."
More information about the GPCC Small Business Week can be found online at www.gpcc.com/smallbizwk.
The Greater Philadelphia Chamber of Commerce is dedicated to promoting regional economic growth, advancing business-friendly public policies, and servicing its members through outstanding programs, benefits and services. As an advocate for regional development, the Chamber is dedicated to supporting and encouraging the continued growth of its 5,000 member companies together with the regional business community. The Chamber strives to influence business-friendly legislation in all levels of government, participate in initiatives to improve education and the community, present professional enrichment programs, and provide our members with cost-efficient ways to run their businesses. For more information, visit: www.greaterphilachamber.com.
Verizon Communications Inc. (NYSE, Nasdaq: VZ), headquartered in New York, is a global leader in delivering broadband and other wireless and wireline communications services to consumer, business, government and wholesale customers. Verizon Wireless operates America's most reliable wireless network, with more than 103 million retail connections nationwide. Verizon also provides converged communications, information and entertainment services over America's most advanced fiber-optic network, and delivers integrated business solutions to customers in more than 150 countries. A Dow 30 company with more than $120 billion in 2013 revenues, Verizon employs a diverse workforce of 176,900. For more information, visit www.verizon.com.
####