You Don't Have to Be a emTech Geek to Have a High-Tech Household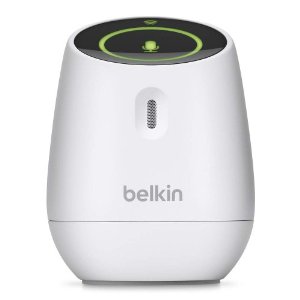 As technology continues to change the way we go about our everyday lives, exciting new innovations are transforming the way we execute even the simplest daily tasks. Whether it's maintaining our homes and lawns, protecting our homes from intruders or even saving a few dollars in heating and cooling, the future is filled with a growing list of digital options.
What is even more exciting, though, is the role today's smartphones and tablets play in the process. Over our 4G LTE network, you can use your mobile device for virtually everything from keeping tabs on your teenagers as they complete homework at the kitchen table to remotely turning off appliances and devices like curling irons that are dangerous when left on.
Take a look at how the following devices can turn your house into a high-tech home:
Belkin Baby Audio Monitor ($89.99) – In conjunction with an easily downloadable smartphone app, this monitor lets users listen to their baby from anywhere they have a wireless signal. With the ability for multiple users to listen simultaneously on iOS devices, this is an excellent high-tech solution for those looking to expand beyond the simple one base, one receiver baby monitors of the past. What's more, the monitor's premium app can even send cry notifications as well as a history of your little one's outbursts.
WeMo Switch plus Motion ($99.98) – Also from Belkin is the helpful WeMo Switch plus Motion system. Simple, yet novel, the WeMo Switch connects to your home's WiFi to enable smartphone users to create schedules for any device that plugs into the wall. Additionally, the device can automatically turn electronic devices on or off by sensing motion inside a room. Whether turning lights or heaters on before getting home or putting outdoor security lights on a varying schedule while away, this device gives smartphone users a wide range of options right at their fingertips.
Nest Learning Thermostat ($198-$249) – Developed by one of the innovators of Apple's iPod technologies, the Nest is a dynamic temperature control system that revolutionizes the thermostat and is part of the new wave of home technology. Able to connect to home wireless, owners can move the temperature up and down from a remote location to help save money on their energy bills. What's more, adaptive learning technology allows the Nest to learn the habits of residents, as well as set minimum and maximum temperatures to avoid damage to the home and costly energy bills. Perhaps the best news: installation is simple and easy for even the most inexperienced individual.
Panasonic Solar Charger ($79.99) – While not accessible via smartphones, here's a smart technology that can help with your energy bill. The Panasonic Solar Charger is an outlet-based charging and light source for the digital home. Capable of powering up a variety of smart devices and AA Ni-MH batteries as well as serving as an LED light source, this versatile solar panel provides a wealth of functionality.
Easy home solutions, like these, are making it effortless for busy, on-the-go people to manage daily tasks and give us more value from their smartphones.
For more Verizon Wireless news, subscribe via RSS feeds in the right rail.
Photo Credit: Verizon Store and Nest