The High Tech Kitty: Cat Apps Turn Tablets Into Virtual Toys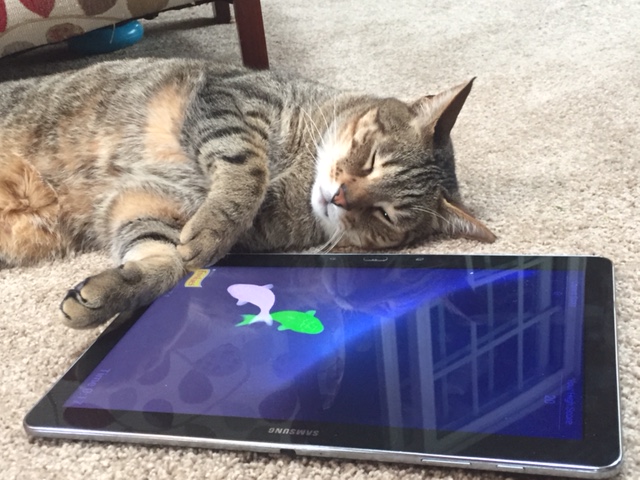 This is a guest post from Jen O'Rourke, a senior public relations specialist supporting Verizon Wireless at Elias/Savion Public Relations in Pittsburgh.
From Grumpy Cat to LOLcats, to the millions of viewers who watch cats do adorable things on YouTube, it's pretty clear that cats rule the Internet.
It should come as no surprise (ok, maybe it's a little surprising) that there's numerous cat apps designed with the sole purpose of delighting and entertaining our furry friends.
Not convinced that it's worth turning your beloved tablet into a virtual cat toy? Turns out the cat apps could benefit your pet. While many vets agree that indoor cats live longer than outdoor cats, they can struggle with behavior problems triggered by boredom and health problems linked to obesity and inactivity.
Personally, if an app can keep my cats entertained and off our kitchen counters, I'm all for trying it!
So are cat apps making the traditional toy mouse so passé in the kitty world? I decided to recruit two test subjects, aka Puck and Romeo (my four-year-old indoor tabby cats), to see if the apps entertained my furry friends.
I downloaded the apps onto a Samsung Galaxy Note Pro, which offers a large, crisp screen. (FYI-no tablets were harmed in the testing process. My cats' claws never scratched or damaged the screen.)
Friskies' Cat Fishing 2 (free on Android and iOS) is designed to let cats "catch" fish as they swim across the screen. The more fish your cat catches, the more challenging the game becomes. So what did our test subjects think of the app? Puck was scared of it. Yes, scared of virtual fish. Romeo on the other hand seemed lulled to sleep by the peaceful swish of the fish swimming back and forth. So far not feeling confident about the entertainment value of cat apps.
Next up was a mouse chasing game on the Games for Cats app (free on Android and iOS). As the mouse darted back and forth on the screen, my cats stared and stared, and then Romeo pounced, crazily trying to capture the virtual mouse. This app was a hit!
While Puck and Romeo only tested these two apps, there are many more out there, including Paint for Cats ($1.99 on iOS). Cats chase a mouse and leave a trail of splattered paint where they have pawed or jumped. Cat owners can then share the artwork of their feline Picassos via email.
Apps for Cats! from Elias / Savion on Vimeo.
Think tech for pets is just a fad? The industry is expanding beyond apps, and wearable tech for pets is expected to follow the trend of wearable tech for humans. FitBark monitors your dog's everyday activity, providing a new way to understand your dog's health, explain changes in behavior and help you make better decisions with your vet. Tagg Pet Tracker uses GPS location and wireless technology to help you find your lost pet using a computer or mobile device. You can also track your pet's daily activity levels and get help spotting long-term trends.
From the popularity of apps, to the introduction of new wearable devices, mobile tech is officially going to the cats and the dogs!
For more Verizon Wireless news, subscribe via RSS feeds in the right rail.