From smartphone to smart farm.
How one couple is growing healthy food in a shipping container to feed their community.
Full Transparency
Our editorial transparency tool uses blockchain technology to permanently log all changes made to official releases after publication. However, this post is not an official release and therefore not tracked. Visit our learn more for more information.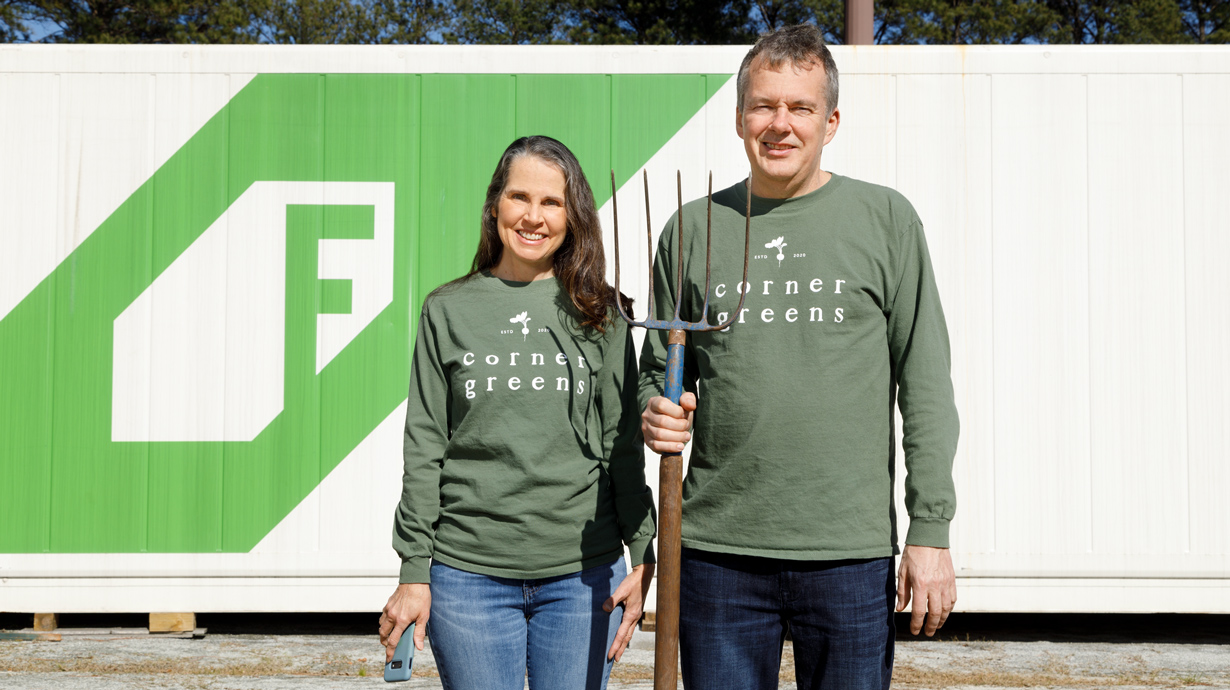 Rob Flanders pulls out his smartphone and with a few taps, he turns off a hydroponic water system. "This," he says, referring to the farmhand® app on his phone, "is the brains of the farm."
Located in a shipping container in his backyard, the entire "smart farm" is less than .15% of an acre. Rob and his wife, Joan Flanders, manage everything—the lights, water pumps, water pH, humidity levels, fans and temperature—from that smartphone app. It's all monitored and controlled using in-farm sensors connected to the cloud via a Verizon hotspot. When they aren't actively working onsite, Rob and Joan remotely automate their tasks and monitor their farm's growing metrics from their smartphones.
The repurposed shipping containers even come with Bluetooth to pipe in music. Rob plays '70s rock 'n' roll and the plants "love it."
The Flanders could have retired—Joan is 55 and Rob is 58. Rob was working 60 hours a week running a successful hotel renovations business. Joan had been home raising their children, but all three were grown and out of the house. So why, instead of looking toward retirement, did the Flanders decide to start a hyper-local, high-tech smart farm growing vegetables in a 320-square-foot, climate-controlled shipping container?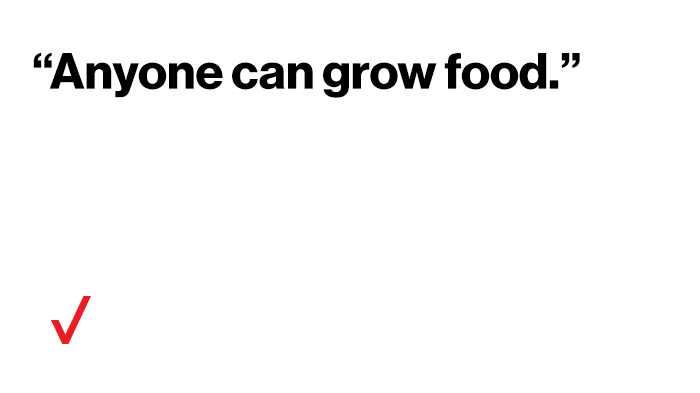 From backyard gardener to full-time farmer
With just backyard gardening experience and some experiments with a small basement hydroponic (soilless) growing system, the couple jumped full-time into a smart farm career path. A commitment to healthy eating had opened their eyes to how hard it was to find fresh, locally grown, pesticide-free produce. At a vegan food festival, they saw a model version of an indoor, hydroponic freight container system and they were hooked.
In March of 2020, their first customized farm-in-a-shipping-container was delivered to their hometown of Peachtree Corners, Georgia, and set up in the parking lot of their newly purchased "farm" property, a commercial lot perfect for setting up container "farms."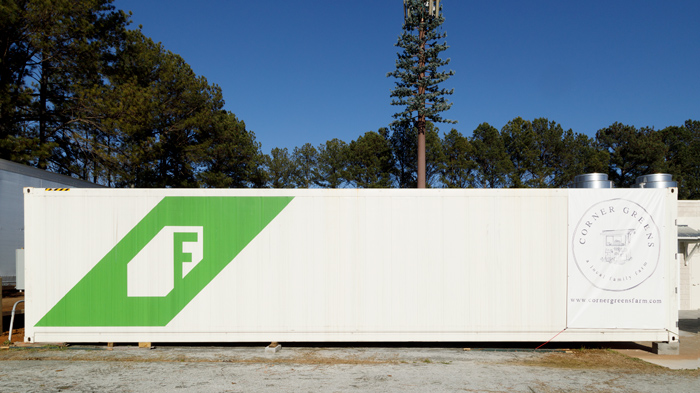 It's always a perfect spring day inside the Freight Farms shipping container, where the average internal temperature is 70 degrees F. Photo credit: Patrick Heagney
"Our neighbors were like, 'What? Why aren't you retiring?' We were like, 'Ennh,'" Joan jokes. Eating healthy food and protecting the environment was more important to the Flanders.
Developed by Boston-based company Freight Farms, the Greenery is a smart farm in a container that uses an automated, nutrient-rich water solution and LED lighting system to grow up to 13,000 plants per farm. Plants like lettuce, microgreens and cut flowers are grown in hanging, movable vertical grow strips, fed using a soilless drip irrigation system, and are ready to be harvested in just a few weeks. The system slowly wicks nutrients from the top to the bottom of each planted panel. The water solution is captured and recycled for reuse. A single farm uses less than five gallons of water a day—99% less water used than in industrial farming to grow a similar crop.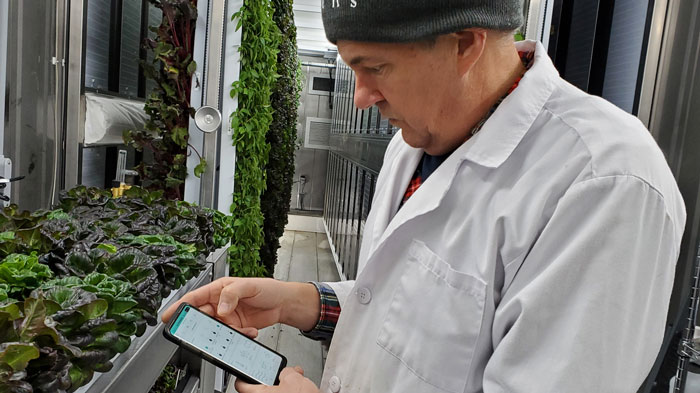 When they aren't actively working on-site, Rob and Joan remotely automate their tasks and monitor their farm's growing metrics from their smartphones.
It was a wild ride those first few months, the couple said, as they learned how to grow food in such a highly precise, automated indoor system. Growing food in a soilless system is a different level of farming expertise. Instead of worrying about their soil fertility, or whether they needed to water the garden, they were monitoring the pH strips of their hydroponic nutrient solution and making sure the air flow was adequate to prevent a disease outbreak. They despaired over lettuce that looked beautiful until it rotted at the tips right before harvest time, a sign their nutrients were off balance; failed at growing carrots; then half-succeeded at a green bean crop that tasted great but "took over the farm and cut down the airflow."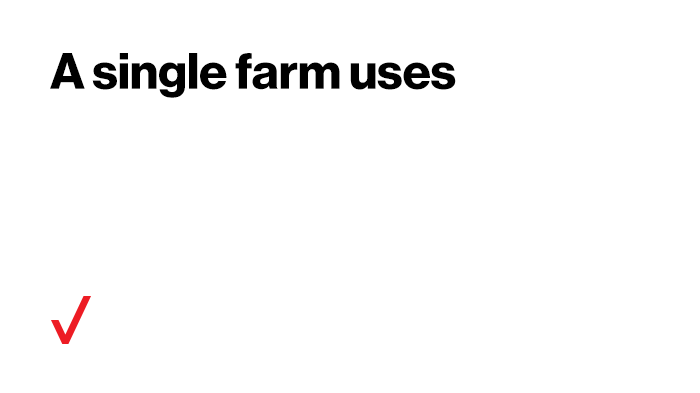 Despite their rocky start, their new never-ending work cycle and the headaches of a small farming business, they're devoted to the mission and the values behind the Freight Farm concept.
"We're trying to do something with our smart farm that would help the community, keep it local (and help) the environment," Joan explains.
Connectivity to feed the world
The Freight Farm concept is a version of a "controlled environmental agriculture" (CEA) system—a tech-first answer to the global challenge of growing more food in smarter ways for a healthier planet using the farm to phone tech.
CEA combines ancient methods of growing vegetables in water (the Hanging Gardens of Babylon, circa 600 B.C., are the first recorded example of hydroponics) plus highly efficient, broad-spectrum LED lights to replace natural sunlight. NASA developed the LED growing concept in the 1980s to provide fresh vegetables for astronauts.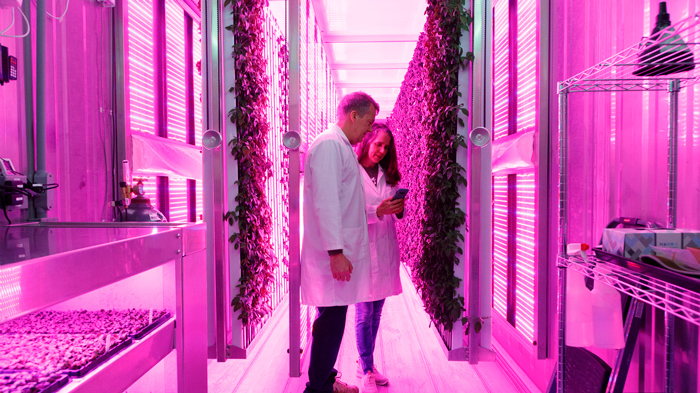 The farm uses high-efficiency LED strips to replicate sunlight. The lighting system isolates the red and blue light that plants are optimized to absorb from the full light spectrum. Photo credit: Patrick Heagney
Large vertical farm businesses like AeroFarms, a New Jersey-based company, can harvest up to two million pounds of produce per year in just one of their warehouse farms. Their business is booming. That's encouraging, considering global populations are expected to rise by 10 million people by 2050. According to the Food and Agricultural Organization of the United Nations, the world will need to grow 50% more food in a future challenged with less available arable land, biodiversity loss and cataclysmic weather events induced by climate change.
But while the AeroFarms of the CEA world went big, Freight Farms has gone small, local and connected, with a passion for putting indoor, smart farm hydroponic growing techniques into the hands of small farmers and local communities anywhere they can ship a container to.
"(Freight Farms) can exist anywhere in the world, (operate) in any season, so that anyone can grow food," says Jake Felser, chief technology officer for Freight Farms. Their smart farms are operating in 32 countries worldwide, in temperatures ranging from negative 40 degrees to 140 degrees Fahrenheit. They have farms in parking lots, under highway passes, in a desert in Kuwait and on a mountaintop in the Colorado Rockies.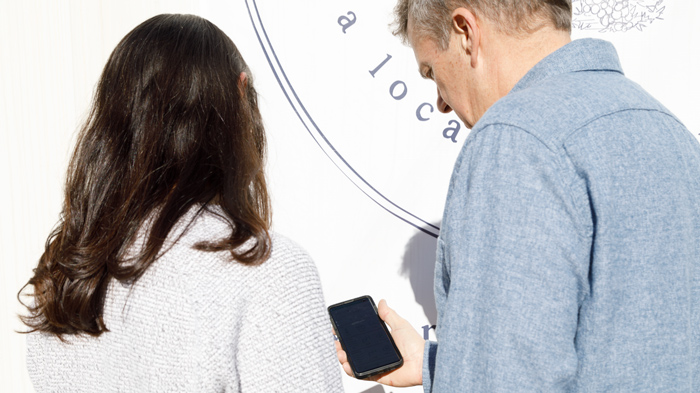 The Flanders use a Verizon hotspot to manage the in-farm sensors connected to the cloud. Photo credit: Patrick Heagney
The in-farm automation of their systems and the company's inter-connectivity support is what makes the Freight Farm model shine, Kelser says. The majority of Freight Farm farmers are new to farming—like the Flanders. They lean heavily on the remote, connected support of the Freight Farms client services team to help them run diagnostics and troubleshoot their systems. With their permission, Felser can monitor any freight farms from his phone (even, as he explains, at 2 a.m. while feeding his infant daughter) using the Freight Farms farmhand® software management platform—the same app the Flanders use.
As more smart farms ship and come online, the Freight Farm system will collect even more data and get even smarter.
Eventually, Felser says, "Farmhand should be able to tell you, by itself, how your crops are doing, what you might need to change, do you need to try different nutrients. Is one of your water pumps broken? Here's the one you should order, click that."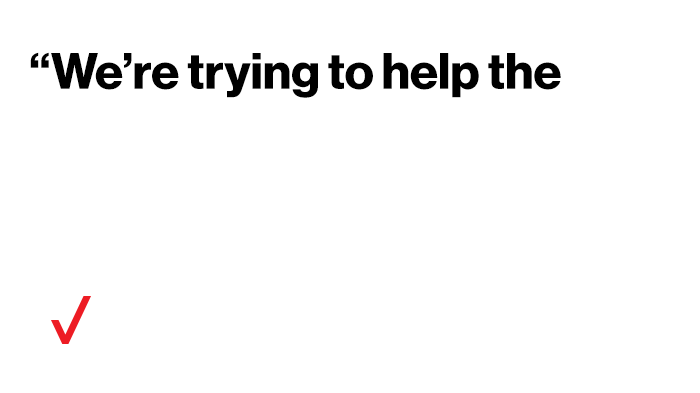 Growing community connections
Back in Peachtree Corners, the Flanders have learned they can successfully grow lettuce, salad mix, basil, chard, beet greens, mustard greens, cilantro, microgreens and other fast-growing vegetables.
Head lettuce is particularly popular. And impressive. One vertical wall of 22 individual hanging panels (each container has four walls) grows out a quilted patchwork of 990 heads of red, green and bronze lettuce heads. It is nearly twice as tall as Joan stands. She uses a ladder to harvest it.
Rob says a parent told them their child tried their salad mix and asked, "Mommy, why does this lettuce taste so different?"
It's because it's so fresh, Rob explains, picked just that day. That's unlike lettuce normally shipped to Georgia from California, thousands of miles away, taking many days from harvest to arrive on a consumer's salad plate. Plus, because they grow in a controlled indoor environment with no soil, there's no need for pesticides or herbicides. Weeds and bugs aren't a problem. They don't even wash their greens. They grow pristinely clean.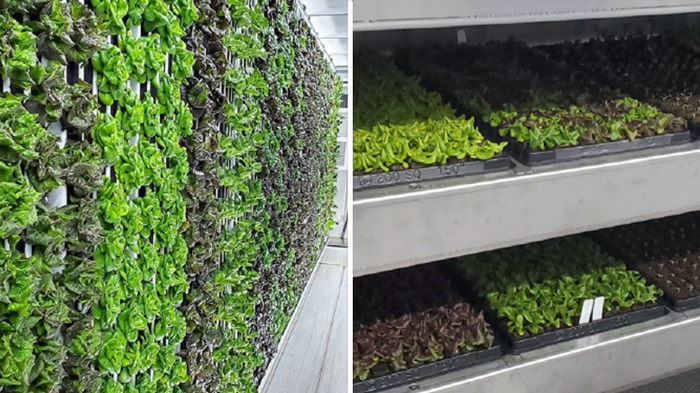 By growing plants vertically—without soil—the 320 sq. ft. unit can grow 2–4 tons of produce every year.
But fresh lettuce means that every day is nonstop busy. The smart farm is automated, but it still takes their hands to set out the next flat of seedlings for germination, transfer the teenage plants to the growing walls, and harvest, harvest and more harvest.
They've also had to learn to market and sell their wares. Originally, they planned to sell to restaurants, but the coronavirus pandemic waylaid that idea. Instead, they started selling through a weekly subscription list (customers email in their orders) and dropping orders to small, local markets. Not even a year has passed, and their customer numbers are growing and word is spreading. Rob says their product has been so well-received that their orders have been very consistent. Some customers have ordered every week for 30 weeks straight.
When the Flanders grow too much (and they often have more than they can sell), they donate back to their community.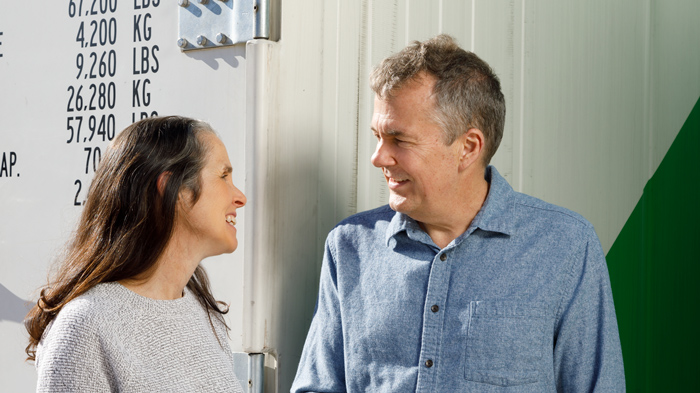 With just backyard gardening experience and some experiments with a small basement hydroponic (soilless) growing system, the couple jumped full-time into a smart farm career path. Photo credit: Patrick Heagney
Over the summer they were returning from a delivery and drove by the local food bank. They were sad to see cars lined up for miles, waiting to enter. That following Saturday, the Flanders donned the white lab coats they wear to keep their soilless produce as clean as possible, harvested anything they knew they weren't going to sell, bagged it and delivered it to the food bank. Helping people have healthy vegetables during a time when many can't afford it is something the Flanders are thankful they have the opportunity to do.
Planning for future growth
The Flanders are delighted that they've already made such an impression with their local community and that their business is taking off. They've even hired their first employee. Their second container was delivered in September, and a third will arrive this spring.
Even though farming is a challenging business model, more than they had first imagined, having the tech literally in their hands to support them every step of the way has made a difference in building a profitable and sustainable smart farm business.