How two college grads are inspiring others on their road trip through North America
How two college grads are inspiring others on their road trip through North America
UHSE are travelers and documentarians, enabled by technology, on a mission to change how we see ourselves – and each other.
For the generation that grew up deeply connected to one another via the Internet and social media, travel presents an opportunity to experience the world from the other side of the screen. In recent years, more and more freshly-minted college grads are opting for extended travel as a prelude to careers, marriage or mortgage payments. But for UHSE, weeklong treks through the countryside and life on the road is about more than millennial wanderlust. UHSE (pronounced "us") stands for "U, He, She, and Everyone." Created and produced by Connor Callanan and Conor Mallon, the project uses short-form video, breathtaking scenic photography, and social media to share their travels, daily challenges and victories with their friends and followers, with the goal of inspiring others to get out and explore the world.
Creating meaningful human connections is central to the project's mission of inspiring others to "explore, adventure, travel, and push themselves to new places." Through these connections – both in-person and online with their fans - the duo has begun to turn UHSE into a community of travelers, explorers, and champions for the road less traveled. "We've always been storytellers and adventurers," Callanan said when we recently caught up with the pair. In conversation, their geniality and passion is immediately apparent; they both clearly have a knack for making friends anywhere they go. To hear them describe their story, every obstacle – a broken down van, or a last-minute job hunt – is an opportunity to meet somebody new, make a friend, or even gain a future couch to surf.
The UHSE team began their journey in the summer of 2015. Callanan and Mallon, University at Albany alums who have been friends since high school, both found themselves on career paths that left them feeling uninspired. Callanan's 5-month trip to Africa the previous year had sparked an interest in travel in both of them – Mallon, who was finishing a grad degree in atmospheric science at the time, had been watching his friend's journey as it unfolded over social media. The pair spent the summer driving taxis around Martha's Vineyard, then packed up their van – a shuttle van they purchased from their employer and converted into a make-shift camper – and embarked on a two-month road trip through the U.S., Canada and Mexico. They documented and shared the sights and sounds, from Niagra Falls to Tijuana and everywhere in between, on social media. As they made their way west, their audience grew, founding group members departed, but Callanan and Mallon's desire to travel only grew stronger. They spent the winter in Vail working in the service industry and saving up for a five-week trip through Alaska, which wrapped up earlier this summer.
The duo's enthusiasm for travel has been shown to be infectious, as evidenced in the story of Doug. At 19 years old, Doug was looking for a change of scenery and a new direction for his life, and so had moved up to his grandmother's house for the summer in Seward, Alaska. Callanan and Mallon both recognized in him the same pent-up desire for adventure they felt before beginning their journey, and so that same day, they brought Doug on a three-day trip to an organic farming collective (also known as a WWOOF) in the Southern part of the state. In a follow-up video, Doug shares his newfound wisdom to the Instagram audience: "Never be afraid to leave your comfort zone."
It may seem obvious to note the ways that mobile technology has aided and enhanced their journey – but we are Verizon, after all. Callanan and Mallon both credit modern mobile tech for the ease with which they can research, plan, and share their travels. They even do much of their photo and video shooting using iPhones. "The technology is incredible – directions, internet, researching, connecting with hosts," says Callanan. "Not only can we travel like never before, but we can capture and share these experiences like never before."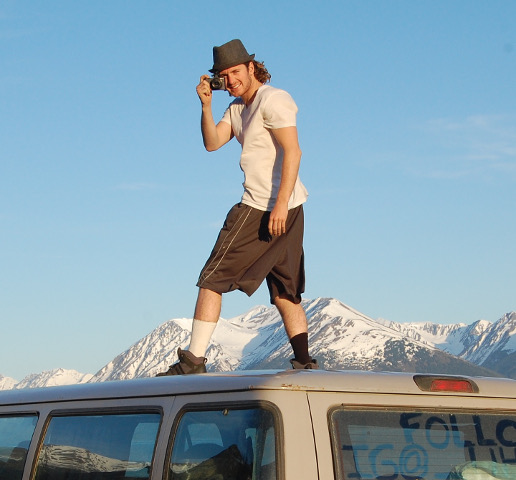 In many ways, it's the sharing that sustains their journey. Both admit that their families, particularly their parents, were initially skeptical of their plan. To their parents' generation, the idea of a road trip may be more readily associated with aimless wandering and Jack Kerouac, rather than personal growth, skill development and spiritual fulfillment. As they traveled, the pair documented their experiences, developed their content production skills, and gained a social media following while their parents watched from back home on the east coast. Indeed, the ability to (virtually) bring their parents along for the ride, for them to see the hard work that goes into forging a community of like-minded travelers, is what helped legitimize their journey in their parents' eyes. When asked how often they spoke to their families while on the road, the two answered immediately and simultaneously: "Every day."
A guiding principle for UHSE, concisely stated, is that travel disrupts perspective. When asked what the overarching mission is, Callanan is unwavering and immediate: they want to encourage their fans and audience to seek exposure to new cultures and people. They believe exposure to their journey will "add to the desire and ambition to get out and see new places in the world." Sharing the gospel of adventure, one new follower at a time.
What's next for UHSE? Callanan and Mallon are back in Martha's Vineyard for the rest of the summer, working to finance the next leg of their journey. In the fall, they'll head back west for a hiking trip through the Grand Canyon to Havasu Falls, then onward to San Diego and up the coast of California before returning to Vail, CO for the winter. Follow them on Instagram to keep up with their journey.
Do you have a great story to share about staying connected? We may want to help you share it with the world. Please email us with some details and we'll reach out if we think it might be a great fit.