HTC One (M8) Helps One-Man Band Cover #1 Ranked UK Wildcats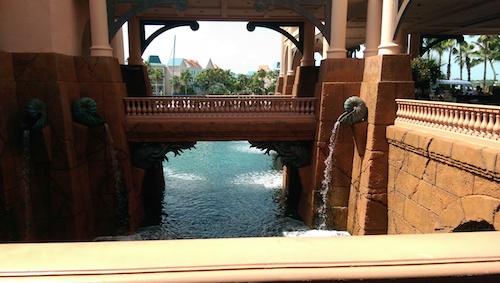 Photo: Atlantis Resort in the Bahamas.
This is a guest post by Tom Leach. Leach is the "voice of the University of Kentucky Wildcats," calling play-by-play during games. Outside of games, he covers all things UK on his website, TomLeachKY.com, through biweekly columns for UKAthletics.com, and television assignments for NBC, ESPN and local stations in Lexington and Louisville. Disclosure: We loaned the devices to Tom to take on his trip.
While the rest of the country is hyped about football kicking off, Big Blue Nation has already had a look at what the 2014-15 basketball season may bring, and the University of Kentucky Wildcats did not disappoint. The preseason number one ranked team recently played six international games in the Bahamas. Tropical location aside, it was a business trip, and I provided coverage to the fans at home through play-by-play of the games, as well as blogs, podcasts and other commentary on my website.
I used the new HTC One (M8) phone to shoot interviews of the players and coaches in the media room after games. The interviews were used both on my website and radio show, and I also posted photos on Facebook and Twitter to keep Big Blue Nation up to date on all the happenings.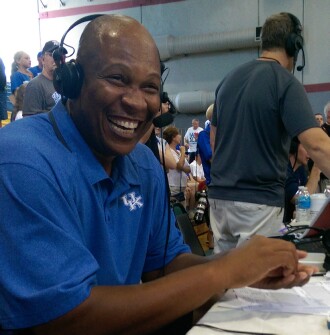 UK Associate Head Coach Kenny Payne gives a post-game interview to Tom Leach.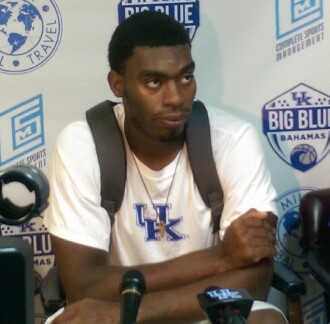 7-foot tall sophomore center Dakari Johnson speaks about his performance in the Bahamas.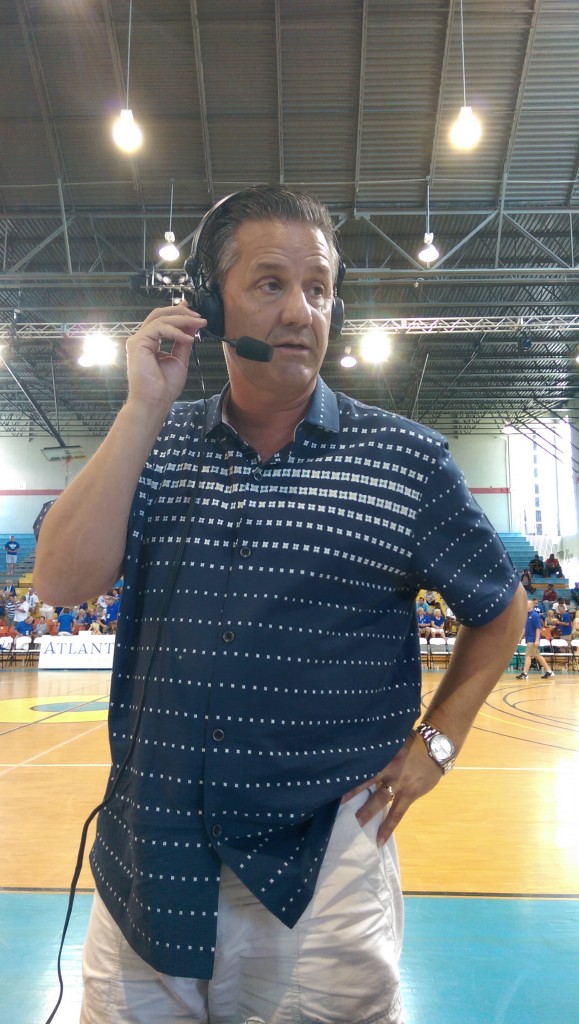 Coach John Calipari interviews during the post-game show in the Bahamas.
The phone worked superbly. I've previously used flip cameras for these purposes, and the picture quality was good, but the audio wasn't always great. This phone offers outstanding quality for photo and videos - in fact, higher quality than any other device I've used.
A big plus for me was being able to quickly and easily change between photos and videos. Coach Cal would come up, I'd snap a photo and then switch it right over to video for the interview. I'm a one-man band, so I appreciate these devices being very efficient and reliable. Being able to count on my phone to shoot video, photos and audio—critical pieces of my business—was immense.
When we were in the gym, there was no WiFi, so my Verizon Jetpack 4G LTE Mobile Hotspot also came in handy. It allowed me to upload photos and videos immediately to the fans at home. The ease at which I was able to get the latest news uploaded was fantastic. I know this phone will help make my job easier in the upcoming football and basketball season.
Get ready! The Wildcats' season opener is November 2 against Pikeville.
For more Verizon Wireless news, subscribe via RSS feeds in the right rail.