Increase Sales Leads in an Hour: Join Our Free Webinar on March 11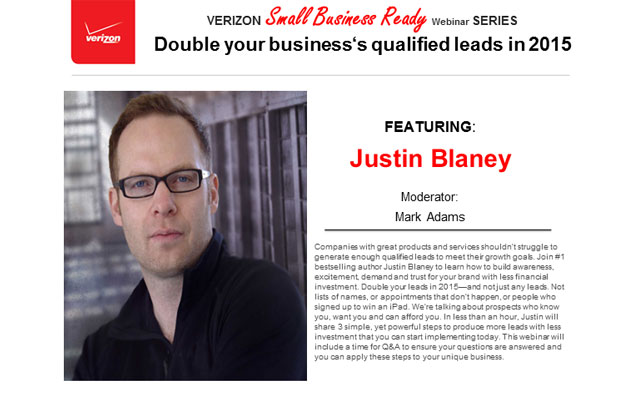 The Verizon small business team's latest live webinar is on March 11, featuring Justin Blaney, entrepreneur and No. 1 best-selling author of six books including "Evan Burl and the Falling."
This is one webinar you should make time to join live so you can ask Blaney your questions or to elaborate on a point he makes. During the live webinar, he will share simple yet powerful steps that businesses can implement to produce more quality leads on prospects. Webinar attendees also will learn how to build awareness, excitement, demand and trust for their brand.
Blaney founded more than a dozen businesses and nonprofits, and became a millionaire at the age of 25. He has since lost and regained his fortune several times, but through it all, he discovered his passion: helping individuals and organizations generate an audience of advocates built on trust, consistency and clarity.
The Verizon Small Business Ready Webinar Series is designed to keep small businesses informed and ahead of the competition. All live webinars are recorded and available for on-demand replay. To view past webinars, visit www.verizon.com/webinar. Follow @VZSmallBiz on Twitter for tips and insights during this live webinar, or search in Twitter for #vzsmb.
WHAT:               Verizon 2015 Webinar Series: "Double Your Business's Qualified Leads in 2015!" Join live to ask your questions.
WHEN:              Wednesday, March 11, at 2 p.m. ET/1 p.m. CT/12 p.m. MT/11 a.m. PT 
WHERE:           Admission to this live webinar is free, but please register at least one hour before it starts to receive a required "e-vite."