Launching #VZWHRchat - First Chat Taking Place Tuesday, April 22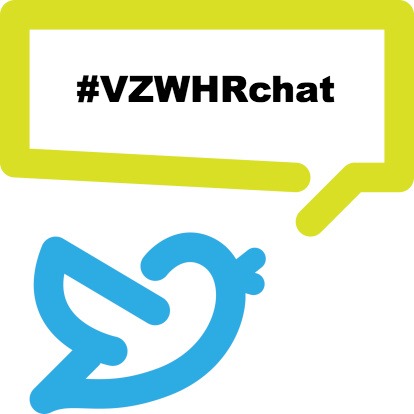 If you live in the Midwest and are looking for a new career opportunity, we may have the perfect position for you at Verizon Wireless. We currently have a strong hiring need in customer care and retail.
What's it like working for Verizon? Hear directly from our people why they choose to work at Verizon. Here's additional insight:
When you walk through our doors anywhere in the world, you'll find a group of sharp-minded individuals working in a challenging and collaborative environment - one that fuels inspiration, drives innovation and encourages you to always think different. You'll immerse yourself in a culture defined by a set of values that demand we operate with the utmost integrity, respect and trust one another, deliver superior customer experiences and embrace diversity. Together, we'll work hard and own our actions. We'll push boundaries and enact change. We'll make a difference.
To piggyback off our available positions throughout the Midwest, we are launching the #VZWHRchat series. We're partnering with HR experts across the Midwest to host various Twitter chats related to finding a job that's more than a job - it's a career.
Our first Twitter chat is taking place on Tuesday, April 22 from noon - 1 p.m. EST. We've partnered with Jennifer McClure from Unbridled Talent, who will co-host the chat with us. Here's what we'll discuss:
During an interview, what should you ask to determine growth opportunities at the company?
Once you start the job, what critical steps should you take to advance your career?
What are examples of career development programs/training that prepare employees for individual success?
You've been in the same position for years and haven't been promoted. What should you do?
What should you avoid doing that could hinder your ability to grow with your company?
What lessons have you learned working for (or with, on the HR side) companies that both provide/don't provide opportunities to advance?
Reps from Verizon's HR team will participate in the chat to share their insight.
If you haven't participated in a Twitter chat before, we recommend using Tweetchat to best follow along with the conversation.
Mark your calendars, and we hope you'll join our very first #VZWHRchat on April 22!
Visit the Verizon Job Center to learn more about career opportunities in your area.
Disclosure: Verizon is compensating Jennifer McClure for partnering with us on this initiative.
For more Verizon Wireless news, subscribe via RSS feeds in the right rail.