New Verizon gear to honor all those who have served.
Just in time for Veterans Day, we're expanding our military apparel line with a portion of the proceeds supporting the military community.
Full Transparency
More of our content is being permanently logged via blockchain technology starting [10.23.2020].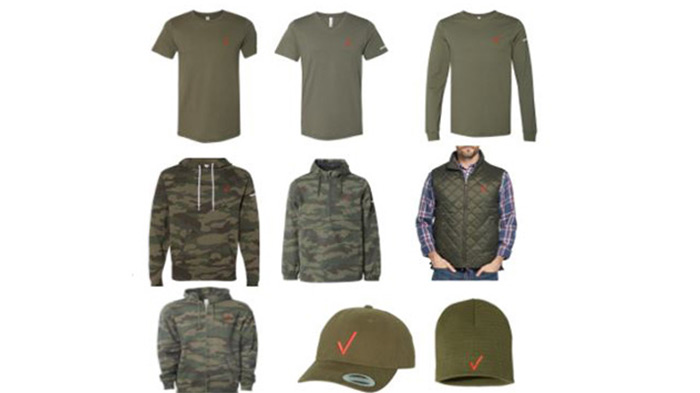 This past May as part of Military Appreciation Month, we recognized our veterans and active-duty service members around the world with our new apparel that supports a great cause.
As Veterans Day approaches, we're expanding our military apparel with some exciting new additions as part of our efforts to give back to the military community. We will continue our partnership with CallForFire (CFF), a veteran-owned and operated business, to manufacture these items. 
Available for purchase, our apparel now includes military green t-shirts, camo-themed sweatshirts (zipped and hoodie), baseball caps, vests (men's and women's sizes), v-neck tees, long sleeve tees, anorak rain jackets, beanies, and an exclusive WWP/Verizon pin that will be included free with all purchases. 
These veteran nonprofit organizations will receive a portion of proceeds on behalf of Verizon: 
FourBlock is focused on changing the process of transitioning and hiring veterans. FourBlock aims to equip transitioning veterans to pursue careers that truly fit their calling. This organization has a mission to shape the future for a new generation of veterans.
Mission 22 supports veterans with rehabilitation services for those with PTSD, Traumatic Brain Injury, and substance abuse, and is dedicated to healing America's veterans. This organization has a direct focus on rehabilitation and decreasing the veteran suicide rate of 22 per day. 
Semper K9's mission is to enhance the quality of life for wounded, critically ill and injured members of the U.S. Armed Forces and their families by providing them assistance dogs. Using rescued and donated dogs, SemperK9 provides service dogs for psychiatric alert and mobility challenges free of charge to wounded service members.
Wounded Warrior Project is a charity and veterans service organization that offers a variety of programs, services and events for wounded veterans of the military actions following September 11, 2001
Burnpits 360 supports Veterans exposed to toxic burnpits during the Operation Enduring Freedom and Operation Iraqi Freedom wars who suffered neurological disorders, pulmonary diseases, rare forms of cancer, and many unexplained symptoms. These soldiers were exposed to toxins tons of hazardous waste burned by government contractors at forward operating bases using jet fuel in large ground pits. 
Show your support this Veterans Day by purchasing these items from Call for Fire for yourself or loved ones who have served or are active-duty— you don't have to have military service to support this great cause!