#Next20: American History 101
Don't miss tomorrow's #Next20 on how Black history offers a blueprint for a more equitable future.
Full Transparency
Our editorial transparency tool uses blockchain technology to permanently log all changes made to official releases after publication. However, this post is not an official release and therefore not tracked. Visit our learn more for more information.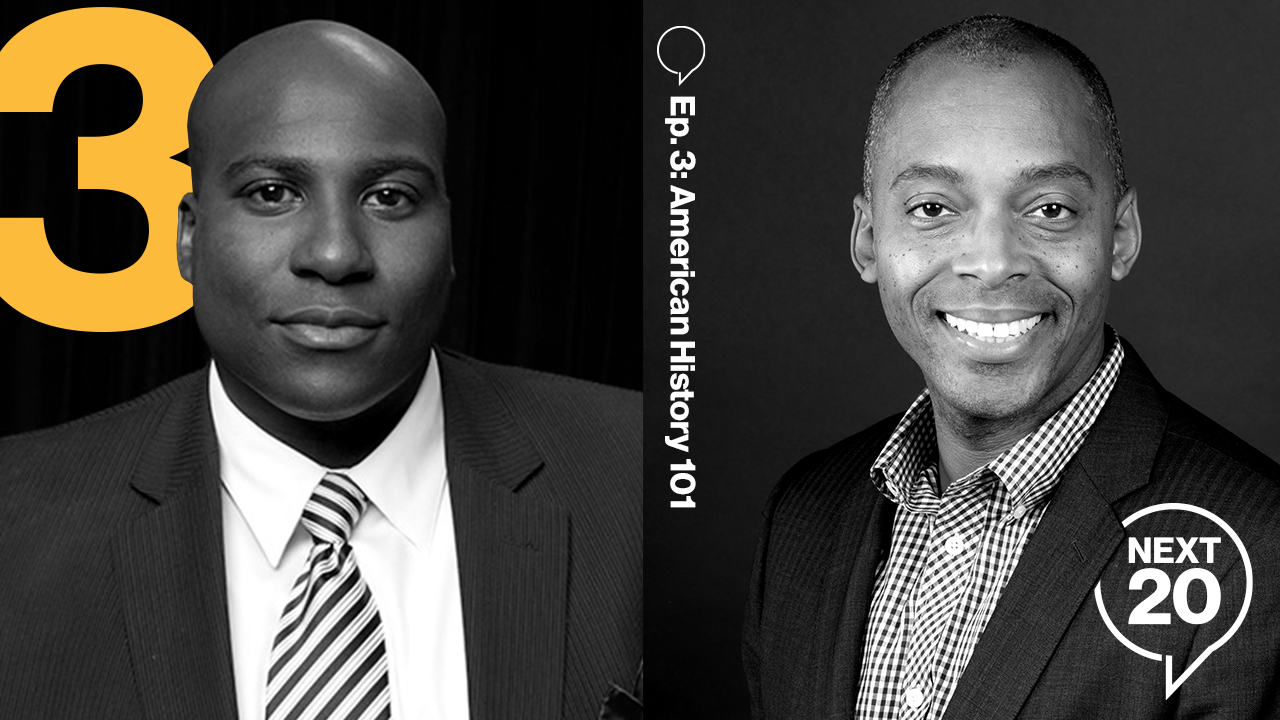 Tune in tomorrow at 3 PM ET to listen, learn and find out how you can be part of the change.
Students learn mathematics, science and American history because it's part of our educational fabric to prepare children for the future. However, we rarely spend more than a few chapters exploring Black history.
You may remember learning about Harriet Tubman, Frederick Douglass, Rosa Parks and Dr. Martin Luther King Jr. However, despite tremendous contributions, it's unlikely that W.E.B. Du Bois, Ella Baker, Shirley Chisholm, Claudette Colvin, the Tuskegee Airmen, Thurgood Marshall, Madam C. J. Walker, Ida B. Wells and countless other Black leaders, creators and makers were included in your social studies class.
Think about Katherine Johnson. While she is most known for calculating the flight path for the first American launch in space and helping to land the first men on the moon, her story spent decades gathering dust and only became well-known after Hollywood pushed it forward. How many Black leaders, makers and creators never made it to our history books?
#Next20: Tune in tomorrow
In this episode of #Next20, Dr. Khalil Gibran Muhammad, Professor of History, Race and Public Policy at the Harvard Kennedy School, speaks with David Hubbard, Vice President of Legal and Public Policy at Verizon, on the importance of studying Black history as a blueprint for building a more equitable future. With the onset of the back-to-school season, it has never been a more important time to make sure our history truly reflects and includes our diverse society.
Black history is American history. When you peel back layers, you realize how Black history shows us the origins of racism and why there are still racial disparities in education, capital, housing and healthcare, as well as the ongoing criminalization of Black people on the basis of race.
Some may think events such as the deaths of George Floyd and Breonna Taylor have sparked the recent protests and conversations on racial justice, but they are the product of a centuries-old boiling point. This is the same fight from 1619, 1861, 1963, 1992 and 2014 with many historical touchpoints woven throughout contributing to an ongoing movement for real, lasting equality. With education as the foundation for how we see the world, infusing a greater understanding of Black history will help us realize what needs to change and how to get started.
You can't move forward without understanding and processing the past. As we look to dismantle systemic racial injustices, we need to know how these systems originated to rebuild for a brighter tomorrow. Make sure to watch tomorrow at 3 PM ET.
What's #Next20?
#Next20 is a new series of conversations about the top racial, social, environmental, technology and business issues that will define the next 20 years.
Each episode will feature the next generation of leaders and groundbreaking pioneers to explore the inspiration behind their activism and their ideas to build a better future. From this series, we hope to accelerate their calls for change and move the world forward for good.
Calling all visionaries
If you have a suggested speaker for #Next20, please comment below and help us find the visionaries, dreamers, believers and doers. If they are moving and shaking the world for good, we want to shine a light on their efforts, ideas and inspirations as part of this groundbreaking new series.
This is #Next20—the voices of the future.
Need to catch up on #Next20?
Don't worry, we've got you covered with the latest episodes:
Episode 1: Criminal Justice Reform
#Next20 brings together a diverse group of speakers to share their perspectives and experiences on key societal issues. The thoughts and beliefs expressed by the speakers are their own and do not necessarily reflect the view of Verizon.
Related Articles