#Next20: Born Digital
With their sights set on building a more equitable future, get to know the power and influence of Generation Z.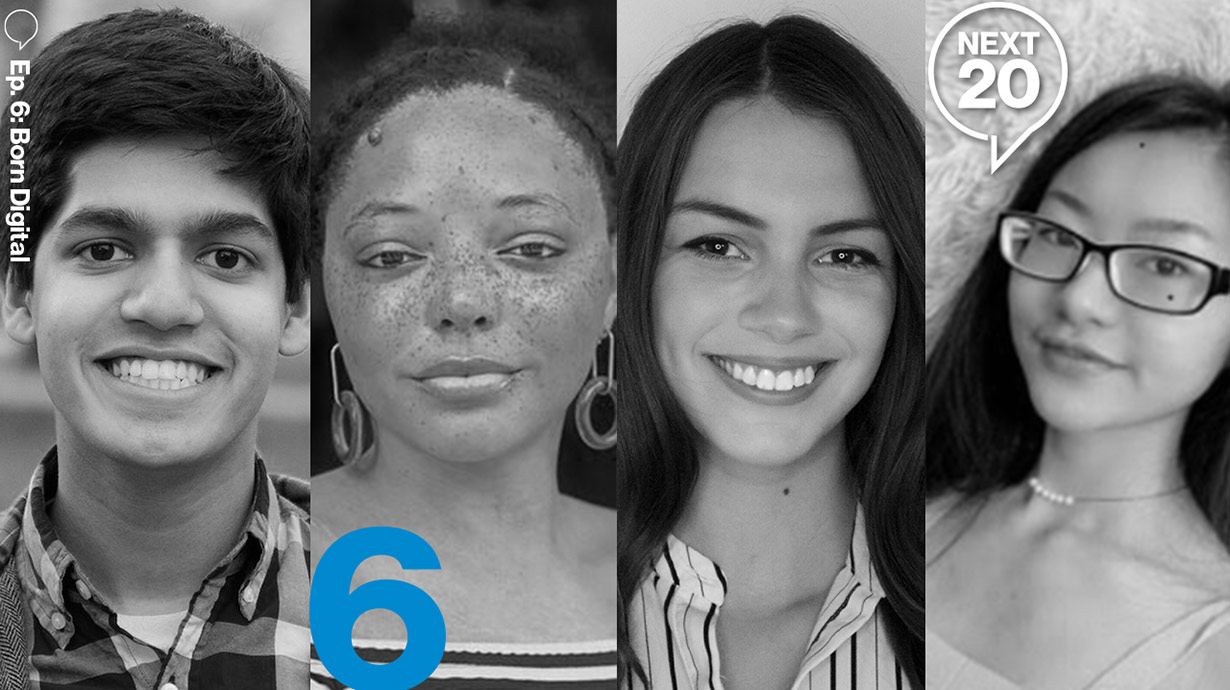 Tune in tomorrow at 3 PM ET/12 PM PT to listen, learn and find out how you can be part of the change.
The power of Generation Z is not their size but rather their ability to adapt seamlessly to the world around them. They are masters of all things tech, so living in an increasingly digital society and economy only strengthens their ever-expanding influence.
Growing in a digital world
As digital natives, Gen Z is often noted for its democratization of consumer tech. With connectivity ingrained in their DNA, not only has Gen Z grown up with social media in the palm of their hands, this generation has single-handedly transformed these platforms in ways that their founders never envisioned - mostly from the comfort of their bedrooms.
Leveraging TikTok, Gen Z influencers caused CeraVe skincare products to sell out nearly overnight. With $44 billion in spending power, they are an economic and social juggernaut. And as the most ethnically diverse generation, they are motivated more by the social impact of a brand than the price or status.
Gen Z wields their digital reach for good, mobilizing global movements through social media and organizing city-wide protests attended by thousands. They are often criticized for being stewards of a selfie-culture but don't mistake their participation on TikTok as being followers of a viral trend. They are individuals united by their desire and intent to change the world.
#Next20: Tune in tomorrow
In this episode of #Next20, Brittany Jones-Cooper, a host and producer at BUILD Series, moderates a two-part panel on how Gen Z is rocking the status quo in these uncertain times and what this generation expects from brands, educators and employers to help build a more equitable society. Our speakers include:
Ziad Ahmed, Founder and CEO of JUV
Brea Baker, a racial and gender justice activist
Julia Terpak, Account Director at JUV and TikTok creator @genzconnect
Roubing Liao, a content creator on TikTok creator @catdogfatness
Watch tomorrow to get to know them and hear what defines their outlook for the future.
What's #Next20?
#Next20 is a new series of conversations about the top racial, social, environmental, technology and business issues that will define the next 20 years.
Each episode will feature the next generation of leaders and groundbreaking pioneers to explore the inspiration behind their activism and their ideas to build a better future. From this series, we hope to accelerate their calls for change and move the world forward for good.
Calling all visionaries.
If you have a suggested speaker for #Next20, please comment below and help us find the visionaries, dreamers, believers and doers. If they are moving and shaking the world for good, we want to shine a light on their efforts, ideas and inspirations as part of this groundbreaking new series.
This is #Next20—the voices of the future.
Need to catch up on #Next20?
Don't worry, we've got you covered with the latest episodes:
Episode 1: Criminal Justice Reform
Episode 2: Making Every Vote Count
Episode 3: American History 101
Episode 4: Reimagining Small Businesses during COVID-19
Episode 5: We Have a Dream
Related Articles