#Next20: We have a dream
Watch Up to Speed Thursday for a special #Next20 featuring Dr. Clarence B. Jones, co-author of the "I have a dream" speech.
Full Transparency
Our editorial transparency tool uses blockchain technology to permanently log all changes made to official releases after publication. However, this post is not an official release and therefore not tracked. Visit our learn more for more information.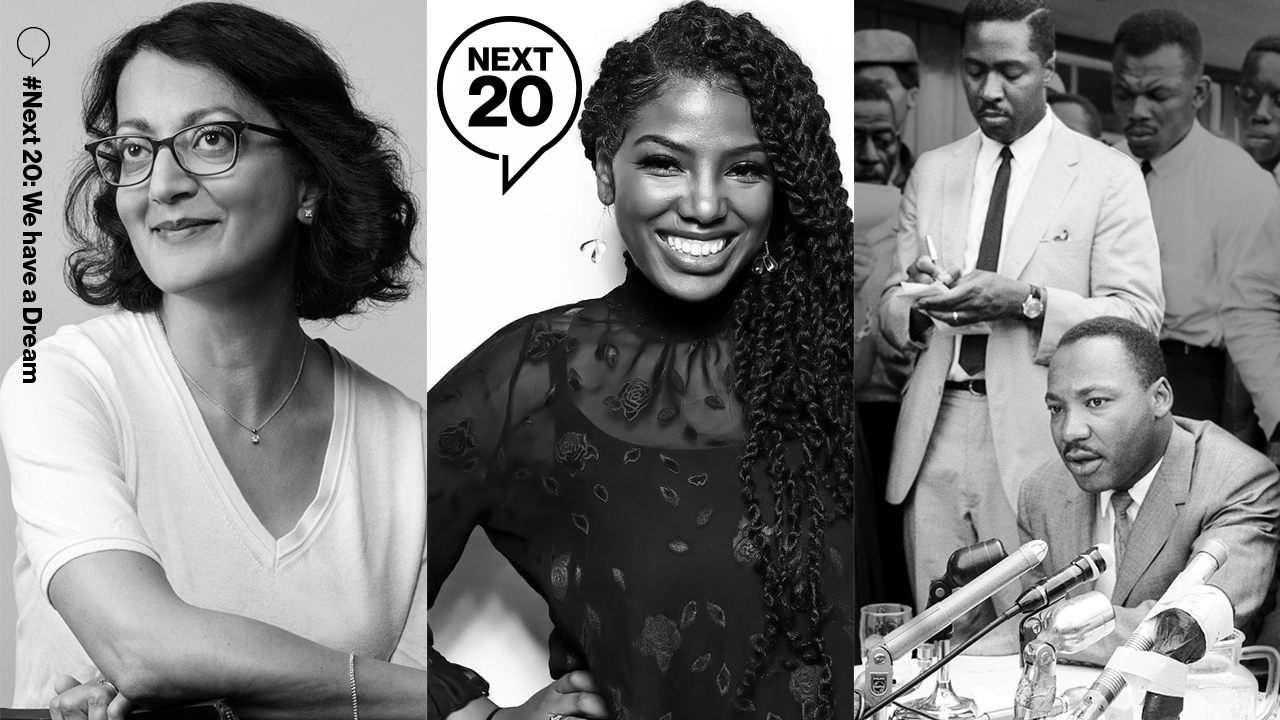 "Now is the time to make real the promises of democracy. Now is the time to rise from the dark and desolate valley of segregation to the sunlit path of racial justice. Now is the time to lift our nation from the quicksands of racial injustice to the solid rock of brotherhood. Now is the time to make justice a reality for all of God's children." -- Dr. Martin Luther King Jr.
Those words feel just as true today. Dr. King said them first at the 1963 March on Washington to a crowd of 250,000 people. By his side was Dr. Clarence B. Jones, who co-wrote the historic speech, including the excerpt above.
Before Dr. Jones was a Professor at the University of San Francisco and Scholar in Residence at the Martin Luther King, Jr. Research and Education Institute at Stanford University, he served as speechwriter, counsel, confidant and personal friend to Dr. King.
#Next20: Tune in Thursday
On August 27 during Up to Speed Live, Rima Qureshi, Executive Vice President and Chief Strategy Officer, and Kala Garner, Network Engineer and BOLD Leader, will host a discussion with Dr. Jones on his experience as a civil rights leader, what he has learned from the past and the hope he has for the future as we press forward for change.
Despite the injustices that Dr. Jones has witnessed and endured, he remains steadfast that the dream shared 57 years ago will soon become our reality. And he has an important message to V Teamers on our role in helping to shape a more equitable and just world. No matter your background or beliefs, Dr. Jones' words will lift you up and serve as a reminder on why we will never settle for anything less than real, lasting equality.
Tune in to Up to Speed Live on Thursday to learn how we can drive effective action and change both within and beyond our walls.
Don't forget: BOLD's Virtual March on Washington
First, listen and learn from Dr. Jones. Next, take action and march #ForwardTogether.
This year, thousands will virtually March on Washington in honor of its 57th anniversary. On August 28 at 12 PM ET, we will yield our time for Up to Speed Live to host a company-wide virtual March on Washington in partnership with our BOLD ERG. For V Teamers located outside of the eastern U.S, please participate at 12 PM local time to join us in solidarity and action. All V Teamers who participate will contribute to Verizon's company-wide goal of 2.5 million volunteer hours by 2025. Sign up now through our Volunteer Portal!
Like Dr. King, we have a dream that diverse voices and backgrounds will be celebrated and that the next generation of leaders will not have to fight the same battles. It starts with just one step forward.
What's #Next20?
#Next20 is a new series of conversations about the top racial, social, environmental, technology and business issues that will define the next 20 years.
Each episode features the next generation of leaders and groundbreaking pioneers to explore the inspiration behind their activism and their ideas to build a better future. From this series, we hope to accelerate their calls for change and move the world forward for good.
Calling all visionaries
If you have a suggested speaker for #Next20, please comment below and help us find the visionaries, dreamers, believers and doers. If they are moving and shaking the world for good, we want to shine a light on their efforts, ideas and inspirations as part of this groundbreaking new series.
This is #Next20—the voices of the future.
Need to catch up on #Next20?
Don't worry, we've got you covered with the latest episodes:
Episode 1: Criminal Justice Reform
Episode 2: Making Every Vote Count
Episode 3: American History 101
#Next20 brings together a diverse group of speakers to share their perspectives and experiences on key societal issues. The thoughts and beliefs expressed by the speakers are their own and do not necessarily reflect the view of Verizon.
Related Articles