Professor Takes ITT Tech Students on Futuristic IoT Field Trip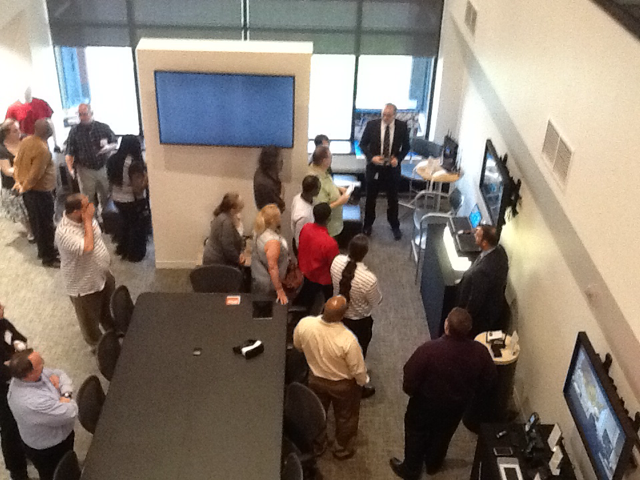 As the Ohio economy continues the hard work of creating more jobs, one Columbus-based educator is preparing his tech students to work in an expanding sector, The Internet of Things.
Stacy Duncan is an adjunct professor at the Columbus campus of ITT Technical Institute, but it's his full-time work as a Verizon Enterprise Solutions engineer for Verizon Wireless that inspired a field trip his students won't soon forget.
Duncan, a former U.S. Marine, appreciates how his field experience helped prepare him for his current role and understands how many future business owners lack regular exposure to experiential education. Inspired by this, Duncan gave his class of tech students a unique glimpse into the innovations of telecommunications technology by holding class in the recently opened Verizon Wireless Internet of Things (IoT) Lab in Hilliard, OH.
From fleet management to health monitoring to robotic solutions, the IoT Lab provides imaginative ways for finding efficiencies across all sectors. Because of the diversity of careers Duncan's students will soon pursue, the class explored a variety of the Lab's hardware and software, learning about the science behind various Machine to Machine (M2M) applications.
While a great learning tool to supplement Duncan's curriculum, the primary function of the Verizon Wireless Innovation Lab is to assist business leaders in the development of communications-based solutions. With the rising need for companies to stay ahead of automation innovations, Verizon Wireless experts help entrepreneurs by providing customized systems for advanced connection technologies. So, the Lab is a perfect place for business owners to experience the IoT opportunities being developed at lightning speed.
All Verizon Wireless partners are granted completely free access to the Lab, so gaining a competitive edge in the dynamic tech landscape is made possible in a proprietary environment. Since "new economy" entrepreneurs are now expected to perform better with fewer resources than ever, the Verizon Wireless Internet of Things Lab and its leadership are leading the charge.
Don't be surprised if you see one of Duncan's students inventing an IoT product and using the Lab as a customer someday soon.
For more Verizon Wireless news, subscribe via RSS feeds in the right rail.