Running Motivation in Six Seconds: Vine Video Series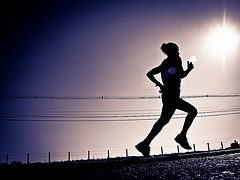 Remember Jenna Hatfield, our Countdown to Columbus half marathon runner? Well, she's back!
This time, she's tackling 26.2 miles for her first full marathon in Pittsburgh on May 4, and you're invited along for the ride.
For Jenna, running isn't just about races. It's about embracing and living a healthy lifestyle day in and day out. She's using the new Fitbit Force to track her fitness and monitor her health habits, including steps per day (her goal is 10,000) and sleep patterns per night.
To help you reach your own fitness goals, we're introducing a new health resource: @RunJennaRun, Jenna's running channel on Vine. She will capture and share her personal training progress, along with running motivation, tips and tech to use for fitness, nutrition and sleep and much more – all in six seconds or less. Here are her first videos (to hear the audio, hover over top left corner and click volume image):
We'll be sharing more tips and running motivation Vine videos from Jenna in the coming weeks as she gets closer to the Pittsburgh marathon.
If you have a fitness or nutrition question, tweet Jenna (@FireMom) or ask her with your own video on Vine. She's ready, willing and excited to share her running-related wisdom!
*Disclosure: We loaned the Fitbit Force to Jenna to use for training, but all opinions are her own.
For more Verizon Wireless news, subscribe via RSS feeds in the right rail.
Photo Credit: jacsonquerubin via Compfight cc