#SmartSummer: Grilling With Tech - Tips For the Busy Chef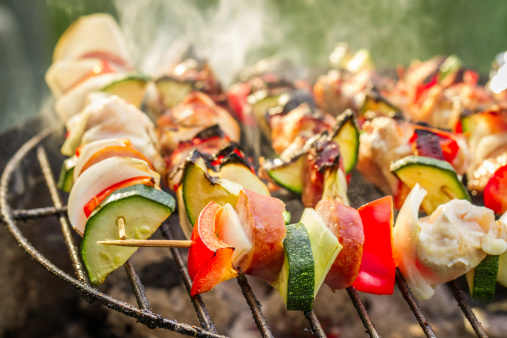 This is a guest post from Mark Farnen, an experienced grillmaster and inventive backyard cook. His real job is managing partner of Strategists Communications. He serves as a public relations consultant to Verizon Wireless in the Kansas/Missouri region. This is also a continuation of our #SmartSummer series.
Now that the weather has taken a turn for the better (at least most of the time in Missouri), the outdoor grill at our home is in high demand. Such was the case recently when hungry family and friends arrived expecting summer fare.
The main menu that day consisted of smoked trout pulled from a stream on the Missouri/Arkansas border, grilled sweet peppers and onions, freshly made bratwurst and a whole 4.5 pound chicken prepared on the grill. The variety of foods required a significant amount of timing and preparation – and the guests required an equal amount of attention.
Rather than go at it alone, I turned to a variety of tech tools, apps and accessories that made the day more enjoyable and manageable for everyone. Here was my grilling with tech strategy:
First, since I knew most of our guests would be congregating outside, I decided to provide them with a little entertainment. In less than two minutes, I created an outdoor music system by pairing a Logitech Ultimate Ears Mini Boom wireless speaker with my Moto X smartphone. The Bluetooth pairing was almost automatic and allowed me to stream my favorite music directly to the guests' table even as I moved between the kitchen and the patio. I controlled the musical selections. Guests controlled the volume from the table – and with no speaker wires or power cords to worry about, we were set.
Then I turned my attention to the grill. I have a two-part set up that cooks with charcoal on one side and gas on the other. I decided to use the charcoal side for the smoked trout and vegetables and the gas side for the brats and chicken. However, it had been awhile since I smoked fish in this set up, so I turned to Weber's On The Grill smartphone app for advice. The On The Grill app has great information about grill set up, smoking and grilling techniques and even suggested temperatures and times for any cooking project. I followed the easy instructions and had smoke in the air in less than 15 minutes. Once the fish were on, I turned my attention to the gas side of the grill.
I lit two of the burners to create an indirect heat source, prepped the chicken, then looked up a great Greek marinade recipe on an app called How To Cook Everything. This handy collection features more than 2,000 different recipes from New York Times food columnist Mark Bittman, and at just $4.99, it provided me with a portable, inexpensive and complete on-the-go reference as I basted and roasted my way to perfection. It's only available for iPhone and iPad.
Whole chickens can be a challenge on the grill because the dark meat and white meat portions require different temperatures for doneness. To ensure I cooked the chicken thoroughly, I decided to use a device known as the iGrill. The iGrill is a high tech cooking thermometer that features a probe, sensor, transmitter and your smartphone. It determines exact internal temperatures of the meat you are preparing and sends you notifications as your food nears its desired temperature – even when you are away from the grill. It may seem like a lot of fuss just to cook a chicken, but whole chickens on the grill can be tricky. The iGrill takes guesswork out of the equation and sends your guests out the door well fed and without a hint of food poisoning.
Once the chicken was on the grill, I made sure my guests were finding their way to the bar. Beers are easy. Mixed drinks are more difficult. I referred to an app called Cocktails Made Easy to make sure I mixed a great Bloody Mary and a perfect Cosmopolitan (a drink I can never remember how to make without help).
The trout came off the grill perfectly smoked, and the brats and vegetables went in the cooker as the chicken finished its slow roast. We cut it all up, put it on plates and everyone enjoyed both the food and the company. If I could only find an app that washes dishes for me, I would be set! Until then, I'll just keep grilling with tech and cooking the high tech way.
Do you have other grilling with tech recommendations? What technology do you use for cooking?
For more Verizon Wireless news, subscribe via RSS feeds in the right rail.