#SmartSummer: Tech Helps Vet Student at 1st Indiana State Fair Vet Camp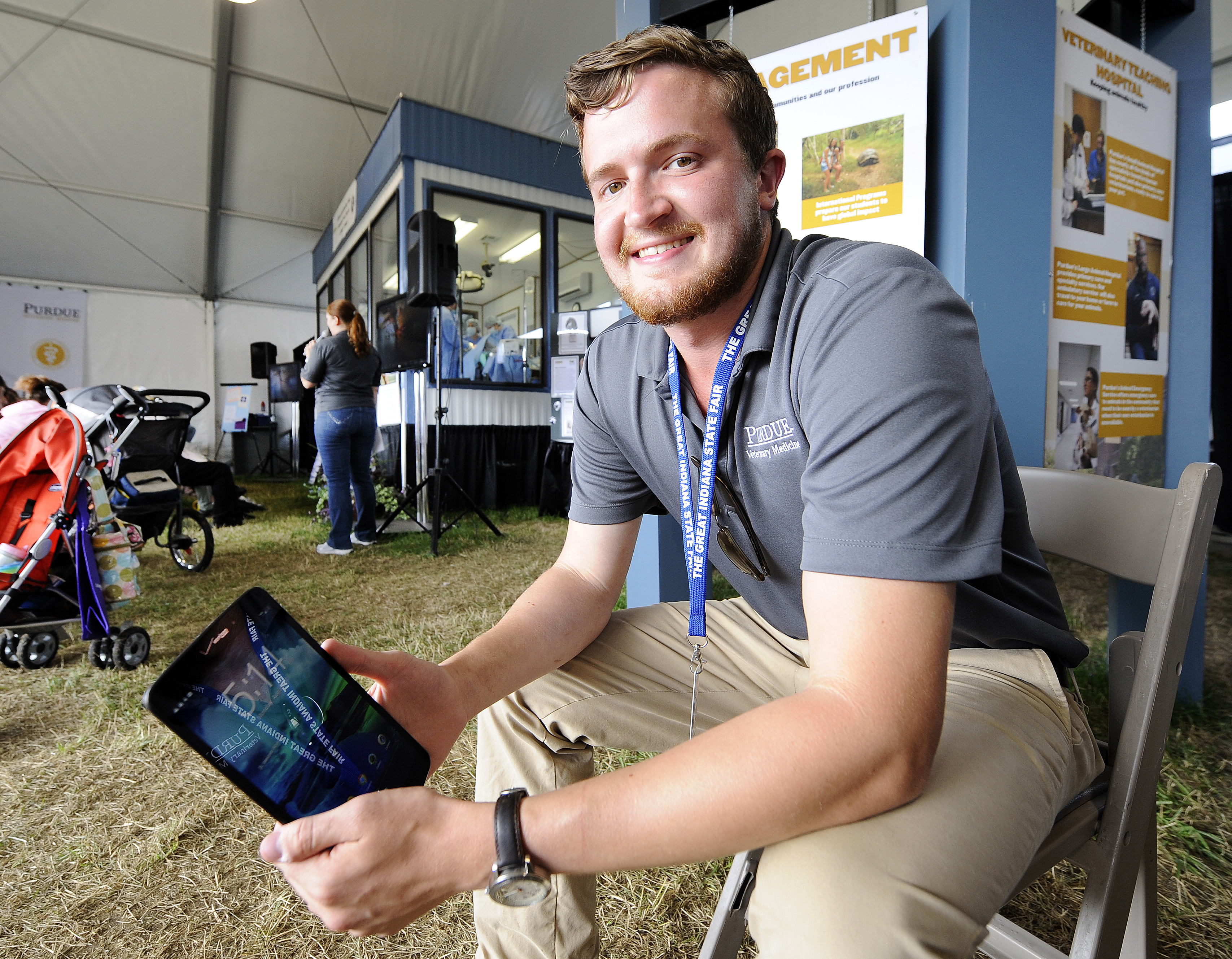 This is part of our #SmartSummer series, where we're sharing stories related to using tech to enhance summer activities and fun with family and friends.
Every little kid wants to be a vet at some point, but not every little kid gets to know what it's like to be a practicing veterinarian. This summer, Purdue University veterinary student Joe Kowal took them all by the hand for a summer camp unlike any other – and used some Verizon technology to keep up.
Kowal, a second-year vet student from Indianapolis, was the Purdue brand ambassador for the first camp of its kind – where children in grades six to 12 participated in Junior and Senior Vet Camps at the Indiana State Fair. The first-come, first-served opportunity was made available online through 4-H clubs and others who spread the word – accommodating hundreds of students this year.
The day camps allowed middle school and high school students to use microscopes, practice surgery skills by suturing up simulated incisions and review radiographs (X-rays) to learn what's happening inside an animal patient.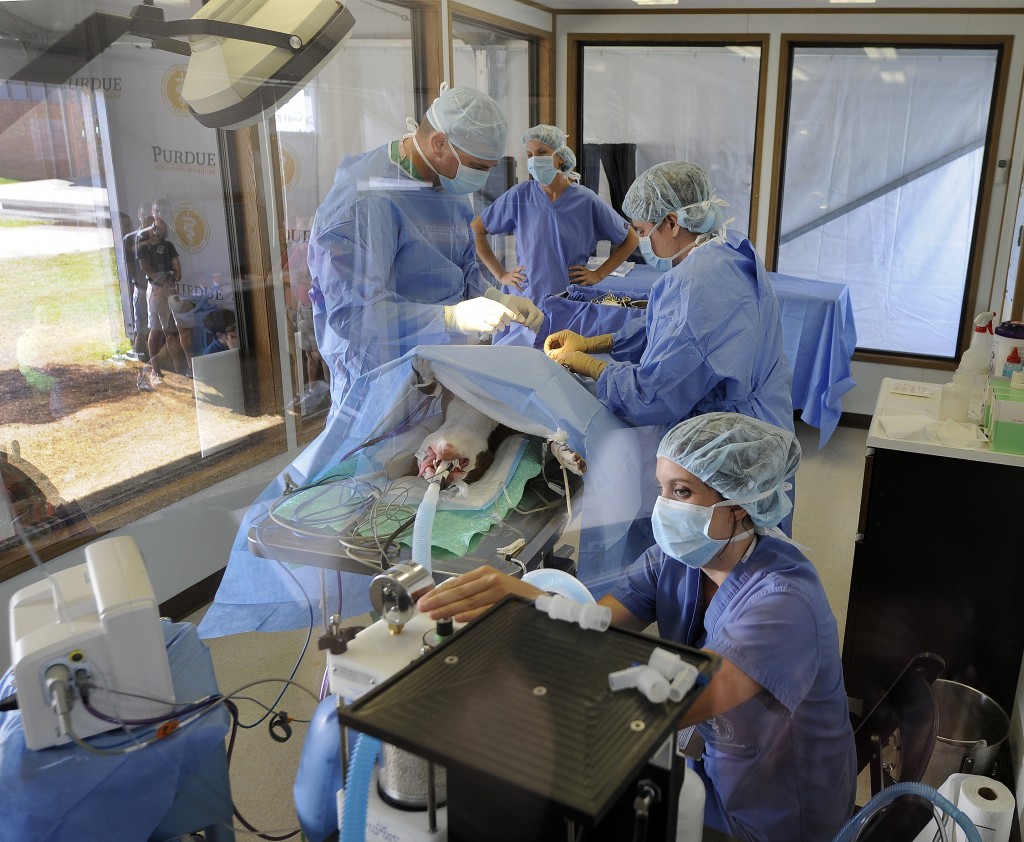 The spay-neuter operating room at the Indiana State Fair.
"Everyone has a story about a sick pet," said Kowal. "But these students learned how the body works and were able to relate it to a pet's illness."
Kowal's keen interest in vet school came a bit late in high school, but his goal is to focus on neurology – a growing surgical area for vets.
"Animals get a lot of the same conditions humans get. Dachshunds, for example, get slipped discs. They can easily become paralyzed. If we catch it early, we can fix those limbs."
For Purdue University's College of Veterinary Medicine's first vet camp at the fair, we offered Kowal a few Verizon devices to make teaching and staying in touch easier on the sprawling fair grounds. Being a busy guy with lots of students in the daily, three-hour camp sessions, Kowal was able to carry his mobile devices easily in his backpack.
"The LG G2 and the LG G Pad made life at the fair much easier and allowed us to bring multimedia in ways that would have previously been difficult," he said. Kowal used the tablet to pull up tutorial PowerPoints, slide shows, camp photos – all easily and quickly for immediate use.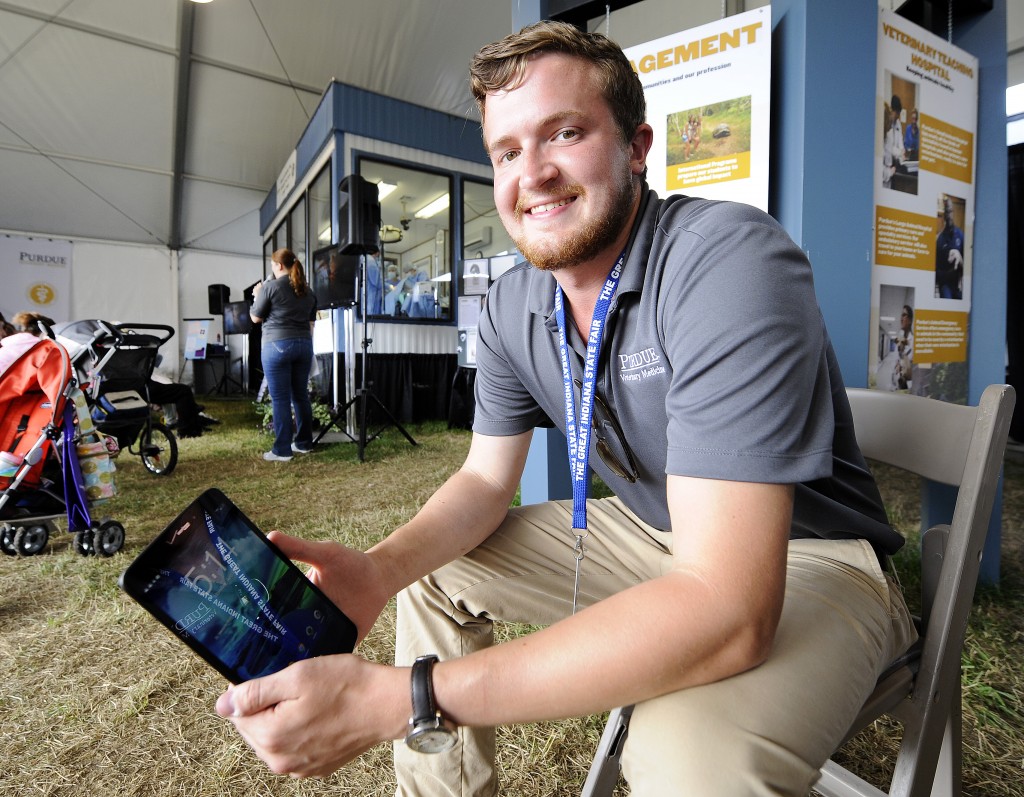 Joe Kowal shows off the Verizon LG G Pad at the Indiana State Fair.
"The phone has allowed me to stay in touch with the other ambassadors at the fair continuously, and the Verizon 4G LTE network has made Internet access fast and immediately available at all times."
Technology was also used in the spay-neuter demonstrations at the fair, where two procedures a day were broadcast for visitors – who asked numerous questions during the one-hour surgeries. Dr. Marybeth Feutz, who frequently tries out Verizon devices and services for her Princeton, IN veterinary practice, assisted with Q&A and explaining what's on the big screen.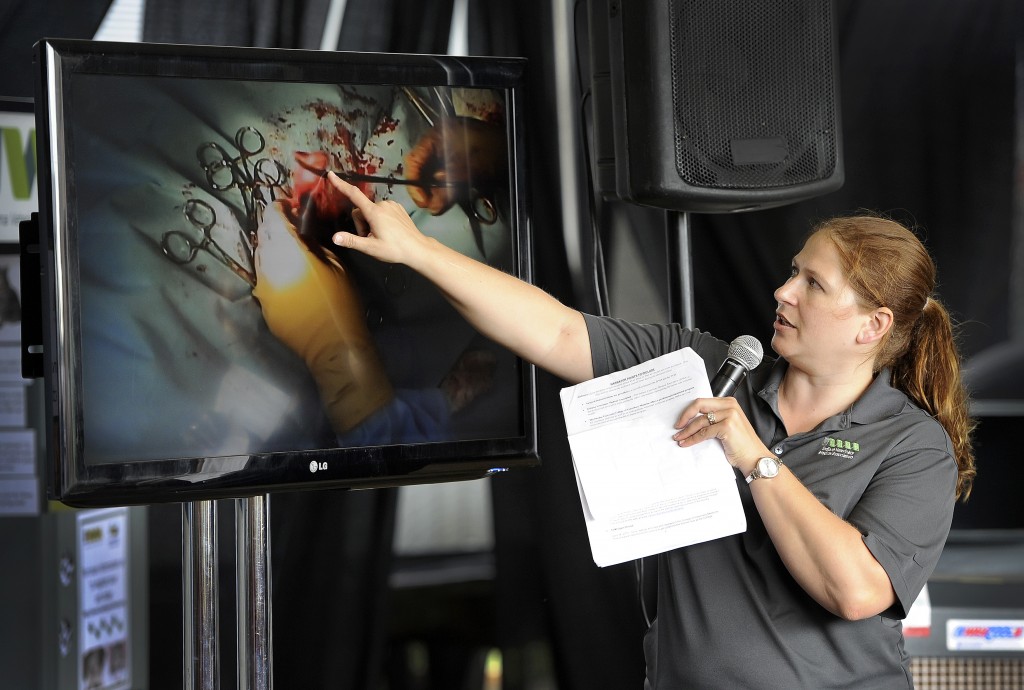 Dr. Marybeth Feutz narrating a spay operation at the Indiana State Fair.
All the animals that underwent procedures are up for adoption, including Geneva – the 2-year-old pit bull who's already had at least one litter of pups.
Dr. Feutz, whose husband John is the president of the Indiana Veterinary Medical Association, even answered questions about elephants at the fair (from someone wondering how you would spay or neuter such a large animal).
Both the doctor and the student answered all manner of questions for curious minds, pet owners and children who visited during the run of the fair. For any young student interested in treating animal patients, this day camp is a good introduction to what a real vet encounters every day.
Mobility is critical for #SmartSummer options, including this summer's busy Junior and Senior Vet Camp at the Indiana State Fair – and vets who are volunteering their time to inform Hoosiers about animal care.
And don't forget to take your pets into the vet's office for their annual exams!
For more Verizon Wireless news, subscribe via RSS feeds in the right rail.