Sports Lovers Participate in First Ever Verizon Wireless Midwest Area Phone Draft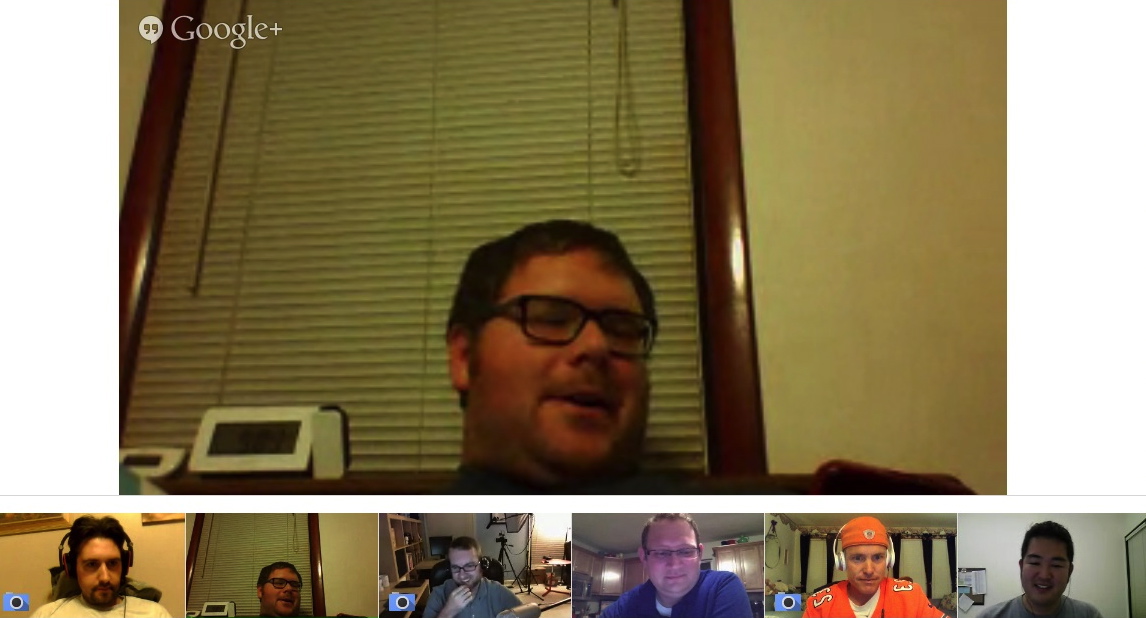 I'm a huge sports fan, so to celebrate the start of football season, I decided to have a little fun with a few other sports fanatics in the Midwest. We created the very first Verizon Wireless Midwest Area phone draft.
Know how a fantasy football draft works? Well, it's the same concept. The guys and I got together via Google Hangouts and battled it out to decide which phones would be part of our team.
Below, you'll find our participating sports buffs, a little bit about them, their phone teams and why they believe they've chosen the best team.
We had a ton of fun participating in the phone draft, so here's how you can join in. You get to decide who has the best team. Vote here. Feel free to add in the comments section at the end of the post why you think your guy picked the winning team. Your votes will help these guys win fun prizes (while I decided to join in on the fun because I couldn't resist, I obviously will not be winning any of the prizes, but you should still vote for my team!). Voting ends at noon on Thursday, September 26.
The person with the most votes for his team will receive a Verizon smart accessory of his choosing valued at $150 or less. Second place will receive a Verizon smart accessory of his choosing valued at $100 or less. And third-fifth place will receive a Verizon smart accessory of his choosing valued at $50 or less.
Read on for more details about our participants and their teams, and get to voting!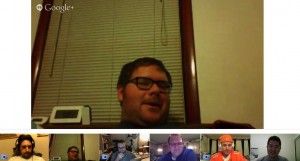 Phil Seibel – @PSeibel – Representing the Great Plains Region
Bio: I am the VP of sales at DE Media in Brainerd, MN. I also write a weekly tech column, Tech Savvy, which promotes new and useful tech to our readers. I love sharing tech trends and knowledge and allowing my inner geek to emerge.
Team Phonetastic 6:
The original iPhone
Nokia 3310
Samsung Galaxy Nexus
Motorola DROID
Nokia 8110 Neo
LG Chocolate
Team Overview: Just like any other draft, I picked fan favorites and heavy hitters. In the no-holds-barred arena of mobile tech, you have to be two things to survive: innovative and attractive to the masses. My team is the best because we have both the skills and the strength to last a tech apocalypse, and we introduced many of you to the fast-paced world of mobile technology.
Team Breakdown:
The original iPhone: Need I say more? The iPhone launched into the world of smartphones and tech as we know it today. It's arguably the most iconic smartphone ever.
Nokia 3310: The most indestructible phone known to man, this phone also shipped with Snake 2, able to make calls from anywhere. Takes a lickin' and keeps on tickin', this phone was the beginning of a long love of tech for many of us.
Samsung Galaxy Nexus: Pure Android. The Nexus line leads the charge in updates, and each version is a straight up shot of awesome for tech enthusiasts.
Motorola DROID: Android's answer to the iPhone. How can you ever forget hearing "DROOOIIIIDD!" This phone brought a healthy alternative to iOS and was the forerunner to many of the top-of-the-line smartphones today. Remember, Droid Does.
Nokia 8110: The model name might not ring a bell, but if you saw the movie The Matrix, you know this phone. It was used by Neo and the crew with the spring-loaded slider. It's standalone awesome, and The Matrix made this phone an icon.
LG Chocolate: This phone was made for media. Just about every person had one of these at one point and, to me, this phone introduced people to how they could incorporate their media with their mobile phone.

Matt LaCasse – @mattlacasse – Representing the Kansas/Missouri Region
Bio: I am a professional communicator on behalf of @bgckids and clients of @KimberMedia. I'm a husband, daddy and long suffering Iowa Hawkeyes and Chicago Cubs fan. I think Twitter is the best thing since sliced bread.
Team Iowa Angry Pitchfork Mob (I'm originally from Iowa):
Nokia 5110
BlackBerry 6200
iPhone 3
Galaxy Note
iPhone 5c
Moto X
Team Overview: There's a lot of history on this team. Phones that seem outdated and obsolete now (because they are) were once the pinnacle of mobile devices and shaped the world we live in now. Why vote for this team? We respect the past while embracing the future. You can't know where you're going without knowing where you've been. Vote for the Angry Pitchfork Mob. Or beware its wrath!
Team Breakdown:
Nokia 5110: Don't act like you never toted this beauty around. For many of us, it's the first phone we ever owned.
BlackBerry 6200: If the Nokia 5110 was the phone that got us hooked on mobile devices, this is the one that whetted our appetite for the smartphone explosion.
iPhone 3: The 3G is what spawned the app ecosystem we know and love today, but the 3 laid the groundwork for that. You have to learn to crawl before you can walk.
Galaxy Note: Phablets are becoming more and more popular, and this is the one that started it all.
iPhone 5c: Make fun of this phone all you want, but I'm betting Apple ships more of these devices than any other over the next year.
Moto X: In a completely unscientific survey of my social media networks, people are raving about the Moto X. It may not be the most powerful phone out there, but in my opinion, it's arguably the most popular right now.

Eric Wilborn – @ericwilborn – Representing the Illinois/Wisconsin Region
Bio: I am an Illinois resident (GO BEARS!) with a passion for photography and technology. This often wrangles me into the IT and consumer electronics fields, which I don't mind. If I'm not taking a picture or tinkering with a gadget, you'll likely find me reviewing a phone or working with a Web page.
Team &BoomGoesTheDynamite:
Razr V3
BlackBerry Bold 9000
iPhone 3GS
HTC Dream/G1
Nokia Lumia 1020
Palm Pre
Team Overview: The theory behind my draft is to dominate the field by appealing to any and all phone users. I have the new, I have the old(er) and I definitely have some in-betweens. I'm happy to incorporate the BlackBerry OS, iOS, Android, Windows Phone, webOS and even a basic phone into my lineup. If you've owned phones in the past 10 years, there's a good chance you've had one of my picks or something closely related. There's something for everyone when you side with &BoomGoesTheDynamite!
Team Breakdown:
Razr V3: As the V3 was the first device that I purchased on my own and on my own contract, it was hard to pass up as my first pick. Plus, there's the fact that it was a slim, friendly phone that existed on almost every carrier out there.
BlackBerry Bold 9000: A BlackBerry with a big screen showing bold colors, a physical keyboard and a trackball? How could I pass this up?
iPhone 3GS: While it's not the latest nor the greatest, the 3GS began to bring speed into the iPhone lineup. And let's not forget this model sold a million units...in one weekend.
HTC Dream/G1: The first Android phone. It was the start of a revolution!
Nokia Lumia 1020: We've all seen the commercials, so we know what's great about this phone: 41 megapixel camera (AND a Carl Zeiss lens)!
Palm Pre: Wireless charging, the slide design, a variety of carriers. Plus, webOS had its own group of followers. It was one of the original multitaskers!

Ben Oaks – @gizmoboaks – Representing the Ohio/West Virginia/Pennsylvania Region
Bio: I am the owner of Cerebral-Overload.com, editor-in-chief at Gizmofusion.com and blogger for Techburgh.com. I love bringing my knowledge and reviews to the masses.
Team Wanna Be Iron Man:
Samsung Galaxy S4
BlackBerry Curve 8330
HTC One
Samsung Galaxy Note 3
iPhone 4S
LG VX9400
Team Overview: I decided to go with the phones that either had some impact in my past life or had something to do with my favorite movie series, Iron Man. Also, I'm a big fan of the products Samsung is currently releasing. I also wanted to be able to include devices that covered three of the top four operating systems. Most people checking out our lists will probably love my choices and decide to vote for the greatest list of all phones, mine!
Team Breakdown:
Samsung Galaxy S4: I chose this phone because not only does it have a beautiful screen, but it's the newest in the Galaxy line of phones that just keep setting the standard.
BlackBerry Curve 8330: I chose this because this was my first phone that got me into smartphones. Not only that, but BlackBerry was setting the standard in smartphones back at that time.
HTC One: I chose the HTC One for the simple fact that I love HTC phones and it is the top of the line HTC phone. It also helps that they have Tony Stark as the spokesperson now.
Samsung Galaxy Note 3: Chosen for the fact that this is the top of the line phablet, and it also includes a stylus that stores inside the phone so you don't have to worry about losing it.
iPhone 4S: Picked for the fact that it introduced the world to Siri. No, it wasn't a big update from the iPhone 4, but it still had millions flocking to buy it.
LG VX9400: Who couldn't love the phone that Tony Stark used in Iron Man? It had a unique style flip screen that no one else had at the time.

Jordan Keyes – @TWILdotTV – Representing the Michigan/Indiana/Kentucky Region
Bio: I have been a video blogger since 2009 for sites such as thisweekinlinux.com, twil.tv and xda-developers.com. In this time, I've regularly covered topics ranging from general Linux news, to hardware and software reviews, to Android-related material, and even video game commentary.
Team Final Phone-tasy:
Oppo Find 5
Motorola DynaTAC (Zack Morris phone)
Sony Xperia Z
Droid MAXX
Droid X
ZTE Open
Team Overview: When I was setting up my draft picks, I decided that each phone should have something amazing it brings to the table. From developer friendliness to durability, battery life to being larger than my first-born child, these phones run the gamut, and each one delivers.
Team Breakdown:
Oppo Find 5: An amazing all-around phone, backed by a company that's extremely friendly toward the development community.
Motorola DynaTAC (Zack Morris from Saved by the Bell phone): Because who didn't want that super-awesome brick of a phone? Plus, if you're ever mugged, you could fend off attackers with it.
Sony Xperia Z: Large, waterproof, dustproof. This thing is practically a tank.
Droid MAXX: With its enormous battery, it just keeps going... and going... and going...
Droid X: My first Android phone, and also my first Verizon phone, so it has a soft spot in my heart (yes, I still own it).
ZTE Open: One of the first Firefox OS phones to hit the market. While not huge, or powerful, or even terribly useful, it's definitely unique.

Paul Ulreich – @vzwpaulu – Representing the entire Verizon Wireless Midwest Area
Bio: I'm a public relations specialist for the Verizon Wireless Midwest Area. I've spent 17 years in the wireless business and have seen many phones come and go. I've used so many that I can't remember half of them! Working at Verizon Wireless with new equipment every other week makes me feel like a kid in a candy store.
Team Wiley for Miley:
Motorola Startac
iPhone 5
Sidekick
LG VX6000
Motorola 2800 DLD Bag
Palm 5
Team Overview: I went for the first phones that had a breakthrough. First 4G LTE iPhone, first flip with a camera, first OMG phone. From old to new, my team includes the first phones with new features and a famous phone used to pick up girls. Vote for team Wiley for Miley!
Team Breakdown:
Motorola Startac: This was the first OMG phone ever made. When I carried this bad boy with the tiny battery, it turned heads.
iPhone 5: 4G LTE, bigger screen, 'nuff said!
Sidekick: Teams started scooping up phones they saw on TV. Turtle used this to pick up girls on Entourage.
LG VX6000: The first flip phone with a camera. It also worked with the phone closed for selfies!
Motorola 2800 DLD Bag: Jordan scooped up the Zack Morris phone, so I had to take a bag phone to cover my history.
Palm 5: The first phone I had that you could sideload games from the Web right to the device!
Don't forget to vote for your favorite team and let us know in the comments why you chose that team!
Disclosure: Verizon Wireless provided the smart accessories to the phone draft participants.
For more Verizon Wireless news, subscribe via RSS feeds in the right rail.