Stay Informed Regarding Severe Weather with Mobile Apps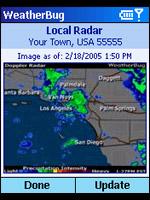 Do you know how to ensure that you, your family and your home are informed and ready when severe weather approaches?
According to the Weather Channel, the Midwest has the highest chance for severe weather between March and September. With spring weather approaching the region, knowing when a severe weather emergency might occur can make all the difference. When the skies turn grey and a storm appears on the horizon, turn to these weather apps, available for a variety of Verizon smartphones and tablets, for up-to-the-minute information about potential severe weather events.
My-Cast Weather ($3.99 - Apple, Android, Blackberry) app allows users to check current conditions, forecasts and predicted storm data from anywhere in the U.S. This app is loaded with rich features including animated Nexrad radar, forecast graph, StormWatch (TM), hurricane observation and much more to help users know about severe weather before it strikes.
Current weather conditions are at your fingertips with the AccuWeather.com app (Price Varies - Apple, Windows, Android, Blackberry). With this app, users can receive the latest weather information, detailed hour-by-hour forecast and in-depth 10-day forecasts by simply entering their location depending on the version they use.
Make sure to download these apps to ensure that you and your family are prepared in the instance that severe weather strikes.
For more Verizon Wireless news, subscribe via RSS feeds in the right rail.