Full Transparency
Our editorial transparency tool uses blockchain technology to permanently log all changes made to official releases after publication. However, this post is not an official release and therefore not tracked. Visit our learn more for more information.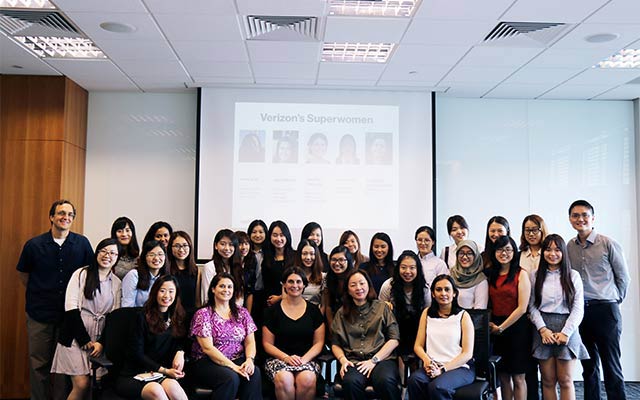 Written by Jennifer Samuels
As the lifeblood of future economic growth and innovation, women should be celebrated for inspiring us on a daily basis. For the next week, that's exactly what we'll be doing.
Through articles, videos, social and multimedia content, we will be showcasing how women are mothers, mentors, leaders, influencers, and powerful agents of change at Verizon and in the technology world.
---
The most memorable line I've heard from someone upon hearing that I worked in the tech industry was that I'd never find a queue for the ladies' at an industry conference. This might be a bit glib, but it does hit home the fact there just aren't enough women taking up a career in science and technology. So when 23 female undergraduates from the National University of Singapore's Computer Science and Engineering faculty gathered in Verizon's Singapore office, I was determined to do my bit.
No one can accuse me of exaggerating if I say that some of the greatest opportunities and successes in the future will be driven by science and technology. Yet when it comes to women's engagement in these areas, the stats paint a depressing picture. In the U.S., industry body CompTIA warns that only 24 percent of U.S. IT professionals are female, a figure "on a downward trend." A recent UNESCO report studying factors affecting participation rates of women in science and technology in Asia makes references to a lack of role models both in school and at home.  Yet, in the last 24 months, a myriad of studies have shown a connection between diverse leadership and financial success. Clearly, there is some work to be done.
Today, there is a concerted effort being made by education bodies and businesses to support gender diversity in science, technology, engineering and math (STEM) careers and for women to take up leadership roles across industries – research shows that harnessing diversity of thought can bring fresh perspectives on product design, ways of working, risk-taking and many other aspects of business.
Initiatives to attract more women into science and technology are taking place all over the world. In Singapore, for example, the nonprofit educational organization Destination Imagination provides a challenge-based atmosphere to encourage young girls to flex their creative skills in technical arenas. This series of workshops targets girls ages 10-15, and incorporates STEM-focused challenges such as designing or building vehicles. In India, Indian Girls Code led by robotics education company Robotix is inspiring girls to become involved in computer science and technology. In Australia, the government has made a significant push to get more women invested in STEM education and careers, and has pledged to invest $13 million over the next five years to make it happen.
The meeting at Verizon Singapore was the latest in a series of initiatives Verizon undertakes around the globe to encourage students to take up technology careers. The session was designed to give the students an insight into the variety of careers that exist within a technology company, and the opportunity to talk to people at various stages of their career path, from recent graduates to industry veterans. Most importantly, the session offered an opportunity for the students to understand the role technology plays in shaping every aspect of the world around us – which is what makes a technology career so exciting! Hosted by Verizon employees, the group was able to discuss career challenges and successes throughout a 90-minute session. We were asked some thought-provoking questions such as "In what ways are females disadvantaged over their male counterparts in the IT workplace?" or "If you could go back in time, what would you tell yourself?" Our message was clear - IT can level the gender playing field. From finance to forensics, from systems architecture to sales, the opportunities available to women in the field of science and technology has never been greater.                
I hope the undergraduates left us with a sense of believe and empowerment. Who knows – maybe I just spoke to the next Sheryl Sandberg.
To find out more about Verizon's initiatives in supporting STEM careers and much more, please visit verizon.com/about/responsibility. For information on Verizon's approach to diversity and inclusion, please visit verizon.com/about/our-company/diversity-and-inclusion.
 
Related Articles