Survey Says: Connection Between Domestic Violence, Some Chronic Health Conditions
Survey Says: Connection Between Domestic Violence, Some Chronic Health Conditions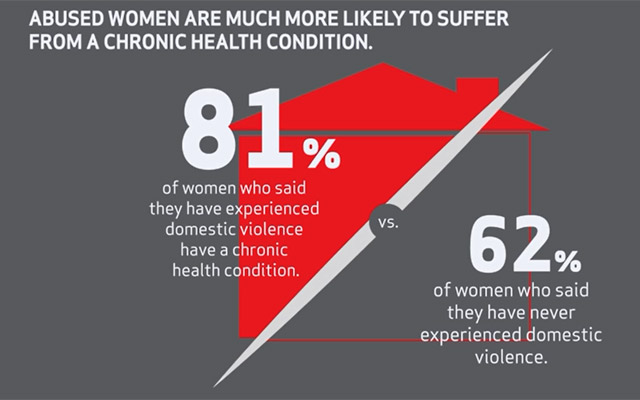 In a national survey released in full today by Verizon Foundation and MORE Magazine, it found that 70 percent of women over the age of 21 reported suffering from some type of chronic health problem, and that women who have experienced domestic violence are significantly more likely to suffer from a chronic health condition.
This survey, conducted by GfK Custom Research and commissioned by the foundation, also found that, despite the high correlation between chronic health conditions and domestic violence, three-fourths of women say that their doctor or nurse has never asked them about domestic violence during a medical exam.  According to a new white paper developed by the Robert Wood Johnson University Hospital with support from the Verizon Foundation and the Rutgers University School of Social Work, a number of barriers prevent the majority of healthcare professionals from doing these screenings. These obstacles include the perception that domestic violence is a private issue, time constraints, fear of offending the patient and a lack of referral sources and procedures for screening.
To help address some of these issues, Verizon and the Society for Women's Health Research established an interdisciplinary network of healthcare providers, domestic violence prevention advocates, government and healthcare technology leaders from around the world. The network will conduct an in-depth analysis of how to leverage technology to address the chronic health consequences of domestic violence.  They will also look at existing healthcare technology solutions and programs, explore how to improve them and identify best practices.
For more information on the survey, resources for healthcare providers, ways to get involved or this network go to http://vz.to/chronichealthanddv or visit the Verizon Foundation website.