Tech Trendsetter: Bottoms Up Beer Dispenser Redefines the Beer Pour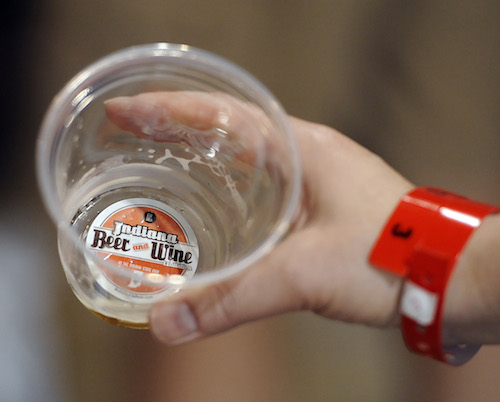 Waste not, want not — that's true for a pour of draft beer when the golden foam dribbling down the drain can bubble up into millions of dollars of lost revenue. Stadiums across the country are learning how to manage those losses through Indiana-based Bottoms Up, a company whose founder developed and delivered an automated system starting with a magnet, a keg and a plastic cup.
Today, the company's Bottoms Up Beer Dispenser is used across the United States (and into other countries) and is working on a 2015 prototype that will do even more with remote monitoring and data collection stored in the cloud — all accessible through Verizon smartphones and tablets.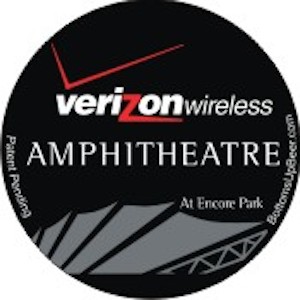 The Verizon Wireless Amphitheatre was featured in one of the magnets at the base of Bottoms Up cups.
Watching Bottoms Up in action seems like a bit of wizardry and defiance of Newton's rules of gravity for a hands-free pour. Beer from a keg tap is routed up through a hole in the bottom of a 16-ounce plastic cup that sits on a magnetized nozzle. Once full, a tight magnet snaps to the bottom of the cup and keeps the brew in place.
The added bonus is the half-dollar sized magnet at the bottom of the cup that can be used for advertising, promotions, stadium logos and even Twitter spelling bee contests. It's like a friendly in-your-face billboard space with every sip. When you get to the bottom, the magnet also becomes a keepsake.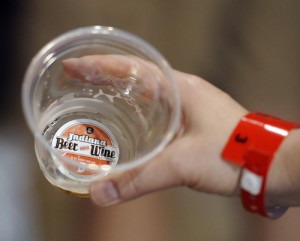 The magnet at the bottom of a cup from Bottoms Up is a new marketing opportunity.
Catch the company's videos on YouTube and you can see the efficiency of the Bottoms Up Keg Yield Challenge. What about one for the Guinness World Records? Setting a global record would require a documented consecutive hour of automated cup fills — upwards of 3,700 beers.
Now let's get to the big numbers measured in dollars. The Big Beer crowd (Anheuser-Busch) was so skeptical of the Bottoms Up beer dispenser that it hired an independent third-party tester to verify efficient pours and costs savings claims. In three stadiums in California, tests confirmed that total revenue was 35% higher when using the Bottoms Up automated dispensers.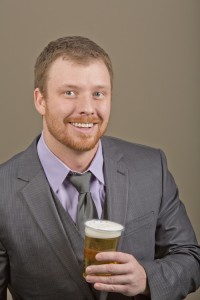 Bottoms Up founder Josh Springer.
It's a company that's not just getting noticed by beer drinkers. Bottoms Up founder Josh Springer had a brief confab with publishing executive and entrepreneur Steve Forbes when Forbes visited Indy for his Reinventing America innovation summit. Bottoms Up also received a prestigious Indiana Innovation Award this year. It's now conquering markets in Canada, Mexico, Austria, Switzerland and Germany.
What are the results of a Bottoms Up investment to stadiums like Papa John's Cardinal Stadium, home to the University of Louisville football program? Think consumers. The Anheuser-Busch rep for Louisville reports that consumers "love" the Bottoms Up concession stands.
Kyle Johnson, director of sales and marketing for the company, says system owners also love their hard number return on investment: more transactions, faster service, increased leveraging of food sales, drastically reduced beer volume losses, and marketing innovation with a new platform at the bottom of a plastic cup.
Testimonials are in no short supply on the company's website.
The dispensers also are available as home units for those who wish to share a tech pour with their friends in recreational basement caves. Bottoms up!
For more Verizon Wireless news, subscribe via RSS feeds in the right rail.