Tech Trendsetter Conner Writt: The Designer Behind the Limited-Edition Converse "Columbus Chucks"
Tech Trendsetter Conner Writt: The Designer Behind the Limited-Edition Converse "Columbus Chucks"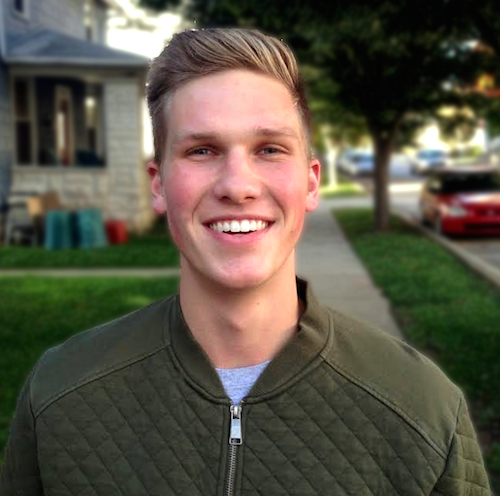 When Indiana, basketball and Chuck Taylor meet at the intersection of athletic footgear maker Converse and the city of Columbus, a special shoe is born. Behind that famous shoe is an Indiana University student tapped for his fashion aesthetic and love of sneakers who still cleans his canvas lovingly and carefully.
Conner Writt is the designer and sneaker freak behind the new "Columbus Chucks," a limited supply shoe named for the basketball juggernaut who hailed from this southern Indiana city.
It started with a phone call from Columbus Mayor Kristen Brown through the IU Center for Art and Design in Columbus to IU Fashion Design Professor Deborah Christiansen, who recommended Writt for the task.
And while hand sketches were his start, Writt realized the best use of technology to share his designs through the approval and pitch process was to utilize Adobe Illustrator and eventually his Intuous touch pad and stylus – not to mention a reliable wireless connection.
"When you're working virtually and need to be in constant touch, I realized that people needed to visualize the designs beyond what I had drawn by hand," he said. "The program allowed me to provide multiple variations on the graphic, making it more visual and easier to share."
The very specific design of the "Columbus Chucks" integrates a basketball court, the Columbus "C" logo and the state of Indiana shaped like a free-throw court. The Converse five-point star designates the city's location.
"I wanted to get across crispness," said Writt. "A plain Chuck Taylor is crisp and clean. It's not crazy."
Writt's professor said his ideas were "strong from the beginning and appealed to those involved … as the final graphic was streamlined to fit Converse parameters, we were all beyond satisfied with the results."
As is the case for all college students, technology plays a significant role. "So much software is available for free and inexpensively now, and for IU students there is creative, design software easily accessible. Today, most students come to IU with laptops, but it is easier for those who come with powerful hardware to load multiple programs and keep them up-to-date," Christiansen said.
But decades ago, it was as simple as canvas and the court.
According to the WearYourChucks.com website, Chuck Taylor was captain of the Columbus High School basketball team from 1916 to 1919 and laced up his original pair of Converse All Stars in 1918. He later became a brand ambassador and traveling salesman for the company that now bears his signature on the ankle patch. It was described as the first, and now most famous, athletic shoe endorsement.
To date, more than 800 million pairs of Chucks have been sold.
Indiana residents are being asked to wear their special edition Chucks (in bright blue or orange high-stops per school colors) on two special dates in the city: Chuck Taylor Day on December 18 and Chuck All Stars Day on December 19.
Interested? All orders must be placed by Sunday, November 9, for the shoes to be made and delivered in time for the special recognition days in Columbus. While regular Chucks retail for $75, these special editions are $57.99 plus tax for adults and $38.99 plus tax for children.
DECEMBER 18 - CHUCK TAYLOR DAY
@ Columbus East vs Columbus North
Girls Basketball Game
DECEMBER 19 - CHUCK TAYLOR ALL STARS DAY
@Columbus North vs Columbus East
Boys Basketball Game
For more Verizon Wireless news, subscribe via RSS feeds in the right rail.