Tech Trendsetter: Indie Clothing Store Owner Loves Beards, Clothes and Instagram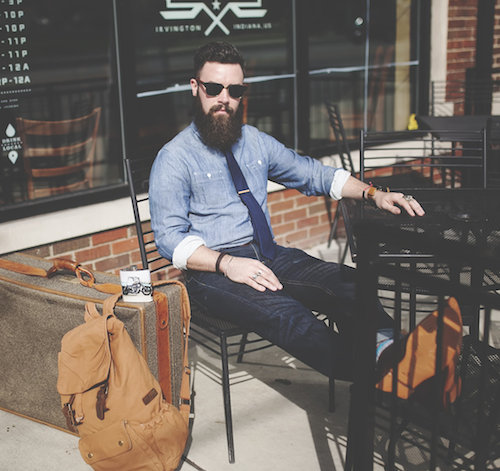 James Dant is an indie store for men. But it's also a store owned by a man with a beard by the name of Tommy Dant. He knows beards. He knows style. And, he knows as a 24-year-old entrepreneur and tech trendsetter (and Verizon customer) that you put your own work out there in your own way — and tell your own story.
There are no shortcuts.
His best social media tool for sharing his one-of-kind fashion finds for his Irvington neighborhood store? Instagram.
Like most entrepreneurs who tap trends, he's ahead of the hashtag curve with his own beard grooming oil. And he's ahead on social. Instagram, as the tech newsers have reported, just hit 300 million users surpassing Twitter.
Dant has been recognized by his alma mater Ball State University with awards from The Entrepreneurship Center. It's easy to understand why when his shop gets crowded and about a dozen people are looking for his one-of-a-kind items from around the world. He's also developed several brands under his own moniker, including candles, coffee, flasks, t-shirts, jeans and those uber-popular beard grooming products.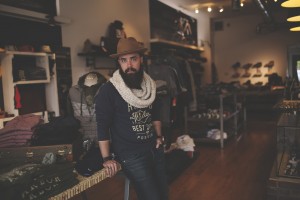 Tommy Dant inside his retail store, James Dant.
His physical store has only been open since February 2014, but Tommy Dant actually laid the groundwork for his brand while still a college student at the age of 22. That meant getting his identity established with the traditional paperwork, but also meeting vendors, hitting trade shows and getting online.
As he builds out his e-commerce with the challenge of limited supplies and unique buys, he's investigating all options to accommodate his growing base, including the new ability to sell items on Instagram. "I'm not the trendiest. My trends are classic," Dant said. "Quality is always better than quantity, especially if you want to keep something for five years rather than five months."
With his Verizon iPhone 6, Dant shoots at least one photo a day for an Instagram post and uses InstaSize to make his photos the most appealing on a well-designed grid. The phone allows him the flexibility to post and even wear his own store items for fashion selfies that "help move the brand forward."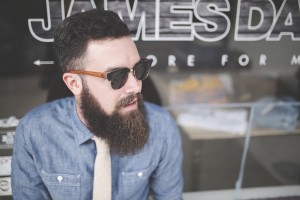 Tommy Dant outside of James Dant in Indianapolis, IN.
Like most innovative social media entrepreneurs, it isn't about the numbers of followers for this indie store owner — it's about engagement. With Instagram now weeding out fake followers and accounts, it's become an even more meaningful marketing ritual for his classic finds. Sentiment-moving pics, like the pink-filled sunset over his Irvington store's neighborhood, also engage his followers.
Why not invest more time in Twitter for his brand? "This store is visual and Twitter is more for momentary thoughts," Dant stated matter-of-factly.
Customers appreciate the in-person chat time as well. Ryan Harris, who works at a local IT company in Indianapolis, said he drove the distance from the far north side of the city to this neighborhood shop because he wants "quality and durability." He was thrilled to learn that Dant's future expansion plans include barber chairs, an apothecary and perhaps a children's clothing line.
And, he echoed Dant's mantra about classic buys. Harris said he wants classic jeans that last as long as the ones he's wearing, about eight years.
Dant seriously backs up his brand promise always by looking for the next best classic and giving his customers something they won't find anywhere else — from devising social media giveaways with other indie shops to learning about custom jean measurements from Billiamjeans Company, guaranteeing his loyal followers a great fit.
Want to know when the baby t-shirts are in? Follow James Dant on Instagram @jamesdant_astoreformen.
For more Verizon Wireless news, subscribe via RSS feeds in the right rail.