Technology reveals silver linings of hybrid learning
From building confidence to bringing families together online, these schools used Verizon Innovative Learning resources to thrive during the pandemic
Full Transparency
Our editorial transparency tool uses blockchain technology to permanently log all changes made to official releases after publication. However, this post is not an official release and therefore not tracked. Visit our learn more for more information.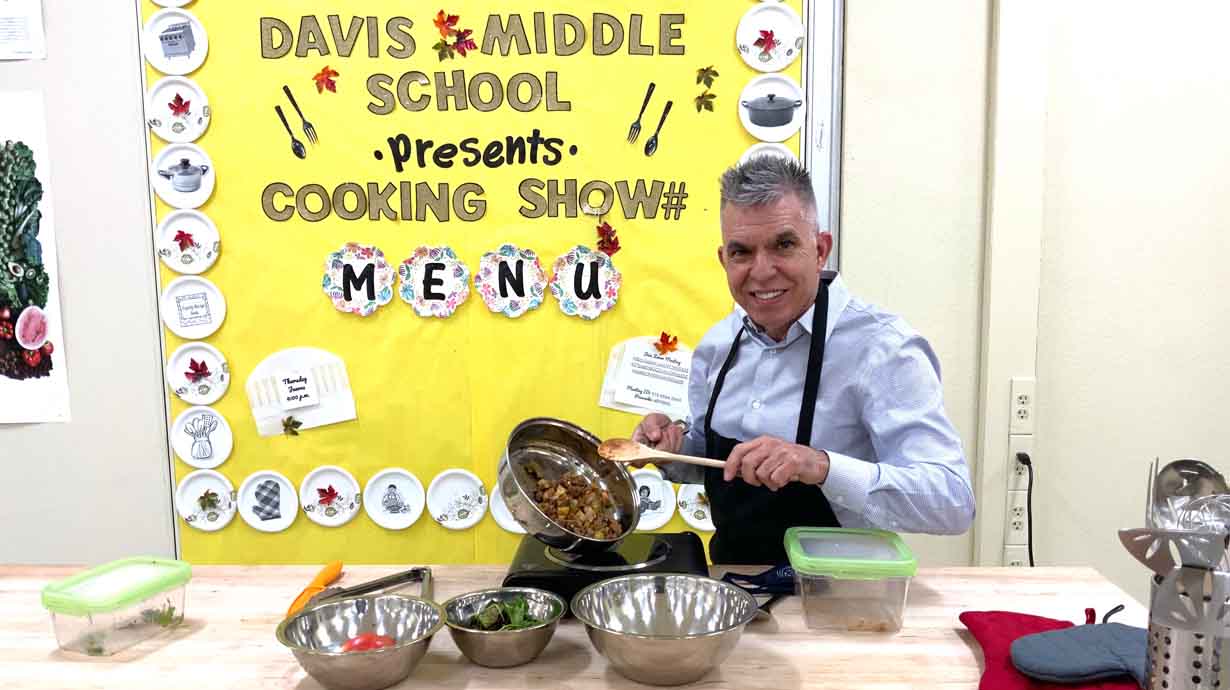 When the pandemic hit the United States in early 2020, there were many questions about how to navigate the new normal. But perhaps no questions loomed larger than those about the logistics of educating millions of students from home.
"Because of the fast onset of the pandemic, our teachers had to literally change within three or four days," says Rod Brashear, Verizon Innovative Learning coach at Catalina Ventura School in Phoenix, Arizona. Fortunately, Brashear's school had an advantage: it's a Verizon Innovating Learning school. "We would not have been able to survive this situation without the devices and the knowledge of the software prior to it happening," he says.
Not only have the program's partner schools been able to quickly adapt, but through innovative thinking, they have been able to use technology to create remarkable learning opportunities for students and their families. At Davis Middle School, Catalina Ventura School and Mansfeld Magnet Middle School, these solutions have been so successful that they'll remain once the pandemic is over.
Helping students shine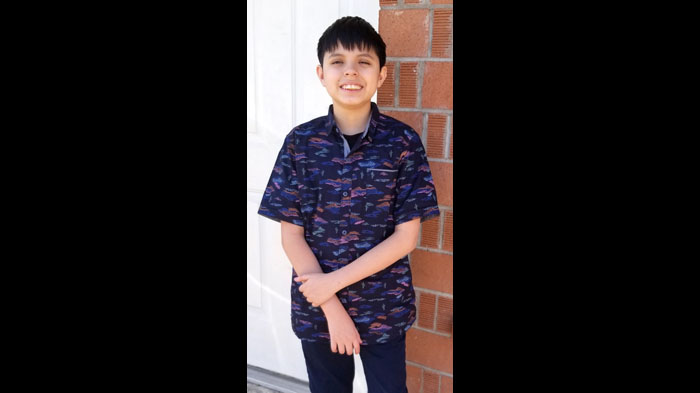 Nomey Munguia — an eighth-grader at Catalina Ventura School — has thrived during distance learning. (credit: Courtesy of Nomey Munguia)
The staff at Catalina Ventura had just days to switch from classroom to remote learning. "As a Verizon Innovative Learning school, we'd been doing professional development on technology and how to integrate it more in instruction. But teachers weren't really forced to do it," says Principal Tina Bunch. "But now, it's incredible the amount of skills they have."
The distance learning apps Catalina Ventura used all required student engagement, so educators worried what would happen to shy pupils who could stay quiet (or even invisible) on a screen.
Eighth-grader Nomey Munguia — who loves getting creative with his Verizon Innovative Learning device — is one of these students. "Let's take it back a year. Nomey has autism and he has trouble with social interactions, including asking for help. He hardly participated," says seventh and eighth grade resource instructor Sarah DeVita. She frankly expected less participation during remote learning, but she says, "Nomey surprised me." He readily answered questions and participated on chat and in small groups. Technology also made it easier for Nomey to get support, with apps providing real-time insight into his comprehension and challenges. "He has shown us what he understands and what he doesn't and where we as his teachers need to help him more, says DeVita."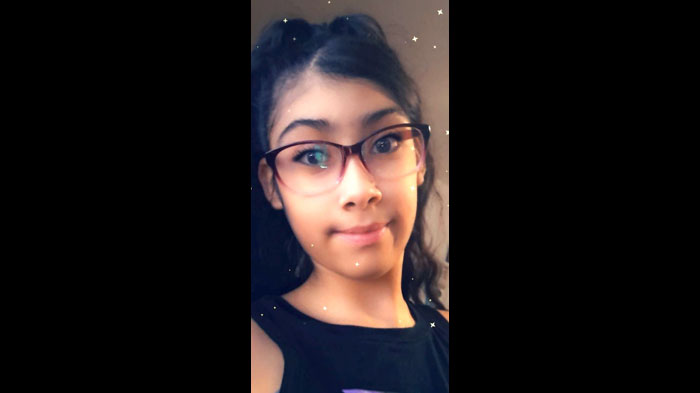 Catalina Ventura School student Fatima Reyes Gurrola found her confidence during distance learning. (credit: Courtesy of Fatima Reyes Gurrola)
Another student who blossomed during remote learning is Fatima Reyes Gurrola. An eighth-grader whose physical disabilities placed her in the back of classrooms so she could leave class to receive health accommodations, therapies and additional supports pre-pandemic, her teachers said she typically held back during lessons. But logging in from home, Fatima transformed into a very different kind of student. "Using her device, she has had the opportunity to design creative assignments and videos, and engage with everyone in the chat," says Janet Ankrum, a STEAM elective educator who had the pleasure of teaching Fatima for three years. "Her confidence has soared to new heights and Fatima has discovered new leadership traits within herself."
Not only is Fatima now contributing with confidence, but she describes remote learning with a word many students don't apply to school: "It's fun!" she says. "The best part of distance learning is participating more. I wasn't afraid to talk or ask my teachers when I needed help."
Verizon Innovative Learning coach Rod Brashear believes Verizon made it possible for Nomey and Fatima to have engaging and equitable remote learning experiences. "I think with the use of technology it becomes a situation of: 'I'm just talking to my teacher. I'm not looking at or feeling the people around me.' It's been a real game changer."
Providing wraparound support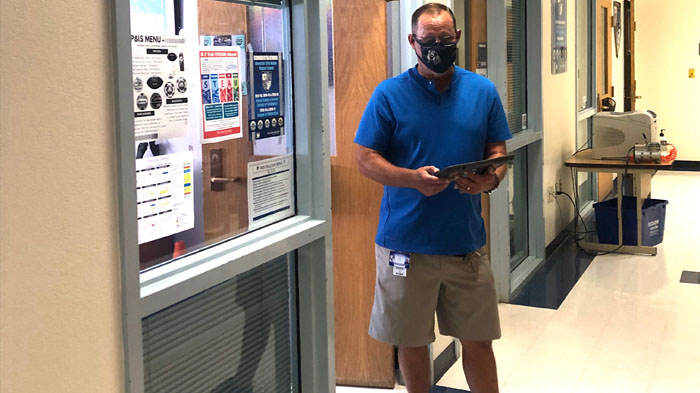 Dean Lent uses his Verizon Innovative Learning device on campus. (credit: Courtesy of Jeffrey Lent)
The educators at Mansfeld Magnet Middle School in Tucson, Arizona, were worried about all of their students when schools went virtual, but they were particularly concerned about 25 eighth-graders who were at risk of not being promoted to ninth grade. To make matters worse, the students were largely absent from remote learning at the beginning of the pandemic.
In response, a student support team that included a school counselor, dean, teacher and the principal, devised a plan that made special use of the technology. "We contacted students through their devices and were able to do home visits to upgrade or relay devices back to the school for repair," says dean of students Jeffrey Lent. "We also utilized our devices to communicate with these students and parents — often just to have a motivational session."
The team quickly discovered that the students didn't just respond to the increased communication, they thrived because of it. "The technology provided by Verizon Innovative Learning gave them a new way to express themselves and communicate. For example, a student who never used to participate in class, and still refuses to turn their camera on online, is also a student who might actively private chat with the teacher during an online meeting," says Trish Croaker, Mansfeld's Verizon Innovative Learning coach.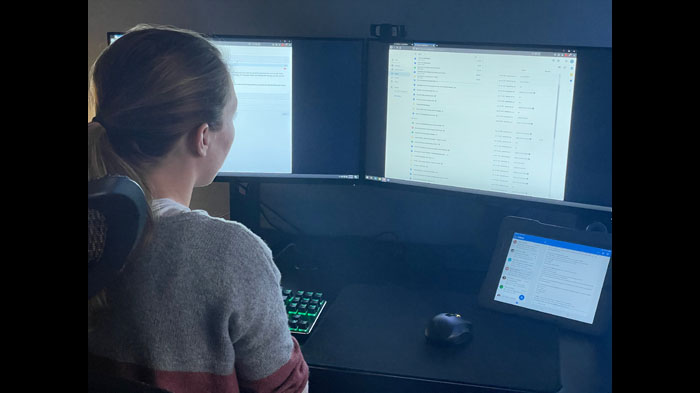 Mansfeld Magnet Middle School coach Trish Croaker hard at work from home. (credit: Courtesy of Trish Croaker)
As a result of these new ways to engage — and what Croaker calls the ability to become their own advocates — all 25 students passed the eighth grade. It was such a success that Mansfeld has decided to permanently add these communication methods to its resource toolbox. "We will continue having a way for students to reach out without needing to meet face-to-face," says Croaker. "It is the start to building a relationship in a less intimidating way."
Dean Lent agrees that the Verizon-provided technology was a great benefit and stresses that there was another reason why it worked: "The effort shown by these students, along with their patience, put them in a place to develop habits that will allow them to be more successful in life."
Cooking up new ideas
As the Verizon Innovative Learning coach at Davis Middle School in Compton, California, Jose Gonzalez has close ties with the school's parents — they ride to STEM competitions together and have been known to leave him plates of food in the office. So Gonzalez immediately recognized the additional stress parents were under when their children's education moved home. "I thought, 'There's got to be a way for my parents to get a chance to express themselves,'" says Gonzalez.
His solution depended on two things: modern technology provided by Verizon and age-old tradition. "Cooking is a universal language. Everyone has to eat," says Gonzalez. "And when people invite you into their home to share food, there's great bonding."
So he created the "Parent Virtual Cooking Show." In the first live streamed episode, he tapped his Cuban roots and made picadillo. "I figured let me model this first, then I challenged my parents to cook," says Gonzalez.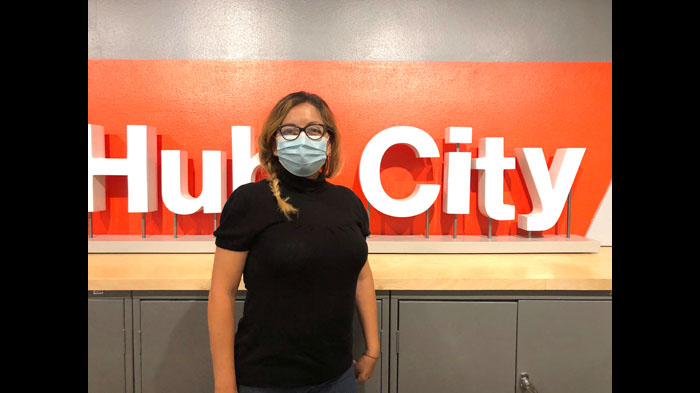 Davis Middle School's Amanda Lares shows off the school's Verizon Innovative Learning Lab. (credit: Courtesy of Amanda Lares)
Since then, every other Thursday at 6 p.m., Gonzalez and co-host Amanda Lares (community specialist at Davis) join parents to make and share recipes. Gonzalez uses the show — which averages 25 participating households per episode — to share more than food. There's also school information and healthy cooking lessons. "I provide resources that honor the community," says Gonzalez. "If the parents are feeling good, that's going to trickle down to the kids."
Parents say the show has been an unexpected boost during the pandemic. "I've lost friends and family members to COVID-19. In that one hour of participating or seeing other parents sharing their recipes, you remember to smile and have a great time. It makes you forget what's going on in the world," says Maria Gudino, the mother of a sixth-grader who, in one episode, prepared her family's favorite dish, costillas en salsa verde — spicy white rice and refried beans.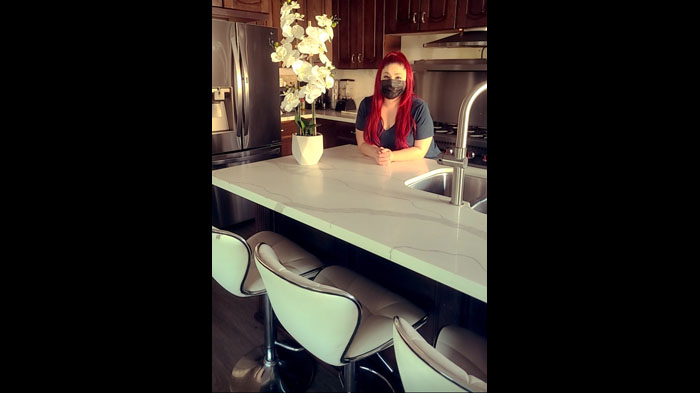 Davis Middle School parent Maria Gudino (virtually) invited fellow parents into her kitchen during the pandemic. (credit: Courtesy of Maria Gudino)
Parents have also become more technologically savvy by just tuning in and working on the show with Gonzalez — often using their kids' Verizon-provided devices. The show will continue when students return to classrooms full-time. Says Lares, "We found something that everyone can relate to, and it's an excellent way to be more involved with the school community."
Verizon Innovative Learning is a key part of Citizen Verizon, the company's responsible business plan for economic, environmental and social advancement.