Test Drive of the Droid RAZR MAXX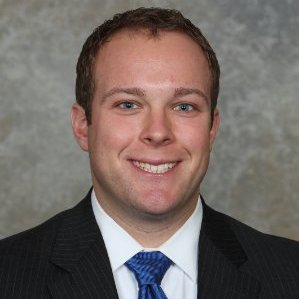 This is a guest post from Wisconsin resident Nick Monroe. Follow him on Twitter @NMonroe.
Mobile devices are in my blood. Ever since owning a Palm Treo 650 back in 2005, I've been hooked on having instant access to the world around me. This has led me to my current position, where I am the social media manager and in charge of the day-to-day operations of all of our social content.
Having test driven nearly every mobile OS on the market, I was excited to get the chance to take Android on an extended ride with the Droid RAZR MAXX by Motorola. I was familiar with the device line and Motorola's history with the platform (they launched the first Verizon Android device back in 2009). The Droid RAZR MAXX is the big brother to the Droid RAZR, a sleek dual-core smartphone with a super charged battery and LTE.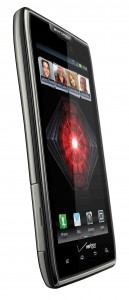 Hardware:
The MAXX shares the same slim profile design as its little brother, the RAZR, but where the RAZR's camera tapers down to a slim backing, the MAXX doesn't taper. This leaves you with a symmetrical phone full of glorious power. Despite the increase in size, the MAXX still checks in at a slender 8.99mm, which makes it thinner than the iPhone 4S. No need to worry about this phone slipping out of your fingers because the Kevlar fiber backing gives it a great feel in your hands.
Software:
The MAXX features the Gingerbread version of Android, and while Motorola has promised an upgrade to Ice Cream Sandwich, the exact release date has yet to be announced. For 99.9% of consumers, this isn't an issue. But for a nerd like myself, I was selfishly hoping the upgrade would come sooner than later.
Screen:
Motorola packed in a 4.3" screen, which made streaming video a joy. Coupled with baked in Verizon 4G LTE, I was able to utilize the Watch ESPN and NBA Gametime apps to stream live soccer matches and basketball games on the fly in crystal clear quality. The LTE did not help Liverpool play any better, but it at least looked good.
Camera:
As a social media manager, it is imperative to be able to take quality photos on a daily basis. I found the camera to be quick and responsive, and the video quality was superb. Check out this video I took at a WWE event at the Bradley Center:
Motorola Droid RAZR MAXX Test Video from Nick Monroe on Vimeo.
Notice the picture snap into focus as soon as I touched the screen to focus on the action. The still camera was as good as any I've used on a mobile device, but check out these two photos for yourself to see how it looks in the real world.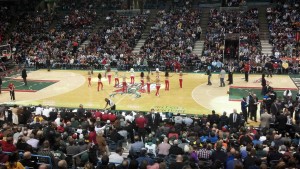 Battery:
Hence the MAXX in the name, the phone's crown jewel is the 3300mAh battery. And wow, does it make a difference. On a normal day with my iPhone 4, I have to re-charge at least once. But with this super battery, I never had to worry about bringing a charger along or conserving battery use. I took a road trip to Chicago on February 22nd and brought the MAXX as my only phone. I figured I'd ride or die with the battery (and a spare external, also from Motorola) and see what happens. I never needed the external battery. Sitting in the United Center (where I always have AT&T issues), blazing along on Verizon's 4G LTE network was a joy.
Overall:
I enjoyed my time with the MAXX and would recommend it to anyone needing a phone that packs some serious battery life and speed. I mean, who can argue with this: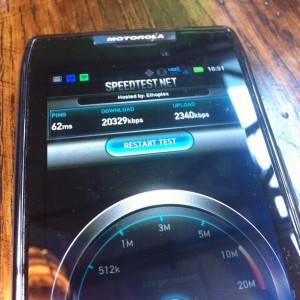 That's a real world 4G LTE test at Alterra Coffee on Prospect Avenue. I was able to use the mobile hotspot to connect my laptop and never have to worry about lag that plagues free WiFi spots such as Alterra. For all the hype that surrounds the power consumption issues of LTE and the growing power demand of apps, rest assured that the MAXX can get you through the day.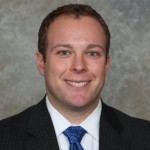 Nick Monroe is a social media manager and co-founder of Young Milwaukee Charitable Organization, Inc., which is a collection of young professionals organizing charitable events to benefit the Milwaukee community.
For more Verizon Wireless news, subscribe via RSS feeds in the right rail.