Think the Buccaneers Are Fast on the Field? Wait Until You Experience FiOS Quantum Internet Speed on Game Days
Think the Buccaneers Are Fast on the Field? Wait Until You Experience FiOS Quantum Internet Speed on Game Days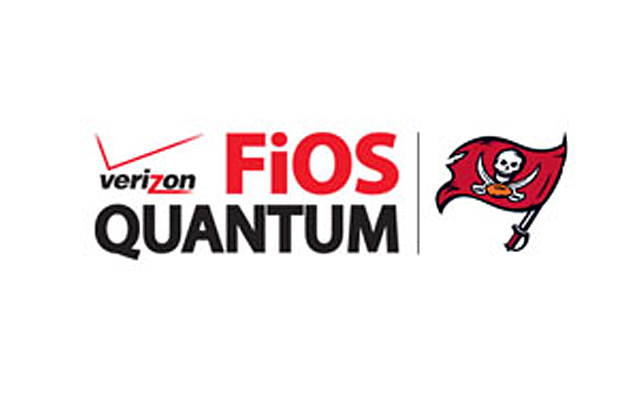 TAMPA, Fla. – Verizon's FiOS Quantum Internet service will become the official residential Internet provider of the Tampa Bay Buccaneers in a multiyear deal that has been reached with the NFL team. The sponsorship will include use of the team's logo in advertising and in-stadium signage. In addition, Verizon will be able to promote and highlight FiOS Quantum at the stadium on game days through fantasy football check-ins, streaming live television to tablets and creating various Internet activities to demonstrate the blazing-fast speed and reliability of FiOS Quantum.
"We are pleased to welcome Verizon FiOS as the new official residential Internet provider of the Tampa Bay Buccaneers, and we look forward to showcasing the many benefits of FiOS Quantum at Raymond James Stadium throughout the upcoming season," said Buccaneers co-chairman Bryan Glazer.
During home games, starting with the Carolina Panthers game on Oct. 24, Verizon representatives will staff booths in the south end zone and on the club level at Raymond James Stadium, allowing fans to test drive FiOS Quantum to see first-hand the difference the all-fiber Internet service makes. Fans can get real-time updates on their fantasy football team; stream live television channels – including NFL Network – to their tablet, laptop or smartphone; and perform speed tests to show the blazing-fast speeds Verizon FiOS Quantum has to offer. The FiOS Quantum Internet service in the stadium booths will be powered by a 300/65 megabits-per-second connection spread over multiple interactive areas.
"We are thrilled to be the official residential Internet provider of the Tampa Bay Buccaneers," said Jeanmarie Milla, Verizon's Florida region president. "Combining FiOS Quantum with the Bucs creates the perfect combination of speed, reliability and performance. And experiencing the difference Quantum makes gives fans an entertaining and eye-opening way to enjoy the pregame period."
For the eighth consecutive year, Verizon FiOS customers have rated their Internet service tops, with FiOS again receiving the PCMag.com annual Reader's Choice Award. Not only did FiOS Internet earn the highest overall satisfaction rating in the well-regarded magazine's annual survey of its readership, but it secured the highest ratings in many other key categories, including speed, reliability and satisfaction with tech support.         
FiOS Quantum Internet service customers can choose to enjoy the Internet at speeds many times higher than the national average. Customers have the option of five speed tiers from which to choose, starting at 50/25 Mbps, to 300/65 and up to 500/100 Mbps¹, with all but the 500 Mbps service available in either a bundle or as a stand-alone service.
1 Speeds not available in all areas.
Verizon Communications Inc. (NYSE, Nasdaq: VZ), headquartered in New York, is a global leader in delivering broadband and other wireless and wireline communications services to consumer, business, government and wholesale customers.  Verizon Wireless operates America's most reliable wireless network, with more than 100 million retail connections nationwide.  Verizon also provides converged communications, information and entertainment services over America's most advanced fiber-optic network, and delivers integrated business solutions to customers in more than 150 countries.  A Dow 30 company with nearly $116 billion in 2012 revenues, Verizon employs a diverse workforce of 180,900.  For more information, visit about.verizon.com.
####