Tips for Keeping Smartphones Charged During Severe Weather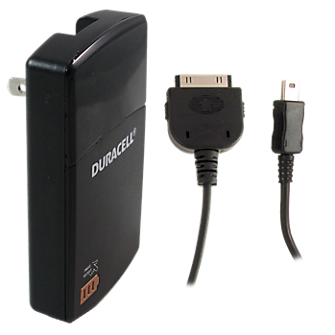 Tornado season is upon us. So far, the National Weather Service (NWS) indicates Indiana has had four weak tornadoes in 2013 – less than half the average of 10.7 tornadoes in Indiana for the first five months of the year since 1951. It's been a quiet season overall according to weather officials with the lowest number of tornadoes reported nationwide since 1954.
America's wireless industry is helping to build a Weather-Ready Nation through a nationwide text emergency alert system, called Wireless Emergency Alerts (WEA), which will warn you when weather threatens.
Though this text alert system is a great help, being proactive about being able to stay in contact with family, work and emergency personnel (when needed) can be crucial. Brownouts due to excessive heat and electric usage, as well as other forms of severe weather, can leave you without power, and a way to contact loved ones. Possessing simple tools – such as portable chargers – that will help you in keeping smartphones charged can help you out in the darkest moments when severe weather strikes.
Many emergency management agencies, from the Federal Emergency Management Agency (FEMA) to the Indiana State Police, recommend that wireless phones be part of your emergency kit while traveling. Portable chargers and common proactive tips are the best ways to keep you connected.
A few tips for keeping in touch during and after severe weather:
Start by checking out the mAh capacity on a portable charger. The higher the number, the better the charge. The LG Wireless Charging Pad provides four extra hours through inductive charging, but still requires a charge through an electrical outlet first.
Find out if the charger can extend the battery life of multiple devices at once. Many are equipped to handle a wireless phone and tablet at the same time. The myCharge Summit 3000 allows you to charge up to three devices at once, all on a built-in, fully rechargeable battery.
For USB-charged devices, the Motorola P893 is a convenient charge-and-set-aside device that can be powered up at your convenience and then used when needed most. The Duracell Portable Power Back works similarly for Apple and Micro USB devices.
Check device compatibility. The Mophie Juice Pack PRO Outdoor Edition converts an iPhone 4/4S into a connected, dedicated GPS device through the Mophie Outdoor app and also extends battery life by switching to Standby mode. Other Mophie devices will charge smartphones with universal charging ports as well as other Micro–USB devices.
When it comes to choices, there are plenty of reasonably priced options for consumers, including inductive battery covers and pads, portable chargers and vehicle chargers. You can determine device compatibility online for any product or ask your retail advisor at a local store what's best for your family to prep for any emergency. It can't be stressed enough, though, that being proactive in having charging devices powered and ready ahead of a storm is crucial to staying connected when a storm hits.
For more Verizon Wireless news, subscribe via RSS feeds in the right rail.