A Phone Junkie Trades in Old Habits for Mobile Upgrades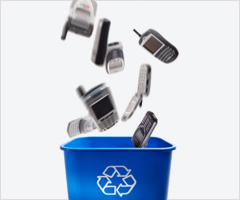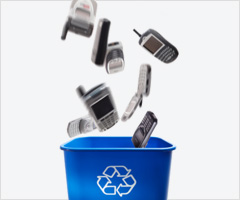 This is a guest post by Mike Williamson, a tech blogger from Kansas who is also the Chief Editor of PhoneJunkie.
The New Year is upon us. Due to the fact I spend a great deal of time throughout the day on my cell phone, I'm preparing a few mobile resolutions this year.
Two of my resolutions are to clean out the junk drawer in my home office and recycle more often. My junk drawer is full of old computer cables and other electronic devices that have either gone unused or been replaced by newer technology. Even worse, most of the space is taken up by used cell phones and tablets.
I thought of these resolutions while I was on the Verizon Wireless website the other day, dreaming of what my next upgrade would involve. I noticed the Verizon Wireless Trade-In Program and found it to be a great way to clean out your junk drawer and recycle at the same time! Verizon will appraise your handset, tablet or netbook and make recycling your devices easy with four simple steps. Once my device is appraised, Verizon will send me a gift card via e-mail for the value of my device. Once I accept the offer, all I have to do is mail my device to Verizon and decide how I will spend my new gift card.
My third mobile resolution is to become completely hands-free while on the phone in my car. Throughout the workday, I'm on the phone in my car a lot, making calls to the office and returning calls to clients. While I know it's unsafe, occasionally I have to take my eyes off the road for a split second to dial a phone number while driving. What's more, I tend to hold the inherently male mentality of, "I'm okay, it's those other people who don't know how to use their phone and drive at the same time." Well this year I'm changing my habits and have vowed to invest in a Droid Roadster 2 Portable Bluetooth Speaker, which will ensure that I am fully able to keep this resolution. With the Droid Roadster 2, I can drive completely hands-free, dictate text messages and answer and place phone calls without having to touch the phone. It knows when I enter the car and turns on automatically. The Droid Roadster 2 even has GPS capabilities that can be used in conjunction with a free app to find my car in a large parking lot.
The holidays have come and gone and I am already on track to keep my mobile resolutions. This year, I'll be much safer with a completely hands-free mobile setup and a clean junk drawer. Following through with my resolutions will not only help myself, but contribute to others around me as well.
For more Verizon Wireless news, subscribe via RSS feeds in the right rail.