"Truly incredible" - Verizon delegates describe the One Young World Summit
Full Transparency
Our editorial transparency tool uses blockchain technology to permanently log all changes made to official releases after publication. However, this post is not an official release and therefore not tracked. Visit our learn more for more information.
More of our content is being permanently logged via blockchain technology starting [10.23.2020].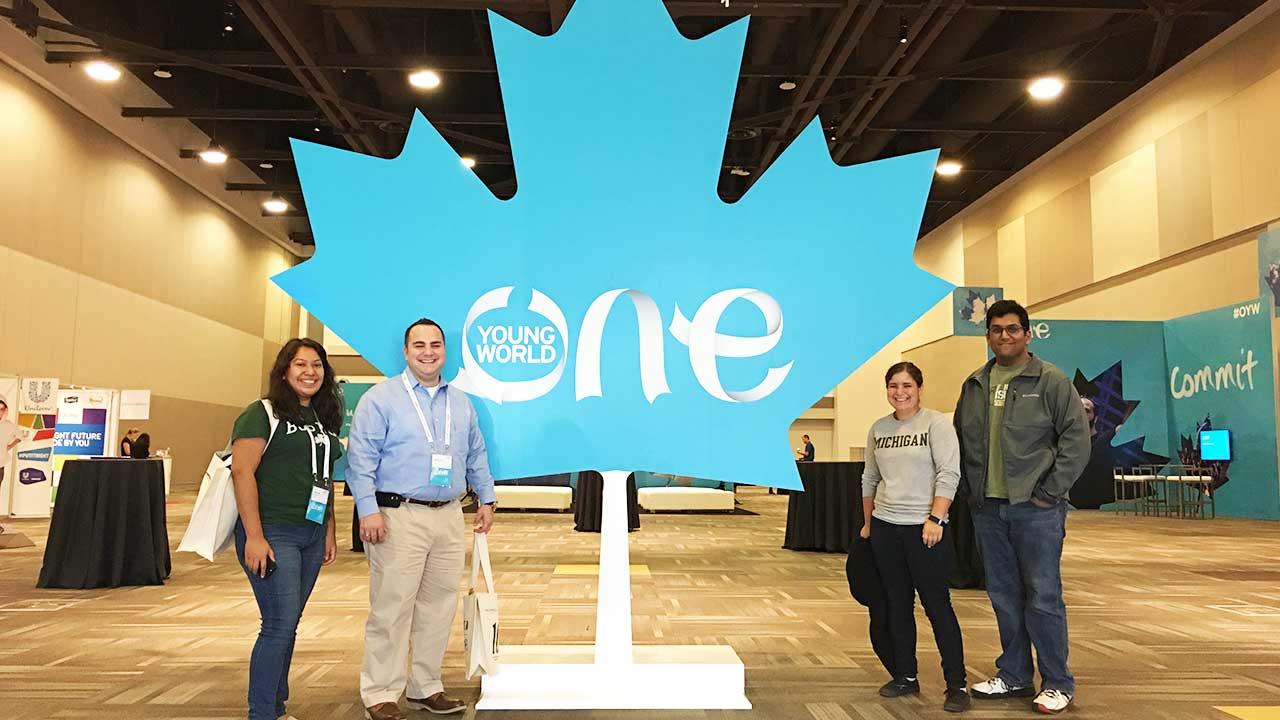 In early October, delegates representing 196 countries met in Ottawa, Canada, for the One Young World Summit, a yearly roving event at which young leaders and organizers gather in a major world city to discuss the issues facing cultures around the globe, from climate change to LGBT rights to terrorism.
Verizon nominated four delegates based on their inclusion in the Verizon Leadership Development Program, as well their experience advocating for social change. Joseph Pratico, a supervisor on the talent acquisition team, helps veterans transition to civilian life and volunteers with the Special Olympics. Sunny Gupta, in the Wireless Network Data Analytics group, motivates students to focus on STEM academics by competing in robotics tournaments. Elana Graf, who works on the Wireline Data Analytics team, is focused on education and mentorship, having tutored students in a free after-school program. Engineer Jessica Cruz is a tech analyst also working in education, advocating for systemic improvements for minorities.
Verizon sent the group of four to the One Young World summit to connect with other leaders throughout the world, learn about global issues and create positive change. The three-day event featured dramatic opening and closing ceremonies in which the flags of participating nations were paraded into Ottawa's Shaw Centre and stood by the side of the stage.
Gupta wasn't sure what to expect from all about social issues. But he was particularly impressed that most of the speakers were people deeply involved in the topics they were tackling. Even the panel on terrorism, he notes, included former terrorists, who could authentically speak about the recruitment tactics of extremist organizations.
While the One Young World conference included appearances by Kofi Anan and Sir Bob Geldof, Verizon's delegates were most impressed by speakers and organizations they'd never heard of before.
Gupta found Enactus Memorial's hydroponic farming kits especially inspiring. Based out of Memorial University of Newfoundland, the Enactus team provides water-based growing facilities manufactured from recycled materials to remote families with little access to fresh produce. Enactus Memorial's hydroponic gardens grow enough produce each week to feed a small family.
"They're just normal college students in Canada," said Gupta of the Enactus Memorial team. "They're working toward degrees. I'm sure they have part-time jobs. But they're also doing this amazing thing that's helping thousands of people and getting millions of dollars of revenue back into the system."
Other Verizon delegates pointed to a speech given by Micronesian activist Yolanda Joab as excellent insight into how smaller countries deal with global warming.
"When climate change isn't staring you down in the face, it's easy to forget," said Joab in a speech that's now available on the One World summit site. "Well, I am the walking and talking reminder that came all the way from the Pacific islands of the Federated
States of Micronesia to make sure we don't forget." Joab detailed how her organization helps to implement rainwater catchment tanks to extend the life of collected water, install solar panels to produce homegrown energy and plant Pandanus trees to protect the shoreline.
When climate change isn't staring you down in the face, it's easy to forget.
Yolanda Joab, Micronesian Activist
Cruz witnessed Joab's presentation and reflected: "When I'm engaged in my day to day work, I might not think about climate change at all. Attending the conference and hearing her speak was really meaningful. It opened my eyes to what is happening in the world and made me wonder what I can do to go about helping to make a change."
Another speech that made a big impression on the delegates was that of Alicia Raimundo, who, in her presentation now available on Youtube, describes surviving a suicide attempt at 13 and going on to author "Red Carnation," a book about mental health now given to all Canadian 8th graders.
Graf was impressed by Raimundo's positive outlook and her influence on Canada's mental health system. "I think it's really moving that she took something that was so painful for her and put it into a book to try to help other kids," she says.
The delegates met with Ronan Dunne, executive vice president and group president of Verizon Wireless, at the conference.
While much of the conference days were spent listening to presentations by amazing young leaders, there was also time for networking. Pratico met Petr Svobodnik, who co-founded BlindShell, a user interface that makes smartphones easier for the visually impaired to use.
"Petr's story and what he did was really inspiring," says Pratico, who says he's particularly interested in assistive technology because he has relatives with developmental disabilities. Although BlindShell has made forays into a handful of countries, it still hasn't made an impact in the United States, and Pratico says he would like to help change that if possible.
Cruz summarizes the One Young World conference by describing it as "truly incredible."
"Here I am thinking that I do quite a bit, and I attend this summit with people from 196 countries doing things. It made me realize there's still more I can be doing, and made me want to go find out where else I can help."