TV Viewing Gets Personal with GetGlue
TV Viewing Gets Personal with GetGlue
Erica Swallow: This sponsored article was written by Erica Swallow, a New York City-based tech and lifestyle writer, technology entrepreneur, and MIT Sloan MBA candidate. Erica's articles on entrepreneurship and startups have appeared in Forbes, Mashable
Channel surfing, Googling movie show times and reading TV series reviews can be a huge hassle, especially for the time-deprived, but media-hungry. That's where GetGlue comes in. Launched mid-2010 and acquired last winter in a deal valued at $73 million, GetGlue is a social network for "checking in" to the movies and shows you're watching while also discovering new content that you'll enjoy.
With GetGlue, users check in to the movies and TV shows they are watching, unlock special stickers and discover content based on the shows they already love, which they can then share on their favorite social channels.
 Lead product manager Lara Warman broke the service down by numbers at a recent Verizon FiOS Meetup that focused on bringing entrepreneurs, developers, venture capitalists and media moguls together to discuss the future of the connected home. She pointed out GetGlue's strong ownership of the TV and movie check-in space with its:
- 4 million registered users 
- 6 million unique page views per month on mobile and web 
- 300,000 daily check-ins 
- 100 million-plus daily social reach 
- 800 million data points in its database 
- 100-plus partnerships with networks and senior partners 
- 200,000 shows and movies across various platforms, including iOS, Android, mobile, and web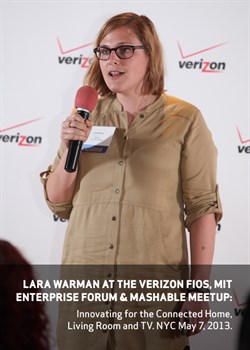 "Underneath all of these numbers, though, we're all about discovering and sharing, and ultimately, the second screen experience," says Warman. "We have a personalized guide, where we take what you tell us you like, our 800 million data points, and provide the best recommendations for what's on now on TV, as well as what's coming up, visualized in a calendar. When you check in, you can share with your friends and push to Facebook and Twitter. We also provide exclusive content with our partners around the shows that you love."
For example, GetGlue recently worked with FX on its premiere of "American Horror Story," offering up an exclusive video once users collaboratively reached 25,000 check-ins, starting at the time the campaign launched. The goal was reached within 12 hours and fans unlocked the video. 
GetGlue continues to re-imagine second screen TV, with a fresh take on the television guide for consumers.
In the same way Foursquare awards badges for the overcaffinated, and mayorships for gym rats, GetGlue's stickers create a culture around viewing. For example, loyal fans of the reality show "Nuestra Belleza Latina" earned stickers leading up to the season finale last month, part of the reason the Univision smash hit is one of the most popular of any show on social media.
What do you think is next in the world of social TV?