A Sea of Paisley at Indiana's Vera Bradley Outlet Sale: From Twitter Fan Banners to Snapchat Shares
A Sea of Paisley at Indiana's Vera Bradley Outlet Sale: From Twitter Fan Banners to Snapchat Shares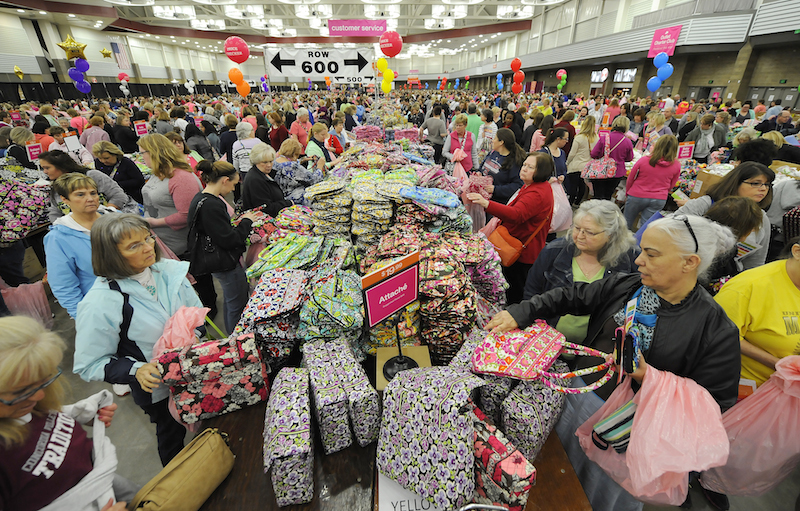 Tickets sell out early. Fans hype it on social. This Hoosier company is well prepared for the annual Indiana pilgrimage known as the Vera Bradley Outlet Sale. The five-day April event (taking place April 8-12) featuring iconic fabric totes, purses, beach towels, hair pins, Christmas ornaments, luggage, bedspreads, stationery (and more) in Fort Wayne, IN draws up to 60,000 people annually and drops up to $6 million into the local economy.
Vera Bradley co-founders Barbara Bradley Baekgaard and Patricia R. Miller founded the company after vacationing in 1982 and noticing an abundance of not-so-pretty luggage. Not so much today thanks to the duo. Women at this sale are wheeling around their favorite patterned pieces like airport travel pros.
Fans generally come to this Paisley Extravaganza from all 50 states — a statistic that's tracked every year.
Kate Galeana, a new mom with 10-week-old son Noah in tow from Michigan, was one of the first in line for the second wave of shoppers. Tickets are time stamped for arrival and departure for a shopper's slotted time. Armed with her Verizon iPhone 6, she was rocking her game plan with her mom and reviewing the floor map to tackle her first item — Vera's signature cases for her smartphone.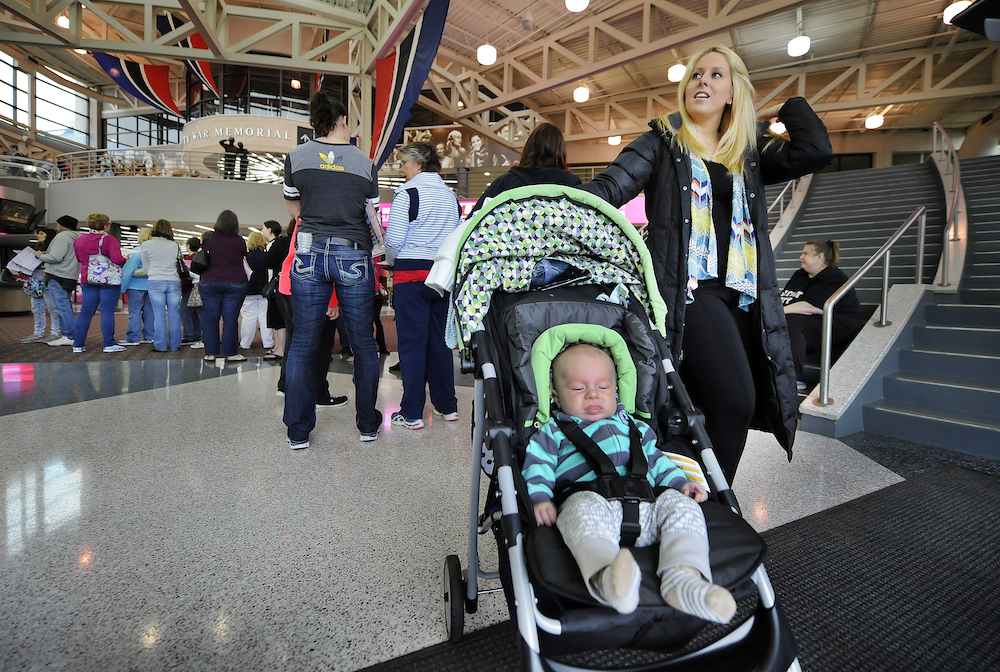 Kate Galeana and her son Noah prepare for the Vera Bradley Outlet Sale.
Napping Noah, who failed to be rattled from his hibernating state, already had his blue Vera Bradley diaper bag packed full for unexpected contingencies.
Like many crowding the coliseum on the first day of this mega sale, everyone was aware of the bargains inside, marking items as much as 75% off. And they patiently waited. But this is an event that is also carefully regimented, planned and managed with the precision of a military drill at the Allen County War Memorial Coliseum.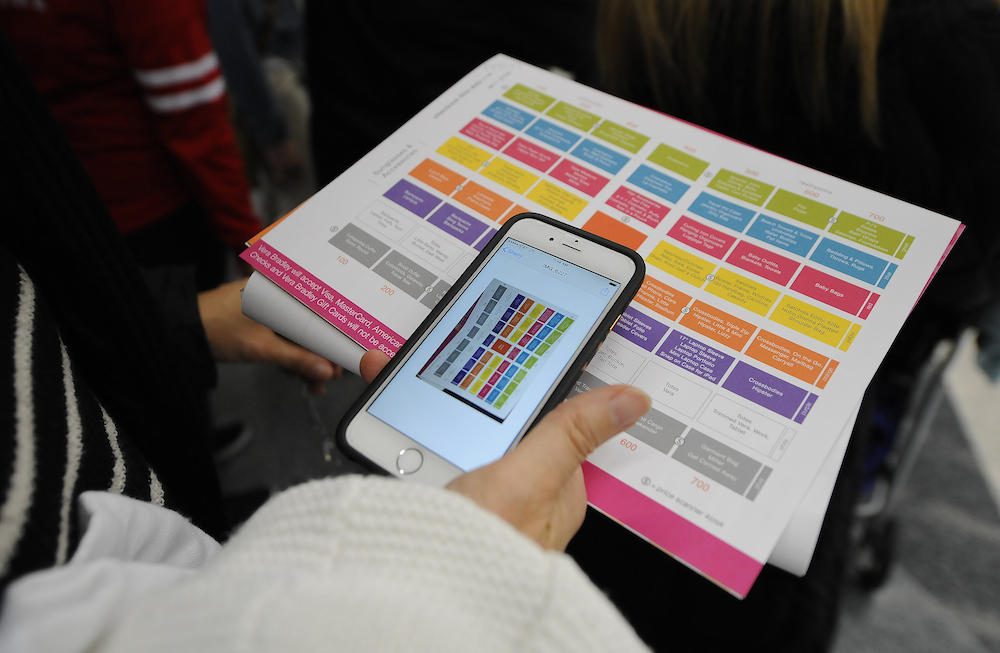 Shoppers plan ahead for the sale and use their smartphones to navigate.
The well-prepared Vera Bradley crew monitors social media with Sprout Social, watching and responding to #VBOS15 posts throughout the day — a feat in and of itself with more than 76,500 followers on Twitter. Sale items and specials are announced over a sound system. Shoppers are kept occupied in long check-out lines with Vera videos. Point of sale registers are also ready with clerks using bar code scanners for those items that just happen to lose their tags along the sales floor trek.
While shoppers snap and share photos of their buys via Instagram and Snapchat, it's also clear that the smartphone becomes a quick tool for sharing — but the hard work occurs on the coliseum floor behind the double line for the physical "sorting."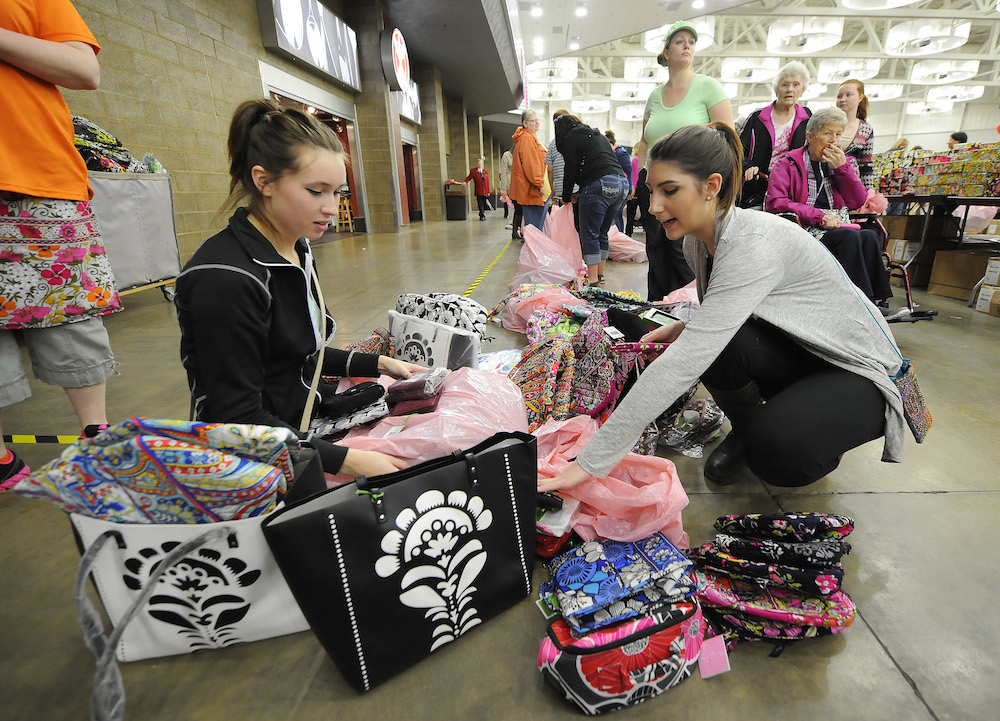 Natalie Schulz sorts through her finds at the Vera Bradley Outlet Sale.
Twenty-year-old Natalie Schulz, a first timer from Ohio and a Verizon customer, was done snap chatting and sharing #VB selfies on her phone. She was now preoccupied with reducing her initial 100 items down to a manageable 50.
"We're definitely coming back next year," she said.
For the company, technology – and data usage – has played a big part in the success of the event.
"For the last few years, technology has been a big piece of it … and is only getting bigger," said Vera Bradley's PR Manager Melissa Schenkel.
For the fans, that's good news as technology moves the needle to bigger and better sales each year.
In 1983 when the first Vera Bradley Outlet Sale launched in a much smaller space in Fort Wayne, the first commercial cell phone call also was made from Soldier Field.
Big thinking? You bet.
For more Verizon Wireless news, subscribe via RSS feeds in the right rail.