V Teamers stand together this Pride Month.
Here's a look inside how we're supporting the LGBTQ+ community this June. As an inclusive company, we invite all to be allies and participate.
Full Transparency
More of our content is being permanently logged via blockchain technology starting [10.23.2020].
Pride Month is a time when we stand together to support and celebrate the LGBTQ+ community around the world. This month and every month, we're proud to demonstrate and elevate our commitment to diversity and inclusion as a company and a V Team. We're dedicated to using our powerful networks to move the world forward by building stronger connections.
Here's a closer look at some of the activities we have planned throughout the month:
The V Team hosts a Day of Pride program.
To conclude our Pride Month festivities, V Teamers came together on June 30 for a "Voices of Pride" internal broadcast program to celebrate the diverse talents, thoughts, and accomplishments of the LGBTQ+ community. 
At the event, speakers — including Prism ERG members, Prism's executive sponsor Craig Silliman, and Global Advisor Mario Acosta-Velez — shared authentic and inspiring personal stories. Additionally, senior leaders Sandy Gould, Lisa Moore, and Mike Mason, spoke about what they are doing to ensure that voices of Pride are heard at Verizon. 
Community partners, such as PFLAG  (Parents, Families and Friends of Lesbians and Gays), NGLCC (National LGBTQ Chamber of Commerce), The Trevor Project, Phluid, and HRC (Human Rights Campaign) also joined us to share important messages about their organizations.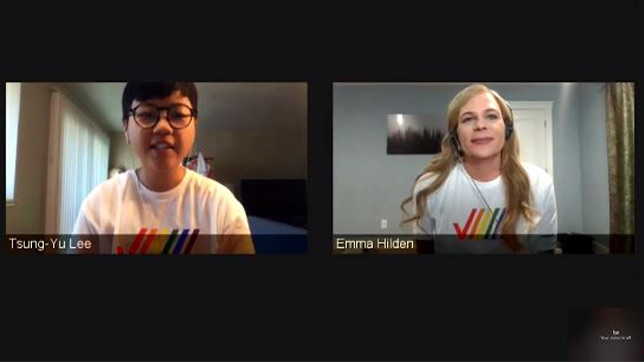 V Teamers joined Prism of Verizon's Day of Pride program to help create stronger connections with our LGBTQ teammates and community beyond Pride month.
Virtual volunteering opportunities throughout the month. 
At Verizon, our employee resource groups (ERG) play a major role in shaping our culture through diversity, inclusion, support and social responsibility efforts. Prism of Verizon, our LGBTQ+ ERG, is proud to host the following virtual volunteering events in support of the LGBTQ+ community. 
Virtual Pride Walk. V Teamers are encouraged to join a virtual walk to promote Pride Month awareness, self-affirmation, dignity, equality, and celebration.  Virtual walks may take place at a location of your choice, including your neighborhood, backyard, treadmill, etc. Take photos and share your pride on your social channels using #VerizonInclusion.   
Letters for Kaleidoscope Youth. Prism and the Kaleidoscope Youth Center invites V Teamers to send letters and cards to Kaleidoscope youth, sharing messages of encouragement and hope. All letters and cards will be placed in care packages containing food, hygiene products, and clothing for youth in need during the COVID-19 pandemic.
LGBTQ+ Youth Crisis Counseling. After undergoing a comprehensive training session, V Teamers will be able to provide life-saving and life-affirming support to LGBTQ+ youth in crisis. This volunteer opportunity is in partnership with The Trevor Project, the world's largest suicide prevention and crisis intervention organization for gay, lesbian, bisexual, transgender, queer & questioning (LGBTQ) young people. 
Virtual San Francisco Pride Parade. Prism of Verizon invites V Teamers to participate in a virtual San Francisco Pride Parade on June 27 and 28 to commemorate LGBTQ+ heritage, celebrate culture and liberation. 
Global cultural events available to stream. 
From conference panels to virtual series, we're proud to participate in the following programs this Pride Month. Each event will be virtually available to the public. 
BUILD Studio Pride events
Monét X Change BUILD Studio Event featuring community leaders. On June 16, join us for a policy-focused panel discussion with leaders and national LGBTQ+ community organizations, including HRC, PFLAG, OutRight International, and Harvey Milk Foundation. The panel will address critical issues impacting the LGBTQ+ community in the U.S. and internationally.
Monét X Change BUILD Studio Event featuring Prism of Verizon. Join us at this BUILD event featuring influential voices in the LGBTQ+ community on June 23. They will discuss topics around current events, including COVID-19 subject matter. 
WorkPride Conference Panels (U.K.) with VMG speakers. myGwork is the business community for LGBTQ professionals, graduates, inclusive employers, and anyone who believes in workplace equality. 
On June 22 (8:45 - 10:00 a.m. ET) Emily H., Verizon Media's ERG Program Lead, will speak on a panel discussion regarding best practices on effective, action-oriented strategies for the workplace.
On June 23 (8:30 - 9:30 a.m. ET), Lisa M., Head of Business Partnering & Operations and Executive Advisory Board member for Prism of Verizon, will speak on a panel discussion regarding the role of ERG Executive Sponsors. See the full agenda here.
It's vital that we celebrate diversity and embrace inclusion every single day of the year.
Craig Silliman,  EVP and Chief Administrative, Legal and Public Policy Officer, and executive sponsor of Prism of Verizon
This Pride Month, we encourage you to take time to learn about the LGBTQ+ community. Diversity and inclusion is at the heart of who we are. Learn more about Verizon's commitment to diversity and inclusion.