Verizon completes TracFone Wireless, Inc. acquisition
Media contact(s)
Adria Tomaszewski
908-809-2382
Leading premium and value wireless brands come together on America's most reliable network 
Full Transparency
No Updates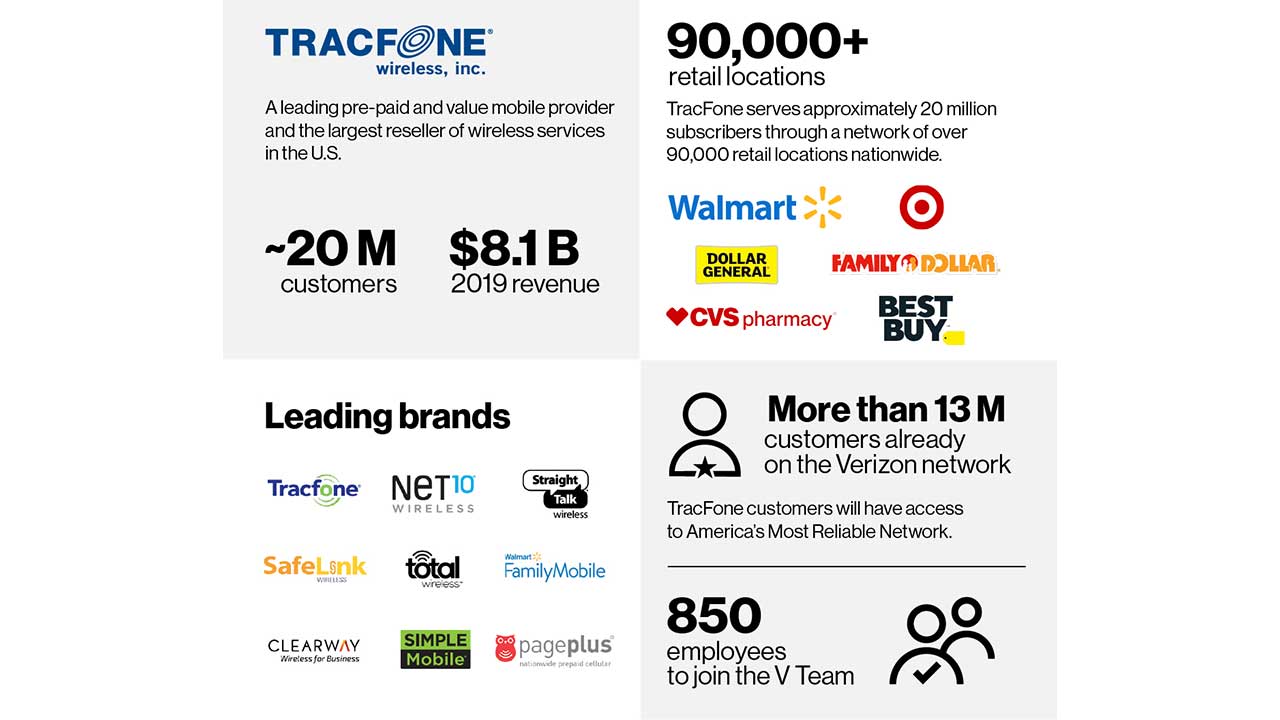 NEW YORK – Verizon (NYSE: VZ) – Today Verizon Communications (NYSE, Nasdaq: VZ) announced that it has completed its previously announced acquisition of TracFone Wireless, Inc. and TracFone's family of brands, bringing the leading premium and value wireless brands together on the leading wireless network. The addition of TracFone's brands to Verizon's portfolio of brands will provide more U.S. consumers seeking value wireless plans with improved experiences and enhanced services on America's most reliable network.Customers will benefit from more choices and features, including fixed wireless residential broadband solutions, new device technology, expanded 5G access, a continued commitment to Lifeline services and more international calling and roaming options. 
The acquisition positions Verizon as the leading pre-paid, value and premium wireless carrier by expanding Verizon's portfolio, bringing enhanced access to its industry-leading wireless network and comprehensive suite of mobility products and services to a new customer base. Verizon will continue to offer Lifeline service–with new 5G connectivity options–through TracFone and further develop TracFone's products, distribution channels, and core brands. Those brands include Straight Talk, the vast majority of whose customers operate on the Verizon network today as well as Total Wireless, TracFone and SafeLink.
TracFone is the largest reseller of wireless services in the U.S., serving approximately 20 million subscribers through a network of over 90,000 retail locations nationwide. A longtime partner of Verizon, more than 13 million TracFone subscribers currently rely on Verizon's wireless network through an existing wholesale agreement.
"We're thrilled to welcome TracFone and its employees to the Verizon family and look forward to bringing new products and enhanced services to this attractive segment of the market. Our new premium and value customer base will benefit from the combined organization's offerings—now and in the future," said Ronan Dunne, CEO, Verizon Consumer Group. "The addition of the TracFone brands firmly establishes Verizon as the provider of choice in the value segment, which complements our clear leadership in the premium segment," he added.
"For over 25 years, TracFone Wireless, Inc. has provided wireless solutions to value-conscious consumers," said Eduardo Diaz Corona, CEO TracFone Wireless, Inc. "With the power of Verizon, we will be able to bring innovative offerings and better value to market quicker, allowing us to further our purpose to deliver Coverage & Access For All." 
Verizon paid a closing consideration of US$3,125 million in cash, subject to customary adjustments, and 57,596,544 shares of Verizon stock. Subject to TracFone continuing to achieve certain operating metrics, Verizon shall pay up to an additional US$650 million cash consideration.
Español
Verizon finaliza la adquisición de TracFone Wireless, Inc.
Las principales marcas de tecnología inalámbrica premium y prepago se unen en la red más confiable de Estados Unidos
NEW YORK –  Verizon (NYSE: VZ) - Hoy Verizon Communications (NYSE, Nasdaq: VZ) anunció que ha completado la adquisición previamente anunciada de TracFone Wireless, Inc. y la familia de marcas de TracFone, reuniendo las principales marcas inalámbricas premium y de prepago en la principal red inalámbrica. La incorporación de las marcas de TracFone al portafolio de marcas de Verizon proporcionará a más consumidores estadounidenses que buscan planes inalámbricos más asequibles con experiencias mejoradas y servicios mejorados en la red más confiable de Estados Unidos. Los clientes se beneficiarán de más opciones y funciones, incluidas soluciones de banda ancha residencial inalámbrica fija, nueva tecnología de dispositivos, acceso 5G ampliado, un compromiso continuo con los servicios Lifeline y más opciones de llamadas internacionales y roaming.
La adquisición posiciona a Verizon como el principal proveedor de servicios inalámbricos de prepago, y premium al expandir la cartera de Verizon, brindando un acceso mejorado a su red inalámbrica líder en la industria y un conjunto completo de productos y servicios de movilidad a una nueva base de clientes. Verizon continuará ofreciendo el servicio Lifeline, con nuevas opciones de conectividad 5G, a través de TracFone y desarrollará aún más los productos,canales de distribución y marcas principales de TracFone. Esas marcas incluyen Straight Talk, la gran mayoría de cuyos clientes operan en la red de Verizon en la actualidad, así como Total Wireless, Tracfone y SafeLink.
TracFone es el mayor revendedor de servicios inalámbricos en los EE. UU., da servicio a aproximadamente 20 millones de suscriptores a través de una red de más de 90,000 establecimientos minoristas en todo el país. Como socio de Verizon desde hace mucho tiempo, más de 13 millones de suscriptores de TracFone actualmente se benefician de la red inalámbrica de Verizon a través de un acuerdo mayorista existente.
"Estamos encantados de dar la bienvenida a TracFone y a sus empleados a la familia Verizon y entusiasmados de poder ofrecer nuevos productos y servicios mejorados a este atractivo segmento del mercado. Nuestra nueva base de clientes premium y prepago se beneficiará de las ofertas de la organización combinada, ahora y en el futuro ", dijo Ronan Dunne, director ejecutivo de Verizon Consumer Group. "La incorporación de las marcas TracFone establece firmemente a Verizon como el proveedor de elección en el segmento de prepago, lo que complementa nuestro claro liderazgo en el segmento premium", agregó.
"Durante más de 25 años, TracFone Wireless, Inc. ha brindado soluciones inalámbricas a consumidores que valoran el control que les permite un plan de prepago sin contrato", dijo Eduardo Díaz Corona, CEO de TracFone Wireless, Inc. "Con la capacidad y alcance de Verizon, podremos llevar al mercado ofertas innovadoras y más asequibles, más rápido, lo que nos permite avanzar en nuestra misión de ofrecer cobertura y acceso para todos ".
Verizon pagó una contraprestación de cierre de $3,125 millones de dólares en efectivo, sujeto a los ajustes habituales, y 57,596,544 acciones de Verizon. Sujeto a que TracFone continúe logrando ciertas métricas operativas, Verizon pagará hasta $650 millones de dólares adicionales en efectivo.