Verizon Innovative App Challenge names Fan Favorite award and Best in Nation winners
Verizon Innovative App Challenge names Fan Favorite award and Best in Nation winners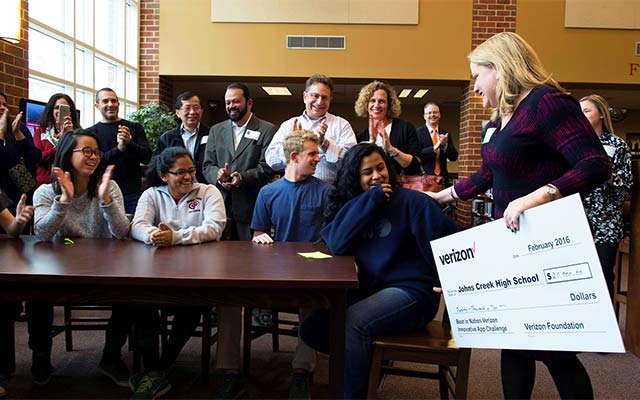 This week, nine teams of middle and high school aged students from across the country learned their concepts for new mobile apps are winners of the fourth Verizon Innovative App Challenge. The teams earned their schools, clubs and organizations $20,000 from the Verizon Foundation to further develop STEM-related programming.  They will also work with experts from MIT Media Lab to bring their app ideas to life in the Google Play Store.
This year, for the first time, Verizon invited the public to play a role in the Innovative App Challenge by casting a vote for the Fan Favorite app concept. With more than 150,000 votes cast, the app concept POP (Protect our Parks) took home the title. POP was developed by a team of students from Woodrow Wilson Middle School in Wyandotte, Mich., and would enable users to quickly report when parks are in need of clean up or repair.
The national no-coding-skills needed competition, created by the Verizon Foundation in partnership with the Technology Student Association, and presented in collaboration with MIT Media Lab, challenged student teams across the country to come up with ideas for apps that could solve a problem in their schools or communities.
Submissions for this year's contest demonstrated students' increased interest in tackling pressing social issues, not only in their communities but on a national scale. Many teams' app concepts focused specifically on helping those with disabilities and chronic health issues, while a number of others addressed ways to provide aid to those in poverty.
This year's winners and their app concepts are:
The Verizon Foundation created the Innovative App Challenge to spark greater student interest in STEM as early as middle school.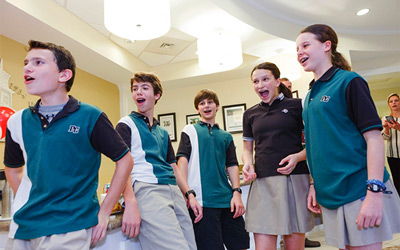 It is predicted that the United States may be short nearly three million high-skilled workers by 2018. While the education system currently sees enough talent in math and science to fill the need for traditional STEM workers, less than 25% of those students enter STEM majors in college and of those that do, 38% of students who start with a STEM major do not graduate with one.1
In June, members of the nine winning teams will present their apps in person at the National TSA Conference in Nashville, courtesy of Verizon.
1 Georgetown University's Center on Education and the Workforce, 2011, STEM Report