Inside Look at a Verizon Smart Store: Focused Outward on the Customer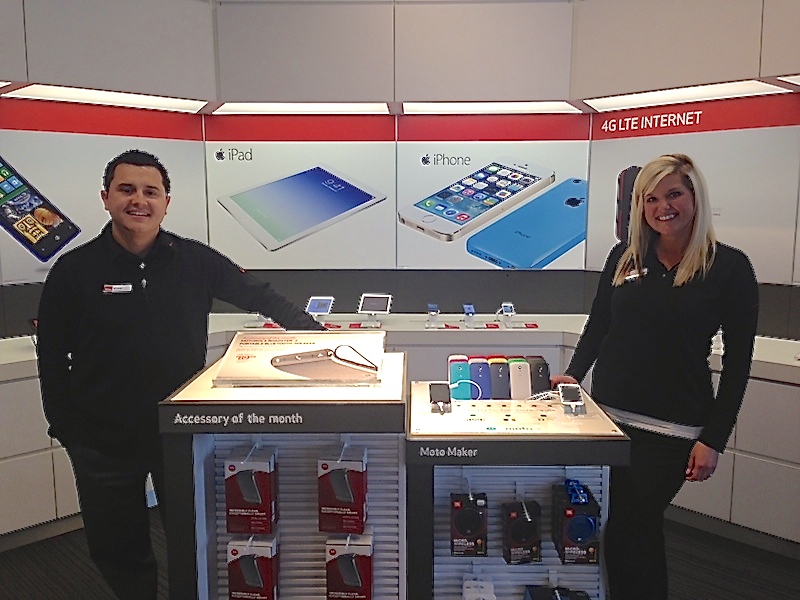 Ask Ryan Potter what would surprise most people about working for Verizon Wireless and his response is quick: a multitude of career opportunities, excellent morale among his coworkers and an outward focus on the customer. In his case, Potter, a former customer service rep and now floating retail store manager for Verizon Wireless in Cincinnati, "came for the job and stayed for the career."
Now nine years in, Potter and Solutions Manager Stacey Noyes are still impressed by the depth of our employee benefits package. Reps receive cash bonuses, stock bonuses, profit sharing, commission, 401k matching, tuition assistance and discounts on home and auto insurance. The total package amounts to leading compensation in the industry. And pathways for career growth are part of our culture, which ultimately results in a great customer experience.
"We build our future on an excellent customer experience for every person crossing the threshold," Noyes said. "Excellent service begins with a well-supported employee."
Employees aren't even introduced to the retail floor until they complete four weeks of in-depth classroom and virtual training focused on shaping positive experiences for each customer.
The newly designed Verizon Smart Store in Beechmont, OH creates spaces that assist the staff with technology as the main asset. For instance, the number of customers who come into the store each day is counted in real time and inform the staffing patterns to trim customer wait times; customers can check Smartzone Interactive Touchscreens to learn about products, services, check bills and if the store is busy, check their place in line.
We also recently realigned our employee roles within our retail stores to better accomplish the end goal – helping customers find the right wireless solutions that will power their lives and make it easier than ever before to stay connected.
Previously, you might have walked into a store and would be helped by a single retail sales representative throughout the entire transaction. But with our ever-increasing focus on smart accessories and wireless products beyond your traditional cell phone, it's important to have staff who can lend their specific expertise when a customer needs it.
Today, every employee has a specific role or specialty. So a more tech-savvy employee will now be a solutions specialist, ready to help you find the right solution. Other employees are experience specialists and will check in regularly to be sure your trip meets your expectations – and if it hasn't, they'll be ready to find a way to resolve any issues you've experienced.
The tool that Potter and Noyes appreciate most seems to be the feedback gained by every customer interaction. Feedback from customers following every transaction is requested, either by a text message or a phone call. The transaction is rated, and feedback is provided in real time for the retail team to review.
"We know that RootMetrics again confirmed our network as number one," Noyes said. "We know having the best network in addition to what we do in the retail environment creates an excellent customer experience."
As far as what the managers favor the most, employees are rewarded on a quarterly basis for delivering a positive customer experience, which sends a clear message to staff that happy customers are key to future business.
In case you haven't heard, we are in the midst of a major hiring effort across the Midwest (stay tuned for more details on our next #VZWHRchat). If you have a passion for delivering great customer service and you're interested in experiencing a career at Verizon, visit the Verizon Job Center to learn more about career opportunities in your area.
For more Verizon Wireless news, subscribe via RSS feeds in the right rail.