Sending eGifts is as easy as texting
Need to send a last-minute gift? Do it right from your Verizon Wireless phone with Message+.
Full Transparency
More of our content is being permanently logged via blockchain technology starting [10.23.2020].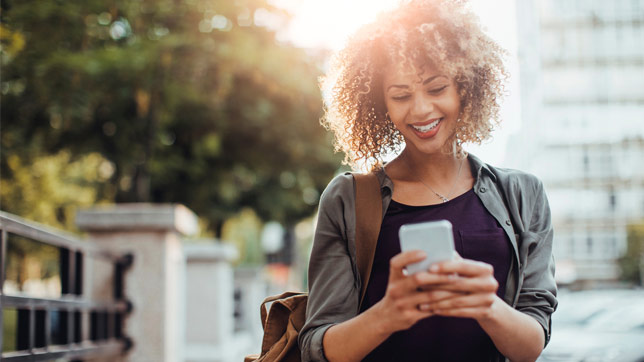 Did you know that the first text message ever sent read "Merry Christmas?" Today, you can send eGifts for Christmas – or any occasion – by using the Message+ app on your Verizon Wireless phone. 
Whether you want to say "Happy Holidays," "Happy Birthday," or just say "Thanks," Verizon Message+ users can text an eGift card of $5, $10 or $25 to virtually anyone with a smartphone in the U.S.
Verizon Message+ makes it easy to send an eGift
Using Message+, you can send eGifts from popular merchants like Starbucks, Amazon, Best Buy, Domino's Pizza, AMC Theatres, eBay and more.
Just click on the eGift icon, choose your background, choose your amount, add your message, and send. That's all there is to it! The cost of the eGift will be billed to your Verizon Wireless account. 
The formatted eGift card will be delivered to the recipient's phone as a picture message. They can simply scan the barcode of the eGift card right from their smartphone while checking out at the merchant's location.
Skip the hassle of a gift card, send an eGift via text
With physical gift cards, you have to schedule a trip to the store and then wait to see the person you want to give it to. An eGift, on the other hand, is nearly instant. So it's a perfect solution for when you need a last-minute gift or just don't have time to run out to shop.
Send text and eGifts, plus so much more with Verizon Message+
Verizon Message+ allows users to seamlessly send and receive text messages over the Verizon Wireless network or Wi-Fi from their smartphone, tablet, PC, Mac and web browser. And with the Integrated Messaging feature, a message sent to your Verizon Wireless number will be delivered to your phone, computer and tablet – all at the same time. That way, you won't miss an important message as you switch between devices.
Message+ also offers 90 days of messaging storage, customized backgrounds, image editing tools, location sharing with Glympse® and a driving mode to limit distractions while you're behind the wheel.